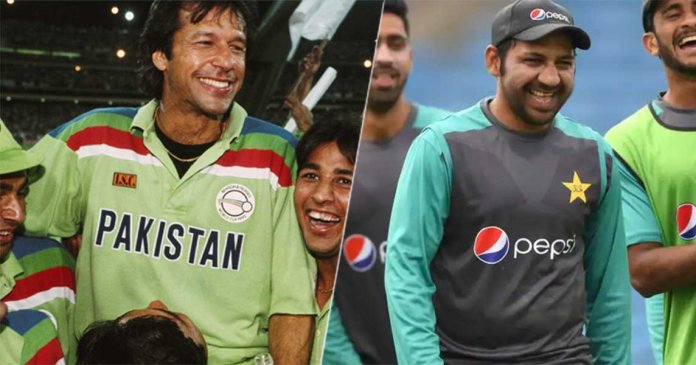 As the ICC World Cup advances, cricket fans and critics are beginning to witness noticeable similarities between the 1992 tournament in which they started weakly but ended up lifting the trophy in Melbourne.
The same sequence of wins and losses have made millions of fans believe that Pakistan could win that trophy once again.
In both World Cups, Pakistan started with a one-sided defeat to the West Indies, before winning their second game and recovering. Previously it was against Zimbabwe in 1992, and it was England this time around.
Similarly, their third game was rained off in both the tournaments and they then went on to lose their next two games and win the two that followed.
Pakistan vs New Zealand: Wasim Akram Hopes Pakistan can repeat 1992 performance
The final win in both series was against New Zealand, who were unbeaten in both 1992 and 2019 until they played against Pakistan.
"It was same, the same sequence of results, points and then we wanted Australia to beat the West Indies for us to qualify," said Wasim Akram, who played for Pakistan in 1992.
"Then also we beat New Zealand — who was unbeaten then too. A lot of similarities, I hope the end result is also similar now and we win the World Cup," he added.
Wasim was the leading wicket-taker in 1992 with 18, while this time around, Pakistan left-arm pacer, Mohammad Amir, is second on the bowler's chart with 16 so far.
From mocking the "1992 mei bhi" references , i am starting to become a believer in "1992 mei bhi"

— Osama. (@ashaqeens) June 26, 2019
Who believes in fate!?!? 😳 Pakistan reliving 1992 World Cup! pic.twitter.com/Fos1WIxzKG

— Ebony Rainford-Brent (@ejrainfordbrent) June 26, 2019
Let's just give Sarfaraz the Cup, eh 😉

👉 https://t.co/8u1kjvqKiy #CWC19 pic.twitter.com/GcL8XENPxp

— ESPNcricinfo (@ESPNcricinfo) June 25, 2019
Pakistan's 6th Match of 1992 WC: Beat Aus by 48 Runs & Player of the Match was Aamir Sohail

Pakistan's 6th Match of 2019 WC: Beat SA by 49 Runs & Player of the Match is Haris Sohail.

Uncanny Resemblance! #CWC19
If the same thing continues, Sarfaraz will become Pakistan's PM. 😂 pic.twitter.com/e3RrrshjXi

— Lalatendu Mishra (@lalatendu4u) June 26, 2019
"It's a no-brainer, history is going to repeat itself."

The Pakistan fans are getting very excited about the many similarities between the 1992 and 2019 World Cups.#WeHaveWeWill | #CWC19 pic.twitter.com/fqWC2YatCt

— Cricket World Cup (@cricketworldcup) June 26, 2019
Other crazy theories state that in 1992, Asif Ali Zardari, a former president of Pakistan and husband of the late Benazir Bhutto, was in jail while in 2019, Asif Ali Zardari again is in jail again. In 1992, Aladdin was released as an animated musical film while in 2019, an Aladdin reboot was released.
In 1992, Disney released the animated movie, Aladdin. In 2019, Disney releases the live action version of Aladdin. OMG IT'S A SIGN. #CWC19 #NZvPAK pic.twitter.com/iOJOJCu8qG

— Melinda Farrell (@melindafarrell) June 26, 2019
Honestly, Pakistan's 1992 connection is getting really scary now

MIND. BLOWN 🤯 https://t.co/yT7uJp7mH4 | #NZvPAK | #CWC19 pic.twitter.com/1GPojhews4

— ESPNcricinfo (@ESPNcricinfo) June 26, 2019
We really wonder if Pakistan is reliving the 1992 World Cup. Although this could all very well be nothing but a coincidence, fans are counting on the similarities and hoping to win the tournament.
We wish Team Pakistan all the very best.
Stay tuned to Brandsynario for more news and updates.
Sarfaraz Ahmed's Wife Cried After Watching Him Being Harassed in Viral Video