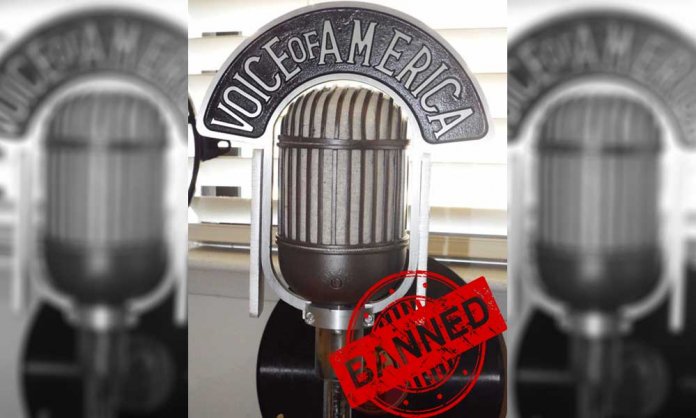 The state has taken action against Urdu and Pashto websites of Voice of America (VoA). These sites have been banned for covering anti-Pakistan activities of Pashtun Tahaffuz Movement (PTM).
Anyone who attempts to access them will encounter various errors like 'the website took too long to respond' or 'the connection to the website was interrupted because the data could not be verified' and will re-directed.
A VoA official states that the Pashto website was blocked just last week after coverage of PTM's MNA, Mohsin Dawar's press conference.
Dawar's name has been placed on the Exit Control List (ECL) for the above-mentioned activities.
He was barred from flying abroad last week, which prompted him to call a conference.
100 Days of Imran Khan: PTI's Print Ad Receives Mixed Reactions!
The official said:
"Initially, we received complaints that the website was not accessible at some places, but later it was completely blocked,"
The official went to add that the Information minister Fawad Chaudhary has also confirmed that the website has been blocked in Pakistan.
VoA's English website published a report, in which Chaudhary stated that the websites were blocked because of prejudice and false reporting.
Chaudhary also told DAWN that the blocked websites had been spreading Anti-Pakistan propaganda against security forces.
He said:
"The government, therefore, asked Pakistan Telecommunication Authority (PTA) to block these websites."
Have anything to add to the story? Share it with us below!
For more news and updates stay tuned to Brandsynario.