The first 100 days of Imran Khan have come to an end. The Chairman of the Pakistan Tehreek-e-Insaf party, the veteran sportsman promised the nation that he will bring massive change (tabdeeli) and will create a 'Naya Pakistan'.
In the last 100 days, a lot has happened, from the government's anti-encroachment drive to the construction of a separate biker's lane and even tackling the mafia in the educational system, Khan has had his hands busy.
In a simple advert, the Government of Pakistan shared a campaign ad which covers the PM's and party's work. Instead of using long sentences of paragraphs, they simply let mere two sentences say it all!
The new Government of Pakistan has been working tirelessly to fulfil its promises to the people. You don't have to take our words for it; we're letting the headlines speak for themselves.
The advert, PTI and PM Khan have received a lot of appreciation for the simplicity of the ad and for the progress which the country has made. Imran Khan on countless occasions has mentioned time and time again that he will do whatever it takes to fulfil the promises made to the countrymen.
Furthermore, the advert summarizes how the PM has accomplished and stood up for all Pakistanis, whether it be an international matter, terrorism, religious, or Clean Green Pakistan campaign and other similar campaigns.
However, at the same time, the PM, PTI and the ad also received backlash by supporters of other political parties. Some mention that the ad was a waste of tax-payers money while other had to say nothing Khan or PTI has done has benefitted the poor or the locals.
Social Media Reacts to 100 Days of Imran Khan 
Here's what social media had to say: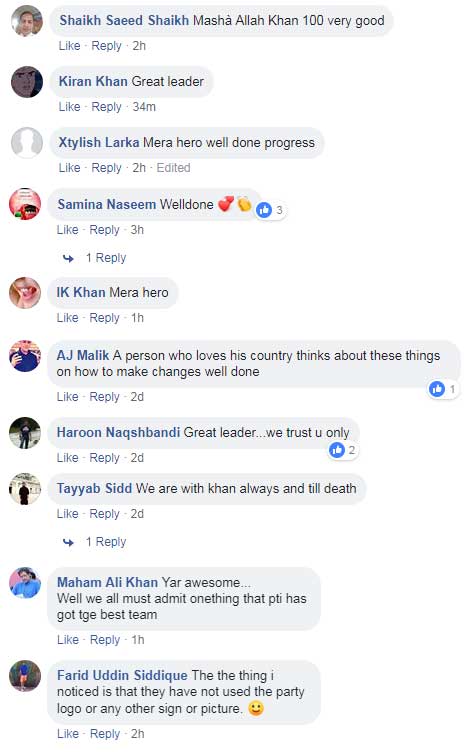 With the most difficult task at hand, PM Imran Khan brought together a team of extraordinary people to deliver on his initial promises within 100 days in office. Now that the first round of delivery has come to an end, let's have a look at #TabdeeliKay100Din: pic.twitter.com/bE0dI4ZXQ7

— Azhar (@MashwaniAzhar) November 29, 2018
THE BEST 100 DAYS! ♥#TabdeeliKay100Din pic.twitter.com/Er8zeK2u6O

— IRHA. 🇵🇰 (@IrhaMalik_) November 29, 2018
No doubt, 100 days of PTI govt is much better than the last 30 years of looters and plunders. PM @ImranKhanPTI take exclusive intitiatives especially for persecuted and tyrannized community. He is ensuring reforms by stucking with his ideology.#TabdeeliKay100Din #IKRayOfHope pic.twitter.com/0WTVn4JRQE

— Qasim Ishfaq (@QasimIshfaqktk) November 29, 2018
NHA generated Rs. 3.08 billion in revenue which is Rs. 1.24 billion more than the amount generated in the corresponding period last year.#100GoldenDaysOfPTI
pic.twitter.com/Lx3GZbFsXH

— Ihtisham Saeed (@itsIhtisham) November 28, 2018
Transparency

National Highway
Authority mobile application (NHA-app) for public
access to all the relevant record and details of projects.#100GoldenDaysOfPTI pic.twitter.com/qU5yUdFrKC

— Wareesha Khan (@Wareesha1999k) November 28, 2018
On October 11launched the housing scheme which envisages construction of five million affordable houses for under privileged segments of the society.The response received both from the local and foreign investors and overseas Pakistanis towards Naya Pakistan#100GoldenDaysOfPTI pic.twitter.com/ydsAZy6bKN

— azka khan (@azka32555) November 28, 2018
جب اپنے لوگوں کو فراموش کر کے نواز لیگ کے بیوروکریٹس کے حوالے میڈیا کیمپین کی جائے گے تو وہی ہوگا جو پہلے شہباز شریف کے دور میں ہوتا تھا.
اس اشتہار کو دیکھ کر مجھے افسوس بھی ہوا اور تکلیف بھی. pic.twitter.com/2Bh3JJ0x97

— Dr Farhan K Virk (@FarhanKVirk) November 29, 2018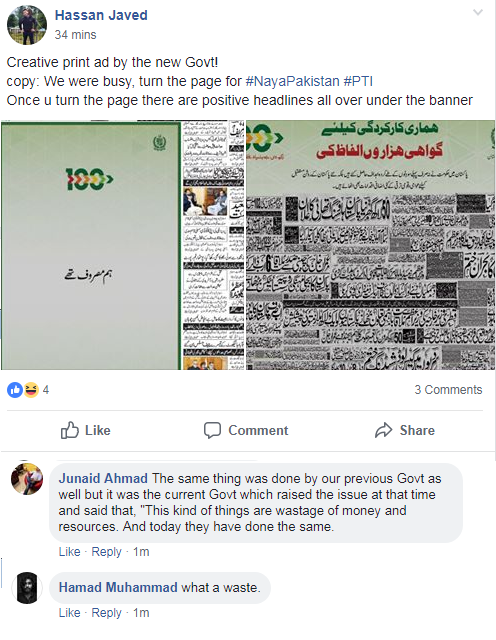 What do you think about the #100DaysOfImranKhan?
Stay tuned to Brandsynario for news and updates.