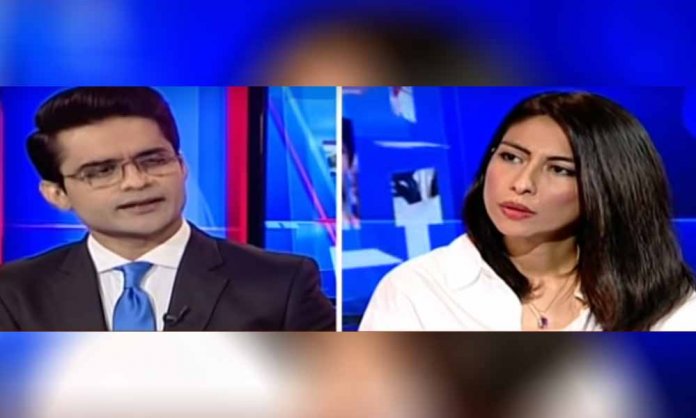 Last night, Shahzeb Khanzada's Meesha Shafi Interview on Geo News took social media by storm.
While clarifying Ali Zafar's allegations one by one, Meesha revealed and maintained her stance on her controversial harassment case against Ali Zafar.
During the programme 'Aaj Shahzeb Khanzada key Sath', the host displayed responsible journalism by being considerate and respectful with every question.
On a fast news day, when entire bandwagon of TV channels is discussing a presser & allied issues of civ-mil balance, @shazbkhanzdaGEO decides to discuss #SexualHarassment.
What a win for women!
Thanks a lot Shahzeb & Geo for a sensitively done interview. @itsmeeshashafi rock on👍🏾

— Marvi Sirmed (@marvisirmed) April 29, 2019
Twitter is all praises for Khanzada's thoughtfulness and objectivity!
Shahzeb Khanzada saying you can't invalidate a person's claim of being harassed because they disclosed the experience months or years later was surreal. I honestly never thought I'd hear anyone on Pakistani television say that in plain, clear language. Angry, grateful tears

— midget jones sahiba (@ItsNotElsa) April 29, 2019
Shahzeb Khanzada is being so respectful and taking permission before saying things he thinks might be triggering. Kudos

— WannabeJannati (@Islamabaddiee) April 29, 2019
Shahzeb Khanzada's tact during the interview with Meesha is commendable, to say the least. Somewhere there is hope for Pakistani journalism.

— The Mewly Weds! (@themewlyweds) April 30, 2019
Ali Zafar's Wife Ayesha Fazli Threatens Meesha Shafi Amidst Harassment Controversy
Meesha revealed how she had wanted to avoid the incident from the beginning and avoided speaking publicly on the matter for four months.
She added that when the issue did not get resolved privately, she resorted to social media and tweeted about the case.
Watch Shahzeb Khanzada's Meesha Shafi full interview here and tell us what you think in the comments below:
https://www.youtube.com/watch?v=ybKz809uKJY
The critical matter of harassment requires to be handled very sensibly. Any carelessness in the matter can further cause complications for both the perpetrator and the aggrieved party.
Seems like Shahzeb Khanzada dealt gracefully with Meesha throughout the interview.
Ali Zafar appeared in three talk shows yesterday and it seems this controversy will not die down anytime soon. His wife, Ayesha Fazli has also warned Meesha that the family will make sure this matter is brought to book.
Meesha Shafi's Legal Team Issues Statement After Ali Zafar's Break Down
Stay tuned to Brandsynario for more updates.