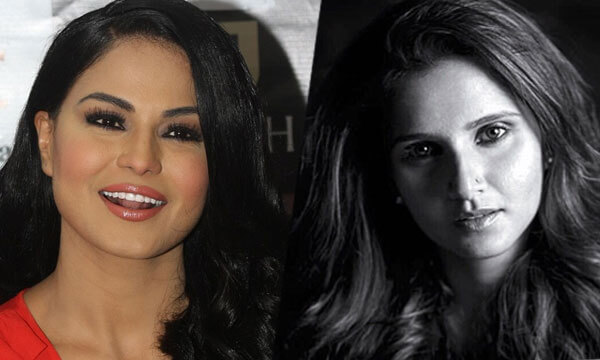 Recently a video of the athletic, inter-racial power couple Shoaib Malik and Sania Mirza with their child has been making rounds on social media.
In the video the celebrity couple can be seen having dinner and sheesha.
World Cup 2019: Pakistani Celebrities Spotted With Bollywood Superstars
There are two main reasons why it is going viral:
They were shot having a jolly good time the night before Pakistan lost the match to India.
They were spotted having sheesha when theirchild was accompanying them.
Naturally, the couple did not appreciate it as it was an invasion of their privacy. When Sania called out Mohammad Umar Khan, the Twitter user who had tweeted the video, Umar deleted his tweet. Hence, the tweet is now unavailable but Saia's response to it remains.
😂That's the video you shot without asking us,disrespecting our privacy even though we had a child with us?& got told off for doing so,& u came up with this crap?FYI 'outing' was dinner & yes ppl are allowed to eat if they lose a match!Bunch of fools!Try better content nxt time😂 https://t.co/51gnkMWUYu

— Sania Mirza (@MirzaSania) June 15, 2019
Among fans and followers heavily criticizing the duo for the above mentioned reasons, Veena Malik's tweet stood out as Sania chose to respond to it right away too, igniting a spat between herself and Veena.
Veena,I hav not taken my kid to a sheesha place. Not that it's any of your or the rest of the world's business cause I think I care bout my son a lot more than anyone else does 🙂 secondly I am not Pakistan cricket team's dietician nor am I their mother or principal or teacher- https://t.co/R4lXSm794B

— Sania Mirza (@MirzaSania) June 17, 2019
"It's none of your business, and I care about my son a lot more than anyone else does," Sania snapped, clearly indicating the wiser thing for Veena would be to back off.
Sania clearly refused that she was at a sheesha place to begin with. Moreover, in another tweet (that she deleted later on), she took a dig at Veena reminding her of the indecent magazine cover she was once featured on.
Veena being her unapologetic self, stood her stance firmly and defended herself by reiterating that the said magazine cover's image was morphed to make it seem indecent.
Have some guts & don't delete ur tweets.Fortunately the technology has progressed so much that people can't deny their acts.Oh the magazine's cover u mentioned had morphed images.Also I can bringup all the controversies U have ever had bt I would rather not divert the discusion. pic.twitter.com/8qednFvEBz

— VEENA MALIK (@iVeenaKhan) June 17, 2019
Here's what fan and followers had to say about the debate.
Many seem to be in support of Sania Mirza and her complain of having her personal life invaded into, being told what to do as a mother, and being held responsible for Team Green's loss.
That's not mature of veena Malik at all!! No mother be it a public figure athlete Indian married to a Pakistani cricketer wants to know what she should be doing with her own kid! It is none of anyone's business to tell a mom what to do!! https://t.co/lD1Crd044V

— Amna Talal (@atalal26) June 18, 2019
Who the hell is Veena Malik, slamming Sania Mirza 😕She has her personal life. Pakistan players aren't kid neither #SaniaMirza is their mom or manager who took them & like obedient kiddos they agreed😂😂😂 No one has a right to question her or to disrespect her🙄 @MirzaSania

— P a l l a v i (@pallzie) June 18, 2019
But the thing is that why would Sania even bother to reply to someone like Veena Malik? I mean there has to be a level, right. And no Sania isn't responsible for the pathetic play of some lousy fuckwits. Those yawning fat asses won't win a thing even in backyard sport. 🤷‍♂️

— Shehryar Qadir (@ShehryarQadir1) June 18, 2019
On the other hand, however, many fans are condemning Sania for stooping low enough to drag Veena's controversial past into the argument.
Veena malik was trying to care about sania's kid. But look at sania? Immature lady, bringing up her past in between. Athlete bhabi, ethics bhultay huay. Now i know why shoaib malik became a dumb fuck. pic.twitter.com/A5PHoC4WOu

— Sir Saith Abdullah (@SaithAbdullah99) June 17, 2019
Veena Malik very maturely pointed out Sania Mirza taking out her kid to a Sheesha place. She shouldn't have, it's not her kid. But then comes the world class athlete bhabhi who called Veena out for her past, the past that she has left behind. Very very low from Sania. pic.twitter.com/RIFeSCn94W

— Maryam (@BefourMaryam) June 17, 2019
Later Shoaib Malik also took to Twitter to express his views on the fiasco during the World Cup 2019.
On behalf of all athletes I would like to request media and people to maintain respect levels in regards to our families, who should not be dragged into petty discussions at will. It's not a nice thing to do

— Shoaib Malik 🇵🇰 (@realshoaibmalik) June 17, 2019
Who do you think is right and justified? Let us know in the comments!
Nadia Hussain & Other Celebrities Laud Pakistani Model for Calling Out Colorism!
Stay tuned to Brandsynario for more news and updates.