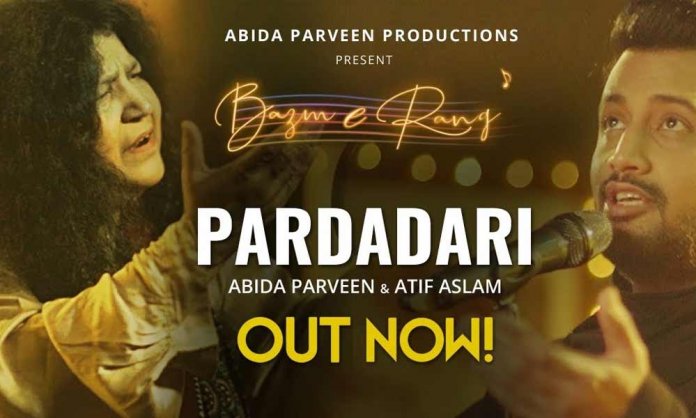 With Ramzan and Eid 2019 wrapped up, we have moved forward looking towards what comes next, however, the spirit of Ramzan is carried forward with Pardadari- the latest tune by Abida Parveen and Atif Aslam.
A marriage of Atif Aslam and Abida Parveen's voices, 'Pardadari'  has premiered this Eid and we can't stop listening to it! 
The soulful melody brings back the spirit of the holy month and leaves us craving for more.
Ahad Raza Mir Bags Nomination for Prestigious Betty Mitchell Awards
Atif, the youth singing sensation took to Twitter this Eid to present his new collaboration with Abida as an 'Eid Gift' for Sufi music lovers.
Eid Mubarak everyone and celebrate Eid with the beautiful track "Pardadari"https://t.co/ALGzpYLn7p#AtifAslam #Aadee #Aadeez #Eid #Pardadari

— Atif Aslam (@itsaadee) June 5, 2019
This is not the first time these two icons have come together to create a masterpiece; Noor-e-Azal and Noor-e-Elahi are just some of the examples of the magic they have created in the past together
Pardadari, opens with Atif and is soon followed by a chorus and Abida Parveen's strong vocals.
Watch the full music video here:
https://www.youtube.com/watch?v=raYnzbIyOfE
Needless to say, the combination of their voices drowns our ears in a beautiful melody and sweeps us away. The track is part of Sarang Latif's project, Bazm-e-Rang. Sarang Latif who also happens to be the youngest son of Abida Parveen.
We wish Sarang all the best and hope the audiences enjoy and appreciate the new musical project to the fullest!
Cornetto & Teeli Unite to Create a Web Series Around Fun, Light-Hearted Love
Have you heard it yet? Let us know how you find it in the comments!
Stay tuned to Brandsynario for more updates.