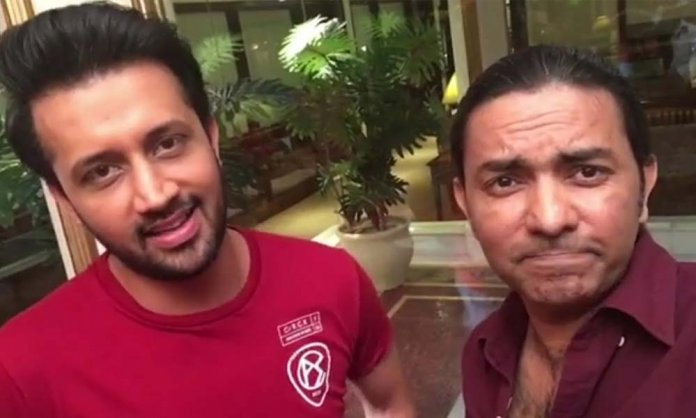 Singing sensation Atif Aslam recently took to Twitter to post an adorable video with Sajjad Ali to reveal something.
In the video, together they are teasing the audience and trying to make them guess what Sajjad's upcoming music series will be all about.
https://www.youtube.com/watch?v=QdcWfR8wYwg
Sajjad Ali himself took to social media over the weekend to announce his upcoming music series on YouTube.
The uber-talented Sajjad Ali is a semi-classical, pop and rock singer, poet, actor, film director as well as a film producer.
GET READY for a FIRST-OF-ITS-KIND music series ONLY on my YouTube channel – Sajjad Ali Official 🎼 #KeKunKly pic.twitter.com/Fl1Oqe85v8

— Sajjad Ali (@sajjad_official) June 8, 2019
Although he is not seen on the screens as often as he used to be around a decade ago, whenever he does something new, it takes the country by storm.
Har Zulm, Tamasha ft. Bohemia and Lagaya Dil are a few of the examples of his last hits.
The teaser that Ali has uploaded gives off strong nostalgic vibes. As Ali himself speaks cryptically about truth, knowledge, and faith, the tune of one of his most popular songs "Mujhe Tum Se Pyaar Hai" plays in the background.
Moreover, popular names in the music industry including Ali Azmat, Arif Lohar, Abrar-ul-Haq, Zoe Viccaji, and Atif Aslam are spotted in the teaser.
The trailer does not reveal too much about what exactly Ali's new music series will be based on. However, from the looks of it, it seems like Sajjad will be taking everyone for a walk down the memory lane through warm, candid conversations.
What is KE KUN KLY?
Episode 1 releasing on Wednesday June 13th. #KeKunKly pic.twitter.com/QzqWnaEmZr

— Sajjad Ali (@sajjad_official) June 10, 2019
In the end, we see Ali's childhood photograph on a Polaroid, which gives off a very album-cover-ish look and feels.
We contacted Sajjad Ali's daughter, Zaw Ali, for a more comprehensive statement on her father's exciting new venture. Here's what she had to say:
'Ke Kun Kly' is a docu-series on music  conceived, created and produced by My father. it aims to educate amateur and professional artists on the do's and dont's of music while busting old myths and addressing taboos related to it, allowing the audience to appreciate Art with a better understanding.
When asked what is the meaning behind 'Ke Kun Kly' and if it is the philosophy behind the series, she said:
The story behind the title is both sweet and funny. Ke Kun Kly were my dad's first words when he started speaking. That's what my grandparents and his elder cousins remember him saying.
Social Media Sends Love to Sajjad Ali
Fans and followers including Iqrar-ul-Hasan, famous TV presenter and journalist, are wishing the legend all the best for his upcoming venture.
Best of luck !! Intezar rahay ga

— Iqrar ul Hassan Syed (@iqrarulhassan) June 8, 2019
Finally something good coming in pakistan…..waiting for channel link.

— Farhan Shafqat (@FarhanShafqat5) June 8, 2019
His work has always been greatly looked-forward-to, and it is no surprise that the audience is so psyched about the series.
Good Luck! U r a true legend when it comes to music. Looking forward for #KeKunKly

— Faisal Awan (@fnazir1) June 8, 2019
Best of Luck Bhai…We All Are Waiting

— S.Meesam Ali Zaidi ®️ (@Meesam_Zaidi) June 8, 2019
Many are requesting him to produce something like he did in the 90's.
Sajjad bhai jesa music hamne late 90's ma suna vesa koi ek classy song zaroor lain.. 💓
Very best wishes for you ..

— Patriotic Pakistani (@15c3a10e78f04eb) June 8, 2019
Fans already think it will be a massive hit like the rest of his work.
This is gonna be massive hit

— M Salman Saqib (S@llu) (@EngrMSSQ) June 8, 2019
Even his daughter is excited about her father's newest venture!
You ain't ready for it 🔥🔥😎 #KeKunKly https://t.co/8K94VrGOEt

— Zaw Ali (@TheCodeOfZaw) June 5, 2019
Junaid Akram Calls Out Mubasher for 'Plagiarizing Content' on Social Media
Share your excitement with us in the comments!
Stay tuned to Brandsynario for more news and updates.