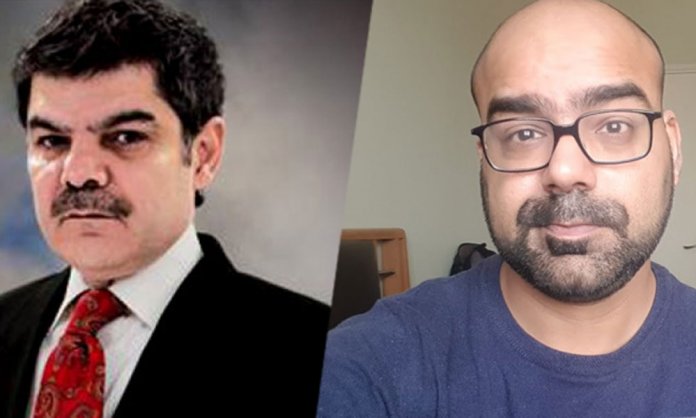 Popular comedian and social commentator, Junaid Akram, took to Twitter over the weekend to accuse Mubasher Lucman of copying one of his YouTube podcasts 'word to word'.
In a tweet, Junaid wrote:
Mubasher Lucman blatantly copied my entire podcast about Israel. Word to word.
Mubasher Lucman blatantly copied my entire podcast about Israel. Word to word.

— Puffin Man (@junaidakram83) June 9, 2019
On April 27th, 2019, Akram uploaded his 22nd podcast named The Secrets of Israel on his YouTube channel.
Karachi Weather Update: Thunderstorm & Heavy Showers Expected on Thursday
With over 24 lac views, 21 thousand likes, and 5 thousand plus comments, the podcast performed fairly well.
https://www.youtube.com/watch?v=qmMoeplp-J8
After Akram expressed disdain over his content getting a 100% plagiarized, influencers and fans united to condemn the act as well.
Ali Gul Pir, the popular 'Saaein toh Saaein' singer, and comedian responded to Akram's tweet demanding that Lucman apologizes for theft of his intellectual property.
@mubasherlucman should apologize for this, probably has no idea what intellectual property means. Use ur own brain if u have one

— Ali Gul Pir (@Aligulpir) June 10, 2019
Social Media Reacts to Junaid Akram Calling Out Mubasher Lucman
Others also joined in, highly discouraging Lucman. Some suggested that Akram should fight for it legally and report it to YouTube.
If your podcast and Musbasher Lucman's video is on YouTube, then I think you should copystrike it. Same goes for the vlogger. If you have substantial proof of work getting pirated, you should fight it out.

— Saad سعد (@saad_durrani) June 9, 2019
Either you can send him legal notice for copyright infringement or sit back and enjoy.

— Fahad Pirzada (@FahadPirzada6) June 9, 2019
Report to YouTube, get his channel blocked

— RAYHAN JAMIL (@Rayhan__Jamil) June 9, 2019
Some said it was okay to copy Akram's work but with credits to him.
Imitation is the best form of flattery!!!
But @mubasherlucman you should give credit where credit is due…

— Ali Chaudhary (@AaliChaudhary) June 9, 2019
feeling sorry for you.. Mubasher Lucman should apologize and due credit dena chahiye.

— Farheen (@Farheen59380395) June 10, 2019
While some suggested that Akram should do a podcast on copyright infringement and further shame Lucman.
Copyrights per bi ek podcast bna lu and shame them

— __kenza_ (@sk_92_) June 9, 2019
Many are also dismissing it simply by saying that it is common for Pakistanis to copy content.
There is a saying that goes around in our country, "Copyright is our right".

— Ebrahim Husssin (@ebrahim_hussain) June 9, 2019
You stated facts and everyone can do the same.
If I say salt is salty and one repeats it . He is copying but he can do without my permission.@mubasherlucman

— Ali Raza (@AliRazaLilani) June 10, 2019
However, Mubashir Lucman's version of the same, called 'Why I Want To Visit Israel' cannot be found anywhere on YouTube. Upon visiting the link, YouTube says that the video is unavailable.
https://www.youtube.com/watch?v=qH8HEJsve1k&feature=youtu.be
It seems that Lucman has removed the video after major backlash from fans and followers.
Akram also mentioned that this is not the first or only instance of his content being copied.
That's third theft in 3 weeks. Some vlogger picked up my 9th grade computer science book podcast and said word to word. A tweet about Indian CEOs that went viral was also taken from my podcast.

— Puffin Man (@junaidakram83) June 9, 2019
Have you seen both the videos? To what extent do you think the controversial content is plagiarized?
Let us know in the comments!
Stay tuned to Brandsynario for more news and updates.