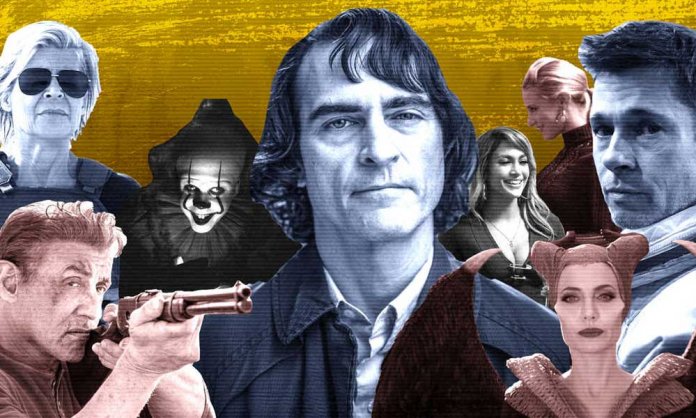 It's certainly time to enjoy a little blast from the past. Re-run and re-watch your favourite old classics and relive the memories.
Hollywood is all set to release sequels and remakes to many classic hits featuring the original actors after years and fans cannot help but feel nostalgiac.
It's a known fact that continuations and remakes of popular hits do great business.
Some of the biggest upcoming Hollywood sequels are coming out in the years 2019, 2020 and 2021. Classic films like Top Gun, Space Jam and Rambo are all getting re-booted and re-made and will thankfully feature the same actors as the original.
Have a look at the list of Hollywood's upcoming popular re-makes and sequels that are already making us excited:
1. Terminator: Dark Fate
Terminator 6 is being directed by Tim Miller and it's currently scheduled to release in theatres on November 1, 2019.
"Dark Fate," from Paramount Pictures and Skydance Media, uses the series' time travel element to reset the clock and create a direct sequel to 1991's "Terminator 2: Judgment Day,"
https://youtu.be/SDfBubPIEQY
Linda Hamilton returns to the series as Sarah Connor, accompanied by Mackenzie Davis, who plays a cyborg-human hybrid. Arnold Schwarzenegger will also be seen reprising his role.
2. Rambo: Last Blood
37 years after the release of First Blood, the 72-year-old actor, Sylvester Stallone returns in the fifth installment of the film series. The film will feature the aging action hero head to Mexico to trace down a young girl who was kidnapped, before becoming entwined in a battle with a drug cartel.
https://youtu.be/4vWg5yJuWfs
"I've lived in a world of death," Rambo says in the video clip. "I've watched people I've loved to die. Some fast with a bullet. Some, not enough to bury. All these years I've kept my secrets. But the time has come to face my past."
The film also stars Avi Lerner, Yvette Monreal, Sheila Shah, Ariel Vromen, Paz Vega, Sergio Peris-Mencheta and Oscar Jaenada.
Read More: 5 Upcoming Action Movies 2019 We're Eager to Watch!
3. Star Wars: The Rise Of Skywalker
https://youtu.be/adzYW5DZoWs
The final installment of the Skywalker saga is one of the most anticipated films of the year. Rey's journey continues and the Skywalker saga concludes in Star Wars: The Rise of Skywalker, coming December 2019.
The film stars Domhnall Gleeson, Daisy Ridley, Kathleen Kennedy, Adam Driver, Andy Serkis, Naomi Ackie, Chris Terrio and John Boyega.
The 100 Most Beautiful/Handsome Faces in the World 2019: Imran Abbas Makes it to the List!
4. Jumanji: The Next Level
Working as yet another sequel on our list, Jumanji: The Next Level will begin from where the 2017 film Jumanji: Welcome to the Jungle ended.
https://youtu.be/G-DZ-7OdBWQ
Reprising their roles will be Kevin Hart and Dwayne Johnson, along with Jack Black, Karen Gillan, and Nick Jonas. The film also stars Nick Jonas and will release in theatres on December 13, 2019.
5. Triplets / Twins
The original was released in 1988 featuring the engaging story of two twins separated at birth. Thee roles were played by Arnold Schwarzenegger and Danny DeVito.
https://youtu.be/OG-CQgtcbqg
The movie turned 30-years-old last September and news started to surface that a sequel was in the works, starring none other than Eddie Murphy.
The sequel is estimated to release in 2020.
6. Top Gun 2: Maverick
The film is a sequel to 1986's Top Gun, the film that established Cruise as a true Hollywood star. Now, almost three decades later we will be seeing him reprise his role as Pete "Maverick" Mitchell.
Other than Cruise, the film stars Val Kilmer along with new cast members Ed Harris, Jon Hamm, Jennifer Connelly, Glen Powell, and Miles Teller.
Johnny Depp's Latest Controversial Ad for Dior Removed Over Cultural Appropriation!
Top Gun: Maverick hits theatres on June 26th, 2020.
https://youtu.be/qSqVVswa420
7. Space Jam 2
Remember the most significant sports star in the world playing basketball with the most famous cartoon characters of all time? Production on Space Jam 2, the long-awaited follow-up to 1996's Space Jam starring Michael Jordan is finally advancing.
Man this really just hit me! I'm really shooting Space Jam 2!! This is so surreal and doesn't even make sense to me! Where I come from man and what I saw growing up this doesn't add up to me! 🤦🏾‍♂️! I'm truly grateful and beyond blessed. This is CRAZINESS. 🏀 🐰 🎥 👑🙏🏾

— LeBron James (@KingJames) June 25, 2019
Space Jam 2 has a scheduled release date of July 16, 2021, and LeBron James will be starring in the movie.
10 Upcoming Disney Live-Action Remakes That Have Made Us Nostalgic!
Which movie are you most excited for? Comment and let us know.
Stay tuned to Brandsynario for more news and updates.