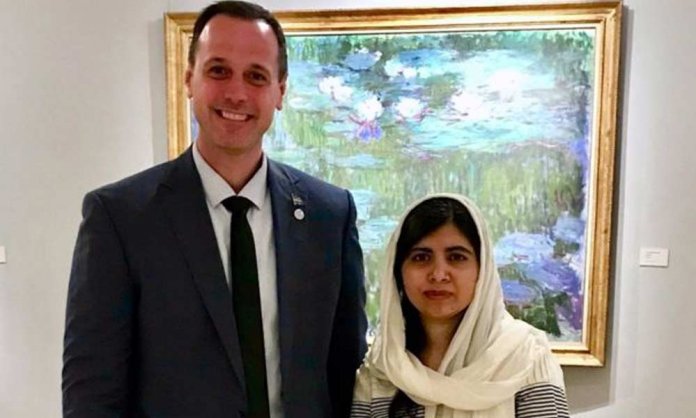 In June 2019 the Canadian province Quebec passed a 'secular' law according to which some civil servants, including teachers, will not be allowed to come to work wearing religious symbols like headscarves, turbans, etc.
Needless to say, the law sparked quite a debate within and outside the province. Some supported it as a good step taken towards a more secular state, where religion and state would be different.
LUMS Cuts Off Financial Aid – Students Take to Social Media to Raise Funds Externally
However, some were of the opinion that it was a discriminatory law as it targeted Muslims in the name of openness and tolerance.
Mr Roberge, the Education Minister of Quebec, met Ms Yousafzai, the Nobel Peace Prize winner to discuss access to education and international development while he was in France.
He praised Malala for her courage and efforts with regards to women's education, as Malala is popularly known for having been shot in the head and still persisting and pursuing education for herself and other girls too.
However, on the other hand, when asked in a tweet by journalist Salim Nadim Valji how he would respond if Ms. Yousafzai wished to teach in Quebec, he gave a shocking response that has created a stir on social media and otherwise.
It's pretty fascinating how far JF Roberge's photo with Malala Yousafzai took off in our digital world. I believe that for thousands of people outside of Canada, it's the first time they're hearing of Quebec's Bill 21. https://t.co/FY5kyCX7fC

— Salim Nadim Valji (@salimvalji) July 7, 2019
Defending the law which covers judges, police officers, teachers and some other public figures, here is what the minister had to say.
"I would certainly tell her that it would be an immense honour and that in Quebec, as is the case in France (where we are now) and in other open and tolerant countries, teachers cannot wear religious symbols in performing their duties,"
Moreover, he also went ahead and shared a picture with Malala, which created quite a storm as the minister was called a hypocrite on Twitter for supporting an anti-hijab law but posting a picture with a hijaabi.
Are Mangoes Good for Skin? Find Out and Achieve Your Dream Skin!
What do you think about the story?
Let us know in the comments.
Stay tuned to Brandsynario for more news and updates.