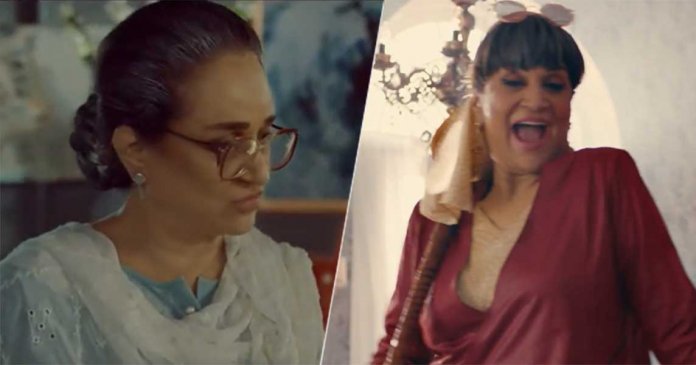 Introducing the new Alpha Triplet Deep Freezer, Waves is back with something super cool and funky this time around.
Taking inspiration from the classic tune, Daddy Cool, the new TVC features Bushra Ansari as 'Dadi Cool' proving age is just a number and you're never too old to let loose and just chill.
Bored with the typical dupatta clad desi dadis with constant complaints about backaches, loud music, and almost everything?  Well, Bushra Ansari has always defied age and taken challenging roles that have made a mark on screen, and this time she does it again!
Rebuilding the image of a dadi, the product being advertised converts Bursha into a cool Dadi, who sings, dances and wears whatever she wants to! She's too cool to care and knows that everyone else is a fool.
On a recent show with Nida Yasir, the legendary actress pointed out that age is just a number to her. "Honestly, in order to keep your heart young, it's important to change your mindset in reality," she had said.
While we love the idea of breaking the norms, the execution could have been a bit better, we feel. But wait, we're not complaining and love to see people do as they please without social judgment and restrictions! Why should young people or men have all the fun?
However, society finds it hard to accept a senior artist play a cool granny and there are mixed social media reactions. Some mocked at the fashion sense, while others criticized the makeup stating that dadi is only making a fool of herself.
'Bekaraan' Song from Superstar Features Soulful Chemistry Between Mahira Khan & Bilal Ashraf
Social Media Reacts to Bushra Ansari as Dadi Cool
Have a look at the tweets:
My take on the #DadiCool Tvc by waves. This dadi is so cool, shes about to make an account on tinder 🙈#SorryNotSorry #AgeIsJustANumber #DadiCool pic.twitter.com/RNPopOHY2W

— Fi💤💖Cricket (@FizzaRahman) July 2, 2019
This Indian Dadi makes the day a lot merrier 😍😍😍#INDvBAN #DadiCool pic.twitter.com/8ExNN66NIO

— Doctor Pro-Tick 😆 (@Not_Rickettsia) July 2, 2019
Third rate ad #waves #bushraansari

— Rabia Khan (@KhanRabiamak) July 1, 2019
Love the new Bushra Ansari TVC for #WavesPakistan I accepted the #Dadicool challenge pic.twitter.com/6dSLCu7og7

— Farman (@farmansha) July 2, 2019
I love it. https://t.co/Vow1tXvYER

— WK 🇵🇰🏳️‍🌈 (@Suliemankheil) July 2, 2019
Has anybody heard the dadi cool Waves commercial on the radio or otherwise. This beats the Hajmola commercial that suddenly plays at a much higher volume between overs. #badads

— Nida Khan Tareen (@NidaTareen) July 2, 2019
This is the first ever time I am trying a reaction video so please don't judge me
You can also check out the DADI COOL song and tell what you think of it#DadiCool #WavesPakistan pic.twitter.com/Ru9VWKuDBL

— Main Abdul Majid Hoon (@ComicsByMajid) July 2, 2019
The dadi cool commercial is an actual abomination. Not to mention a rip off Daddy Cool by Boney M. My ears hurt. So does my head. #verybadads

— Nida Khan Tareen (@NidaTareen) July 2, 2019
Dadi Cool cool by Bushra Insari surprized me ……

Nd my kind of girls feel 28 is quite enough age ..

Lolz

— Meshi Khan (The Dreamer ) (@MeshiSpeaks2) July 4, 2019
Meet the coolest Daadi 😎#WavesPakistan #DadiCool #LooksMeinBhiCool https://t.co/lSZfWoD9nM

— Arsalan Ali (@Arsalanalisays) July 1, 2019
Tum sab ho fool 🤦🏻‍♀️
Aur main houn #DadiCool 👵🏻

Mahahaha! #BushraAnsari Ji kiya baat hai! pic.twitter.com/tOFwFMRBog

— Aisha Randhawa (@HariMirchein) June 28, 2019
Bushra Ansari in waves ad is cringe personified.

— 6/35 (@hinasafi) July 1, 2019
Oh I didn't know it was Bushra Ansari… But chalo at least she realises now that she's a Daadi now..

— Adeel Azhar (@adeel_azhar) July 2, 2019
Watch the TVC below and tell us what you think!
https://www.youtube.com/watch?v=t-AHTUkecIs
Stay tuned to Brandsynario for more news and updates.
PepsiCo's Aquafina Bottles to be Replaced with Aluminum Cans