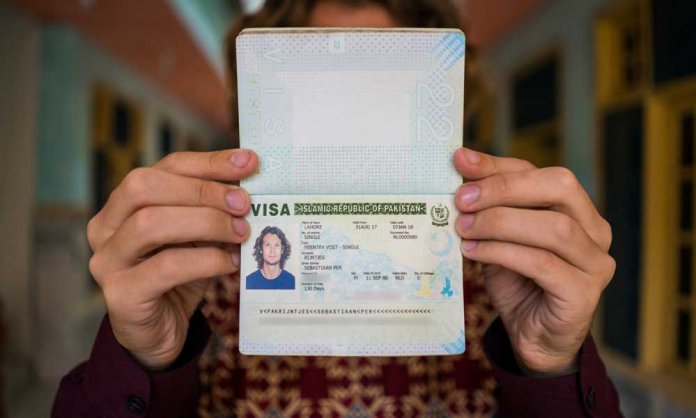 UPDATE: After days of announcing a new visa policy for foreigners coming to Pakistan, Prime Minister Imran Khan has finally launched a new online visa system for tourists, yesterday in a ceremony held in Islamabad.
Visitors from as many as 175 countries will be avail to achieve e-visa for Pakistan.
A new e-visa scheme is being introduced to facilitate visitors from 175 countries. This newly launched policy will open Pakistan's doors to the world, making it more accessible to tourists and investors from across the globe. #DiscoverPakistan pic.twitter.com/nBHJy83Nmb

— Tehreek-e-Insaf (@InsafPK) March 14, 2019
Tourists will simply have to log in to  https://visa.nadra.gov.pk, fill out the application, upload the required documents and make the visa fee payment from the comfort of their home.
Business visas will be given to 90 countries, while 55 countries will be granted visa-on-arrival.
Prime Minister Imran Khan launched the online visa regime at a ceremony in Islamabad today to promote tourism and investments into the country.#DiscoverPakistan 🇵🇰 pic.twitter.com/i2kpMfyu5E

— Govt of Pakistan (@pid_gov) March 14, 2019
---
UPDATE: In its recent move to boost tourism in Pakistan, the government has announced a visa-on-arrival visa facility for five nations on trial basis.
Initially, citizens of the United Kingdom, Turkey, China, Malaysia, and the United Arab Emirates would be allowed visa-on-arrival in Pakistan.
Member states of the Gulf Cooperation Council (GCC) will also be given on-arrival visa for 30 days as the policy is further expanded.
---
Pakistan is home to the most beautiful scenic landscapes in the world. In recent times, the country has seen an increase in tourism and business investments due to the improvements in its economy and a drop in terror activity.
It looks like things are about to change on the tourism front for Pakistan even more as the government has decided to relax visa rules for 97 countries to encourage more investment opportunities and promote the tourism sector.
This decision to relax the visa policy of Pakistan for 97 countries was taken on Thursday in Islamabad where Prime Minister Imran Khan chaired the meeting himself. During the meeting, Pakistan's visa policy with other countries was reviewed.
Army chief General Qamar Javed Bajwa, Foreign Minister Shah Mehmood Qureshi, Information Minister, Fawad Chaudhry, State Minister for Interior, Shehryar Afridi, Foreign Secretary Tehmina Janjua and others were also part of the high-profile meeting.
Sources have shared that this is the first phase to attract foreign investment and tourists. However, there is no sign of any relaxation for citizens from India and Israel as of yet. What is yet to happen for these two countries will be quite interesting to see.
On Friday, Information Minister Fawad Chaudry announced that citizens from 50 countries will be granted visas on arrival while 175 countries will be granted e-visas. He added that Indian-origin British, US passport-holders will be granted on-arrival visas to Pakistan.
Furthermore, Business visas will now be provided to citizens of 96 countries an increase from 68 countries. The business visas will be stamped in eight to ten days, he added.
We want to make 'Naya Pakistan' a heaven for tourists -Chaudry
Previously, the government was considering to issue on-arrival visas to tourists and visitors from 55 countries in an attempt to revive tourism in Pakistan.
The announcement was made by the Advisor to the Prime Minister on Commerce, Abdul Razzak Dawood during a press conference in which he said that the proposal will be forwarded to the Prime Minister for his approval in January.
He said:
WE WILL ALSO CONSULT SECURITY FORCES REGARDING THE MATTER.
He further stated that the government is constantly trying to portray a positive image of the country.
He added:
PAKISTAN NEEDS TOURISM AND THE GOVERNMENT WILL DO WHATEVER IS IN THE INTEREST OF THE COUNTRY.
Previously, the Pakistani government had also granted visa-on-arrival to the tourists from 24 countries for 30 days and multiple entries were also allowed for them.
Have something to add to the story? Let us know in the comments section below.
For more updates and details, stay tuned to Brandsynario.