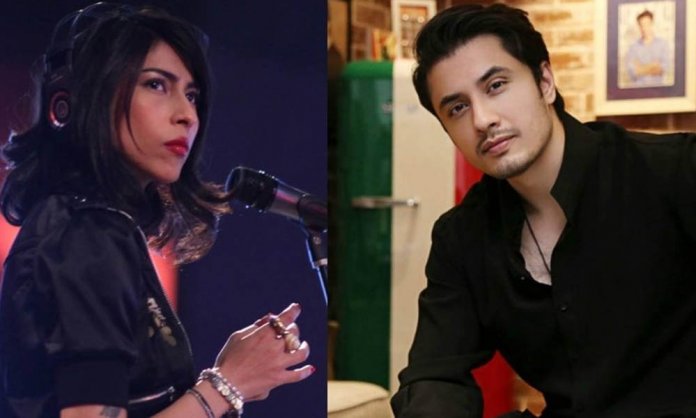 "Yeh Dunya jhooti, log literary" – old lyrics but fitting today! And who better to understand these lyrics more than Ali Zafar himself, who sang this song "back in the day"!
But why are we talking about his hit single today, in 2018?
Well, those who are unaware, Ali posted a video on his Instagram where he is seen singing this song amidst a crowd of doting fans.
Ali Zafar-Meesha Shafi Jamming Session Video Leaked on Social Media
But even more interesting than that, is the fact that Ali posted this video and captioned it "Chal…" which makes us wonder if maybe, he is hinting towards a particular actress/singer.
For those who didn't make the connection, let us make it easier for you. We are talking about none other than Meesha Shafi.
Anyone who is active on the internet is aware of the recent controversy over the whole Ali and Meesha case in which the Meesha accused Ali of sexual harassment.
However, if you have been a social media recluse lately, you can catch up on the case by checking out the article below:
Meesha Shafi-Ali Zafar's Controversy Takes an Ugly Turn With Legal Notice!
Although there has been silence between the two actors of late, it seems to have been broken by this video.
While we can't help but admire Ali's singing and musical talents here, we are a bit amused at this "ishaara" towards Meesha.
Then again… maybe it's just our overactive imagination making us think like that?
But come on… "yeh dunya jhooti, log luteiray"… really Ali? This post definitely speaks volume over his opinion of the accusation towards him and of the case overall.
Whatever the case may be, fans of the singer are in splits at this slight towards Meesha and have posted some pretty savage comments.
And of course we just HAVE to share these comments with you!
So sit back, grab some chips or popcorn and read through the comments below!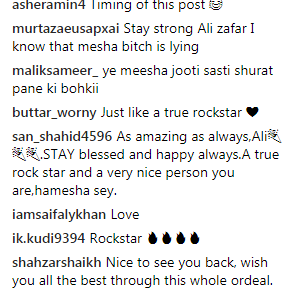 Guess others too got the hint.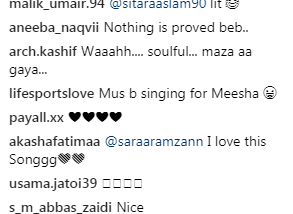 Now that you have seen the video and read the comments, let us know what you thought about Ali's post in the comments below.
If you are in the mood for more "juicy info" then check out what Shaan Shahid had to say about Mahira Khan in the article below!
And for more juicy tidbits and updates, stay tuned to Brandsynario!