Overseas Pakistanis have been overwhelmed in confusion after the Government of Pakistan imposed Customs Duty on mobile phones in Pakistan 2018.
According to the new policy- Pakistanis coming from overseas are allowed up to 5 phones. One phone will be allowed be registered for free whereas the individual will have to pay tax on the other four sets.
Failure to comply will result in the blocking of the mobile phone meaning that it will not be operational within the country.
Minister of State for Revenue Hammad Azhar clarified on his official Twitter handle that returning individuals will not have to pay duty or registration on their phone(s) if they are using roaming.
Pakistani E-Commerce Websites Discontinue iPhone & Google Pixel!
He also mentioned that the Customs Duty will not be applicated on individuals who are planning to return within 30 days with their handsets, or if a phone is not to be used for more than 30 days in Pakistan will not be charged as well.
For benefit of people travelling into Pak from abroad, the mobile tax policy for you is:
1) One phone allowed to be registered as duty free 2) No Registration/Duty needed on any phone(s) using roaming 3) No Reg/Duty needed if phone(s) to be used in Pak for less than 30 days.

— Hammad Azhar (@Hammad_Azhar) December 11, 2018
Hammad further clarified that the Customs Duty policy will not be applicable on phones which were activated within Pakistan from 1st December.
Also, no registration/duty required on any phone that was activated or ever used in Pak before the 1st of December 2018.

— Hammad Azhar (@Hammad_Azhar) December 11, 2018
Furthermore, he also shared that individuals can have their Customs Duty paid and IMEI number registered at the airport directly after landing or from any Custom Houses across Pakistan.
Moreover, the smartphones will not be detained by the authority during the registration process or Customs Duty payment.
Duties and registration can be done at either the airports or in any of the Custom Houses across Pakistan. Phones are not detained during the process of registration or duty payments.

— Hammad Azhar (@Hammad_Azhar) December 11, 2018
Twitter user Junaid Lodhi shared his experience as the Minister retweeted it to aware others that the process is indeed very seamless.
Got a phone from abroad for personal use, got the imei registered free of cost at the airport within no time. Seamless process

This hits the khapias, not the common man

Good step minister

— Junaid Lodhi (@junaidlodhi) December 11, 2018
Information Minister Fawad Chaudhary also gave his two-cents about the policy on social media and shared more information about it.
Mr Chaudhary stated:
Overseas Pakistan can bring cell phones to the country, but there is a tax on additional mobile phone sets. There is a negligible tax on phones costing less than $60, however, on costlier ones it is 38% duty, and this is the most reasonable taxation. We will have to embrace the tax culture.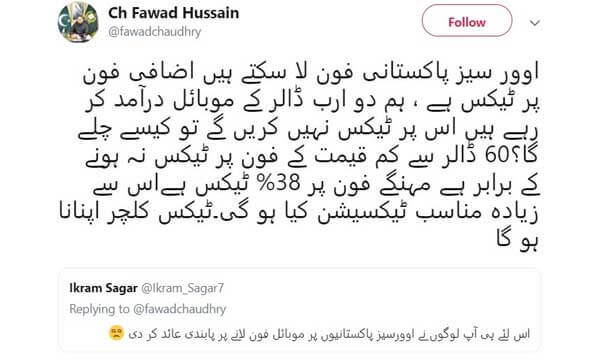 Illegal Mobile Phones Flown into Pakistan to be Blocked After December 31st
Custom's Value List for Mobilephones 
Customs has released a list of values of mobile phone devices for the purpose of assessment of duty and taxes through a Valuation Advice.
The list of mobile devices is not exhaustive, however, covers mostly traded brands and models. The Valuation Advice notifies the C&F rates of imported mobile phones.
How has your Customs experience been?
Stay tuned to Bradsynario for more news and updates.
Unregistered Mobile Phone Users to be Charged with Regulatory Duty