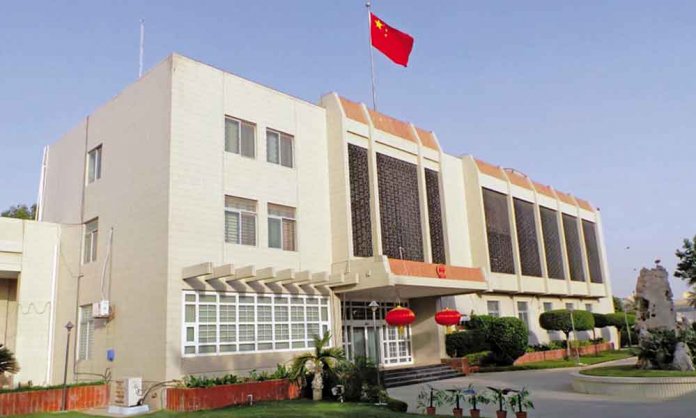 Update: Prime Minister Imran Khan has spoken on the unfortunate event. PM Khan has stated that no attempts and efforts to sabotage CPEC and hurt Pak-China friendship will be successful.
All attempts to sabotage CPEC will be defeated. China & Pakistan share a friendship higher than the Himalayas & deeper than the deepest seas. The criminal minds behind this dastardly attack will be brought to justice. – Prime Minister @ImranKhanPTI on #ChineseConsulate attack pic.twitter.com/EbEC1J5rfk

— PTV News (@PTVNewsOfficial) November 23, 2018
Police and Rangers have killed three terrorists who tried to enter the Chinese Consulate but failed to do so because of tight security.
---
Update: Reportedly, a third terrorist has been taken down -Geo News
The vehicle which these terrorists had travelled in to reach the Chinese Consulate has also been taken into custody. The vehicle is reportedly being said to have explosives inside.
Traffic has been diverted away from the perimeter so that the operation can continue with ease.
Chinese Consulate General& other 20 Chinese nationals safe, Pak FM Shah Mehmood Qureshi. Security forces killed 3 terrorists& two policemen lost their lives in terror attack at Chinese Consulate in Karachi. Search operation on, area cordoned off …

— Owais Tohid (@OwaisTohid) November 23, 2018
---
Update: Another terrorist is reportedly killed, it is expected that there are at least two more terrorists remaining.
Geo News has also reported that the Chinese officials within the consulate are safe. A total of two terrorists have been shot dead in the operation.
Rangers and other officials are checking each vehicle and residence to ensure that there are no hidden bombs or weapons.
Our priority was to secure the lives of citizens and the consulate staff. The terrorists could not take any hostage, kill or injured anyone. Those who do not want to see Pakistan progress were behind this act  -Foreign Minister Shah Mehmood Qureshi
---
Reports of gunfire and explosions near the Chinese Consulate Karachi came pouring on Friday Morning.
The smoke of a black cloud can still be seen near the building where suspected terrorists tried to enter the premises but failed to do so because of heavy security.
A heavy contingent of police and rangers have arrived at the scene following the incident in Karachi's Clifton area.
As of now, two police officers have been killed and bullet shots can still be heard, while one security guard deployed at the Chinese Consulate was injured and in being said to be has been taken to the hospital in critical condition.
The initial report states that multiple armed men launched what appears to be a terror attack at around 9:30 am. The attackers hurled hand grenades and then opened firing targetting the security guards of the consulate.
Heavy exchange of firing b/w armed men& security forces smoke coming out in what seems like a terror attack in the surroundings of Chinese Consulate, yards away from my seaview apartment, Clifton, Karachi. pic.twitter.com/zZOREpy8Fj

— Owais Tohid (@OwaisTohid) November 23, 2018
Witnesses and officials added that 3-4 men tried to break into the consulate. Rangers have taken over the scene as an operation has been launched under the supervision of SSP South Mir Mohammad Shah after sealing the area.
A female police officer, SSP Suhai Talpur, led the operation against the terrorists.
The houses surrounding the Chinese Consulate in Karachi have also been sealed by the authorities. It is being considered that the terrorists might have tried to escape to the residential houses nearby for cover. However, there is no official report of it.
Geo news has reported that at least one of the terrorists is dead, weapons and a suicide jacket were found from near his body.
Note: This is a developing story.
Stay tuned to Brandsynario for more news and updates.
Malaysian Visa Requirement for Pakistanis has been Partially Abolished