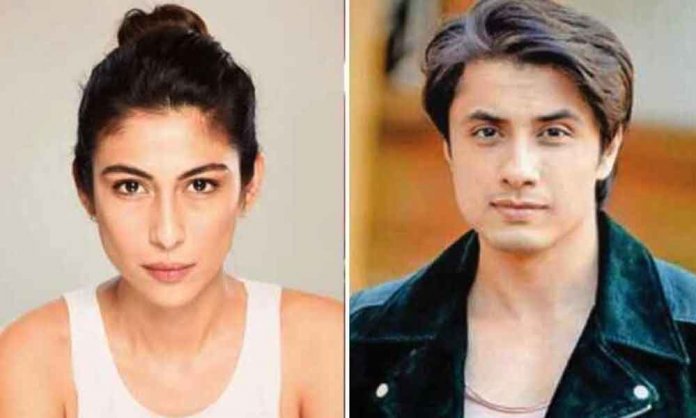 The controversial case between Ali Zafar and Meesha Shafi stayed the talk of the town for months on end from the Lux Style Awards (LSA) 2018-2019.
However, after Ali Zafar applied to the FIA accusing Meesha for running a smear campaign against him, things quietened down.
As i said, the smear campaign against me was running through fake accounts who are now shutting down after our application to the FIA. Our resolve to set a precedent that no one can do this ever to an innocent person is stronger than ever now. #cybercrime #crime pic.twitter.com/v0AbQKMG8C

— Ali Zafar (@AliZafarsays) April 30, 2019
But not for too long, it seems. Zafar took to Twitter this afternoon to announce that the complete case of the smear campaign has finally been handed down to FIA.
Ali Zafar Breaks Silence Over LSA 2019 Controversy in a Cryptic Tweet
The file contains evidences and detailed accounts of individuals who he suspects to have been involved in defaming him, claims Ai Zafar.
I want to thank you all from the bottom of my heart for the love, support & help in identifying all accounts and tweets that were a part of the smear campaign. Complete case with evidence handed over to the FIA. Punishment for the same goes to 3 years in jail #cybercrime pic.twitter.com/tVmKqVgSF9

— Ali Zafar (@AliZafarsays) June 25, 2019
"Punishment for the same goes to 3 years in jail #cybercrime"
A number of his fans and followers are supporting, congratulating, and wishing him all the best for the case.
Ali Zafar is also tweeting more and more actively about cyber crime, implying that not only the accusations made against him by Meesha were false, but also that they were an attempt to defame and harass him.
Pleased to know that a task force of over 400 professionals is being added to the #cybercrime unit soon. Deeply impressed by the conduct and enthusiasm of officers. pic.twitter.com/D1P0AwojFE

— Ali Zafar (@AliZafarsays) June 25, 2019
Know your rights! And never be afraid to fight for them. #cybercrime
We await word from Meesha Shafi and Nighat Dad to see their stance on the matter.
Meesha Shafi's Legal Team Issues Statement After Ali Zafar's Break Down
What do you think? Let us know in the comments below.
Stay tuned to Brandsynario for more news and updates.