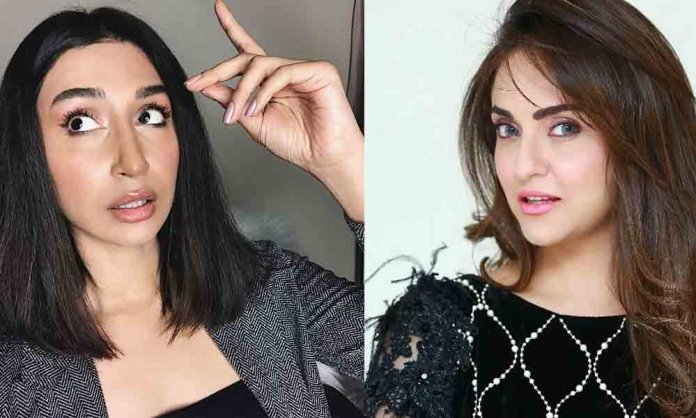 Being one of the most popular video-based platforms, YouTube allows you to share your creativity, experiences and content with the world while giving an opportunity to earn money while at it!
In the age of the internet, where majority of the audience live in the global village, many content creators rose to the status of a 'celebrity' in no time through the popularity of their YouTube channels.
But what if it's the other way round?
Recently, we have seen many Pakistani celebrities who have also stepped into this field and have established their own YouTube shows and channels.
From web talk shows to travel vlogs and lifestyle videos, here are the 7 Pakistani stars who are making careers out of YouTube!
Check out the list below!
1.Nadia Khan
After being the queen of morning shows, the famous host turned actress, Nadia Khan now rules over YouTube with her beauty blog named 'OutStyle.com'!
From reviewing branded beauty products to home remedies to cure skin problems and weight loss hacks, Nadia Khan shares her daily skin care and diet routine with her followers.
Her YouTube channel currently has more than 480K subscribers.
https://www.youtube.com/watch?v=6EP6OKwJltM
Nadia Khan also holds the record for being the first Pakistani Fashion, Beauty, and Lifestyle YouTube influencer to cross 100k subscribers in January 2018.
2. Samina Peerzada
After web series, the web talk shows have become another popular trend these days.
With more than 335k subscribers at the moment, the veteran actress Samina Peerzada is having an impactful career on YouTube as well.
Her web talk show 'Speak Your Heart with Samina Peerzada' invites the trending stars and the celebrities from the past, featuring the untold stories of their lives.
https://www.youtube.com/watch?v=alMowTBixZg
3. Hira Tareen
The model/actress, Hira Tareen also owns a YouTube channel with 22k subscribers.
From her travel vlogs to having a sneak peek into her daily life and her 5-minute everyday makeup guide, follow Hira Tareen on YouTube to glam up your everyday lifestyle!
https://www.youtube.com/watch?v=IoYT1JkuItA
4. Wajahat Rauf
Another celebrity to host a web talk show is Wajahat Rauf, the director of 'Karachi Se Lahore' film series.
The hilarious interviews of celebrities by Wajahat Rauf as the Voice Over Man remains quite popular on YouTube.
From the superstar Humayun Saeed to the famous Pakistani vlogger Irfan Junejo, these episodic talk shows invite the most trending celebrities and are absolutely a treat to watch.
https://www.youtube.com/watch?v=vzB0u1usRuQ
5. Juggun Kazim
The gorgeous actor turned host, Juggun Kazim also has a lifestyle blog on YouTube, with over 245k subscribers.
Juggun shares her everyday life experiences in her videos that mainly revolve around health, fitness, beauty, food, and lifestyle.
https://www.youtube.com/watch?v=CWCCyZy0BoA
6. Noor Bukhari
One of the most prominent faces of our entertainment industry, Noor Bukhari also owns a personal blog on YouTube with more than 300k subscribers.
She shares her daily life experiences, travel vlogs, her skincare, and makeup routine.
https://www.youtube.com/watch?v=r7-wxqAOHn0
Noor Bukhari rose to fame due to her acting in a number of Pakistani films. She has also appeared in TV commercials and hosted TV shows. However, Noor announced to quit showbiz in 2017.
So if you have been missing her, follow Noor Bukhari on YouTube channel to keep up to date with her life!
7. Arij Fatyma
Another Pakistani actress who has recently started her YouTube channel is the stunning Arij Fatyma.
From cooking videos to talking about lifestyle and beauty, Arij Fatyma has already gained more than 2.6k subscribers within a week.
https://www.youtube.com/watch?v=lxwOXLwg9Jc
Have something to add to the story? Let us know in the comments below.
Stay tuned to Brandsynario for more updates and news!