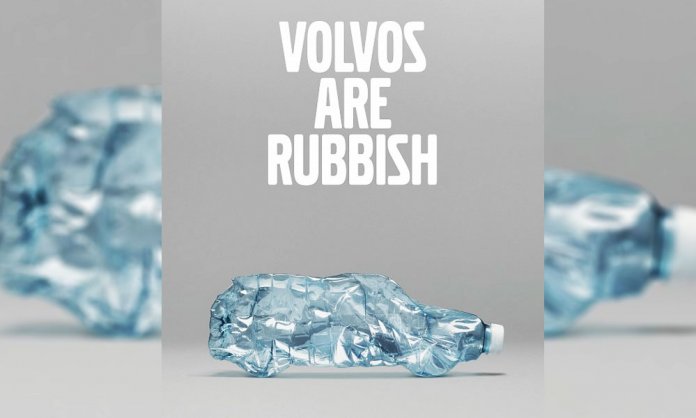 Volvo's new outdoor campaign has social media talking about brilliance, creativity, and ownership.
The poster with the caption 'Volvos are rubbish' highlights that the brand is using recyclable plastic in its cars to make a difference in this world.
Volvo's aim is that at least 25% of all plastics in cars launched after 2025 will be made from recycled material.
So far, this is one of the most progressive steps any automotive manufacturer has taken so far.
This car demonstrates our commitment to our recycled plastics ambition and how, together with our supply base, we can make it without compromising on quality and design. -Martina Buchhauser Senior Vice President, Procurement
Al-Haj Awarded Greenfield Status to Manufacture Proton Cars in Pakistan
The company took it to its official blog to further explain; "Volvo is continually seeking new ways to reduce our environmental impact across the board. We are demonstrating our intention by building a demo version of the XC60 T8 plug-in hybrid, which made its debut at the Ocean Summit, at the Volvo Ocean Race Gothenburg Stopover.
The race's focus on sustainability is in partnership with the United Nations Environment's Clean Seas campaign, which asks individuals, governments, and businesses to 'Turn the Tide on Plastic'.
This specially-built version of the XC60 looks almost identical to the existing model but has had over 60 kilos of its plastic parts replaced with parts made of recycled materials.
Some of the 170 recycled plastic parts include the tunnel console that runs down the center of the front seats, made from renewable fibers and plastics from discarded fishing nets and maritime ropes.
The seats are sewn from two different kinds of textiles, both of which are made from recycled plastic bottles. The vacuum reservoir under the bonnet, which helps to regulate the turbo engine pressure, is made of recycled fabrics from airbags.
The plastic coating is taken from the fabric leftover when airbags are cut out. It's then broken down and reconstituted to make hard plastic. The hood absorber that sits under the bonnet and helps to absorb sound, is made from used Volvo car seats. The plastic foam inside the seats is taken, processed and formed into a sound absorber layer.
What do you think about Volvo's initiative? Share your thoughts with us in the comments below.
Stay tuned to Brandsynario for more news and updates.