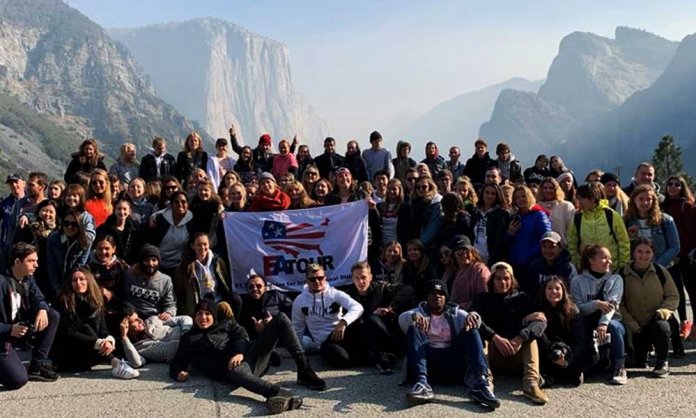 For a student, a break from studies means stress relief! Not just that, a break means that the student can take out the time to learn and explore more around them. One company making that possible is Expedition America (EA Tour).
Expedition America, also known as EA, is a full-service tour and travel provider. EA specializes in tours and excursions for international students studying abroad in the US.
EA Tour has several trips and packages for everyone to choose from according to their interests and budget.
The travel operator started its service in 2011 and since then has expanded massively. While giving an interview to The Pie News, Expedition America CEO Robert Fried said
I had no clue what this industry was. I had a friend who was taking high school graduates seniors to Europe every year and he noticed a large number of international students that were coming into the US. I was working in private equity in LA. He came to me one day and said we had to buy a bus.

Are you crazy? Why would I buy a bus? He said a school in South Beach California had tons of international students and he worked with a tour company that was outrageously priced, took them to horrible accommodation and we could do these tours so much better.
The expedition offers many different experiences including:
New Year Eve Celebrations in Las Vegas
Big Bear Day Tour in snow-capped mountains
CA Dream Tour
New York City Weekend
San Diego Parties
Lakers Basketball Game
Las Vegas Holiday Tour
Dodgers Baseball Game
Universal Studios
Napa Wine Tasting
Monetary & Carmel Day Tour
Disneyland
Six Flags Mountain
Niagra Falls Weekend
Yosemite Overnight
Washington D.C Overnight
Los Angeles Day Tour
Los Angeles Weekend Tour
San Francisco Tour
Theme Park Overnight
Expedition America Departure/Arrival Cities
The following cities are the departure points for the EA Tour trips:
Los Angeles
Boston
San Diego
Santa Barbra
San Francisco
New York
Washington D.C
Pickup is also available from these cities as well.
EA Tour Calendar
To view your next trip, click here.
Are you ready to hit the road?
Stay tuned to Brandsynario for more news and updates.
Super International Sleeper Bus Service to be Launched Today!