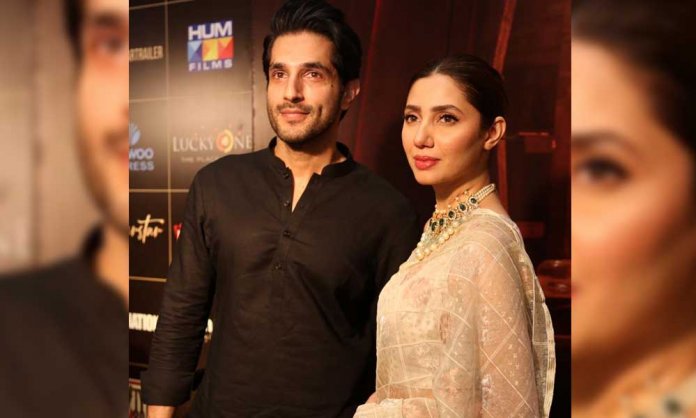 Mahira Khan and Bilal Ashraf's on-screen pairing has been winning hearts ever since the first song. 'Bekraan' from their upcoming film, Superstar was released.
The video featured Mahira as Noor and Bilal as Sameer Khan swaying and romancing in each other's arms making fans impatient to see more of their magical chemistry.
After impatiently waiting for so long, the trailer has now been released.
Mahira compared Noor to Khirad in an Ask Mahira session on Twitter and now we kinda know why. By the looks of the trailer, Mahira and Bilal play two young lovers who face pain, struggle and separation, it seems.
Sameer Khan is a famous actor whose stardom seems to be threatened while Noor is a small town struggling newcomer who eventually becomes a superstar.
Yasir Hussain Comes Clean that Calling Hania Aamir 'Danedar' was Mean!
Mahira and Bilal look amazing together and the trailer is visually stunning. However, it does look like a story we've seen before. To be sure, we'll have to watch the movie. But one thing is certain; the movie will turn out to be a treat for Mahira Khan's dedicated fans. Bilal looks just as good-looking, though now let's hope that he acts as well too.
While it seems that the trailer gives away too much of the story, we expect there's more to it than what we can foretell.
Social Media Reacts to Superstar Movie Trailer
Here's what social media has to say about the film:
Mahira impressed fans and made hearts swell with pride.
That last shot, with the tears in your eyes… gave me goosebumps and a lump in my throat in just a split second!
From MTV most wanted to this moment, you make this loyal fan's heart swell with pride each time… shine on my #Superstar 💖

— Bilal Alvi (@bilalalvi87) July 15, 2019
They feel her transition from Noor to The Superstar was incredible.
That transition from Noor to The Superstar was incredible. And the way she emotes from her eyes is praiseworthy. Got to see Mahira the actor after a while 😊 #SuperstarTrailer pic.twitter.com/mcsAKz93so

— Muhammad AnAs 🇵🇰 (@anasshaniff) July 15, 2019
Some thought it was a great trailer!
It's ahmazinggg!!! Honestly it's the best trailer I have seen of any Pakistani film in recent times! Just too good and you have surely come a long a way as an actor. I love how you held on to this for so long becoz you knew the potential that this film has and see here it is now

— Durray🌸 (@shafaq_durray) July 15, 2019
Such a pleasing and aesthetically well tailored trailer! Got so lost in it at once! Can't wait to watch a great piece of art InshaAllah! All the luck n love! From simple to sheeniest appearance every moment is a treat to watch! 🙌🏻

— Mariam (@MariamJavaid10) July 15, 2019
While others were left a tad bit disappointed..
Pakistani directors will never learn how to make something as simple as trailer. Don't give your story completely away. It's not a two minute summary, it's supposed to get you hooked without giving everything away. This just literally gave the entire story away.

— Abby (@abbymahmud) July 16, 2019
What did you think about the Zalima's performance?
Stay tuned to Brandsynario for more news and updates.