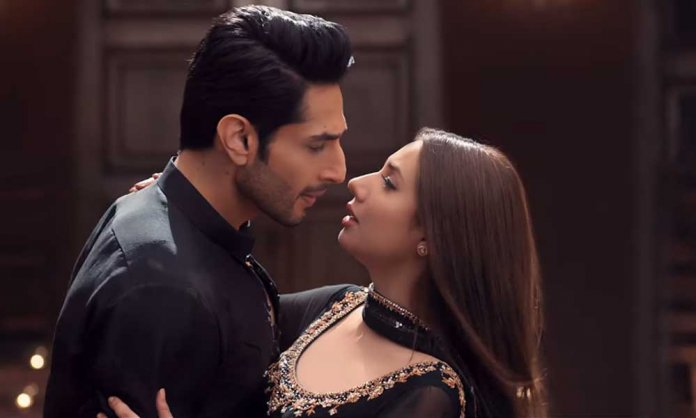 After creating a lot of buzz on social media by releasing character posters, the first song, 'Bekaraan' from Mahira Khan and Bilal Ashraf's upcoming film Superstar released on Thursday.
We have seen Mahira romance Fawad Khan and Shah Rukh Khan on our screens, but we'll have to admit, this new pairing looks magical nonetheless. The song features Mahira as Noor and Bilal as Sameer Khan swaying and romancing in each other's arms.
Mahira and Bilal's smooth and poetic moves are a delight to watch, while Zeb Bangash and Ali Sethi's soulful vocals add more magic to the already beautiful visuals that portray what infinite and unconditional love feels and looks like. The music has been produced by the very talented, Azaan Sami Khan and Saad Sultan.
Clad in an all-black floor-length anarkali dress, Mahira reminds us of her Humsafar days. In fact, the superstar herself compared Noor to Khirad making us even more curious to know all about the character she's playing. Will the two young lovers face pain, struggle and separation?
"Noor is like khirad. I don't know. She reminds me of me in a lot of ways yes," she tweeted.
Noor is like khirad. I don't know. She reminds me of me in a lot of ways yes.. 🥰 #Bekaraan https://t.co/FijwxYl2n7

— Mahira Khan (@TheMahiraKhan) July 4, 2019
Bilal, on the other hand, unleashed his superstar side and has never looked better with any other co-star, so far. Judging from the song, he looks like he's matured as a performer and we cannot wait to see what more he has to offer in the film.
Twitter is already in love with the soulful chemistry and has labeled the pair as their new favorite. Here are a few tweets that caught our attention:
Magical old world feels ✨💫⭐️@TheMahiraKhan & @IamBilalAshraf you both look 😍 can't wait to see more !
Sang beautifully by @alisethimusic and Zeb Bangash
Last but definitely not the least the Man ( il still see you as the cute kid ) behind the song Azaan Sami Khan. https://t.co/NJ1F4Nbl6U

— Feeha Jamshed (@FeehaJamshed) July 4, 2019
Mahira Khan – Bilal Ashraf – Ali Sethi – Zaib Bangash
No one, but Momina Duraid can bring this combo all together to produce a masterpiece like #Superstar – #Bekaraan

— Fahad Malik (@Fahad4014) July 4, 2019
Shuker hai you worked with someone different @TheMahiraKhan 🤣🤣🤣 @IamBilalAshraf you two are looking amazing in #Bekaraan MashaAllah 😍

— Faria (@FariaSays) July 4, 2019
Posing like pros because they know the top charts are gonna be led by them soon 💃🏻🕺🤷🏻‍♀️#Bekaraan pic.twitter.com/UYPR0dSt4D

— Shehzadi (@heybeautybae) July 4, 2019
Witness the most breathtakingly gorgeous on-screen couple, with magical chemistry in #Bekaraan from #Superstar. pic.twitter.com/jRFUncNIr0

— Amna jabeen (@amnajabeen11) July 4, 2019
I envy you a lot @IamBilalAshraf neverthless sending you lots of good wishes from India. Good luck for @SSthemovie_ https://t.co/RBG5vhnwKk

— Deep Basu (@deepbasu1) July 3, 2019
Directed by Ehteshamuddin and produced by Momina Duraid, Superstar will hit cinemas on Eid ul Adha.
Until then, watch the song below and get ready to be mesmerized: