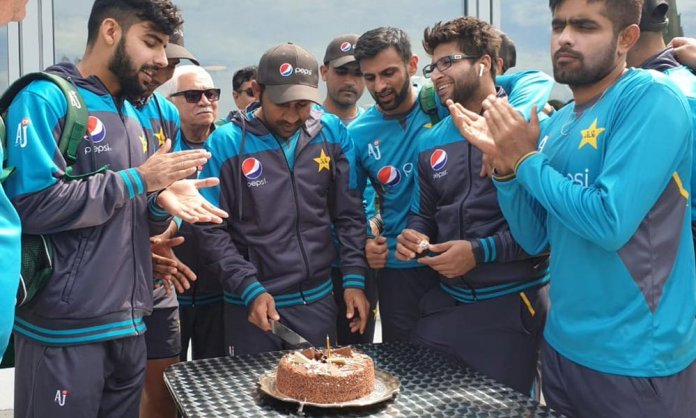 Pakistan national cricket team's skipper Sarfaraz Ahmed turns 32 years old today. On account of his birthday, his teammates celebrated the occasion with the captain. However, many individuals have criticized him for his celebrations.
His birthday has come during the holy month of Ramadan when Muslims around the world observe fasting from dawn to dusk. However, in the video, it can be seen the boys were celebrating and cutting the cake during the day.
Other cricketers in the video that are visible are Shoaib Malik, Imad Wasim, Wahab Riaz, Babar Azam, Imam ul Haq, and of course head coach Mickey Arthur to name a few.
While the video does not show anyone eating the cake, it can be seen that the knife is picked and a slice in being cut towards the end.
Because of this, a debate has sparked over social media where half fans are claiming that the boys should have respected Ramadan while the rest say no one knows who ate the cake if they did.
Social Media Reacts to Sarfaraz Ahmed Cutting Birthday Cake
Fr b muja tu aj hi pta chla ha na ..Bilawaja Roza Q khata hn ya.😭😭😭😭😭

— KhanzAda Khurram (@KhanzAdaKhurra1) May 23, 2019
Sach ma Galat image jata ha..upeR sa video b upload ki gyi .Fr kha jata ha sirf pakisani hi during sport roza ni rhkta😉😉😉😔

— KhanzAda Khurram (@KhanzAdaKhurra1) May 23, 2019
How do you know they have cut the cake after Maghrib or before Maghrib? if they have cut the cake after Iftaar then who gave you right to criticize?? bhai apne kaam se kaaam rakho… aur Pakistan k lye dua karo..

— Mr.Bravo (@meetBRAVO) May 22, 2019
Kesi ki kushi mein kush hona sikho phr dekhna ap ki ye soch kesy badlti hai

— Urooj Jawed (@JawedUrooj) May 22, 2019
Point to ponder brother

— Adrees Malik (@masadmuzmalik) May 22, 2019
Lakin kiaa yeh confirm hai k din ko kata hai cake?

— Younis Mahsud (@inform_computer) May 22, 2019
V bad sharam kro team Pakistan

— Hamza Jutt (@HamzaJu34476623) May 22, 2019
Last year, Wasim Akram also faced a similar backlash from social media after his birthday was celebrated during the holy month. He was accompanied by Waqar Younis, Zainab Abbas, and others.
Wasim Akram Eating Cake in Ramadan Stirs Anger on Social Media [Watch Video]
What do you think about the celebrations? Were the boys right to celebrate Sarfaraz's birthday or was it wrong?
Let us know in the comments below.