A recent picture of Rosie Gabrielle has hurt many people's sentiments. The picture shows her puppy, Winston Sirchill, sporting the national flag around his neck.
This gesture has upset many individuals who had called the influencer out.
Gabrielle, in the post, had shared that she is back in Pakistan, and this time, her decision to come back is permanent.
In the picture, we see her pup wearing a bandana like cloth that reads 'I love Pakistan.'
The influencer was so inspired by the countrymen that she herself had converted to Islam not too long ago.
She decided to move to the country that helped her during one of her most difficult times.
Rosie Gabrielle, Canadian Tourist who Toured Pakistan Converts to Islam
She writes in her post:
I'm Baaack!!!!!! SURPRISE!

it seems I loved Pakistan so much, I had to return But this time, instead of traveling across the country, I've decided to base myself here Indefinitely!

And this time I didn't come alone, I brought my sweet little angel boy @winston.sirchill 
Who is equally excited to be here and have some new adventures with mum!
Social Media Reacts To Rosie Gabrielle's Picture
Here's how social media reacted to Rosie's picture: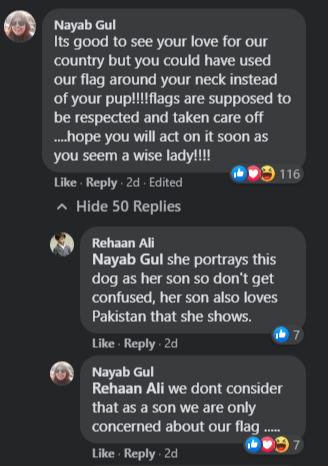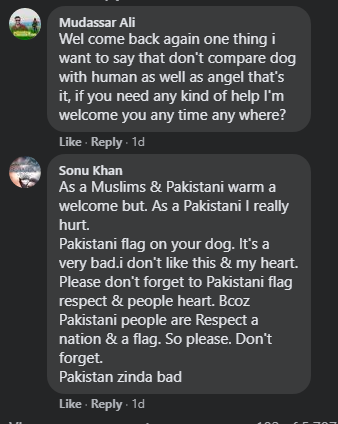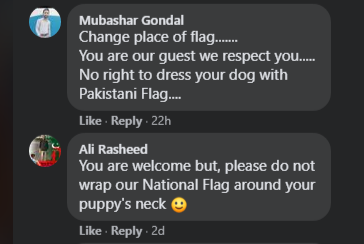 She clarified in a statement that just like humans, her pup is also a creature made by God and that he is worthy enough to bear any flag. She says that he is wearing the national flag on his heart and that he is doing nothing to disrespect the flag.
Her statement reads:
To anyone who has an issue with my sweet angel wearing the Pakistani flag….

my dog is a beautiful angel and creation of God, and has all worthiness to wear this flag and ANY flag.

It's next to his heart- which is the same beating heart that is in your chest and mine, which is the same organ of love that God created each and every BEING to have.

So WHAT is your problem exactly?

If you do not treat all creatures and beings as equal to your self, if you think that anyone or any animal is less than you. Then YOU are not practicing true HUMANITY we are taught. You are not being a humble servant.

This is an HONOR for my dog to wear this flag. I love my Winston more than anything, he is like a son to me. And if anyone offends him or myself by continuing to say such things, I will just ban you.

And the fowl language and choice of word you use to bash me, only show your true heart and colors. You are only embarrassing YOURSELF and making a fool in front of the word and giving a bad name to Pakistanis.

So on behalf of the entire Nation, spare yourself for the sake of their imagine.
This is not the first time an influencer has hurt the sentiments of Pakistanis. Social media has called out the nation-wide famous Eva Zubeck.
Dressed in a green kurta shalwar, wearing Pakistan's national flag, the foreigner performed the 'KiKi challenge' inside and outside a PIA plane in an attempt to promote Pakistan's tourism.
However, she used the national flag as a prop and wrapped it around her body while dancing, which made social media furious.
Bollywood's Rakhi Sawant also hurt the countrymen's sentiments when she conducted a bold photoshoot with Pakistan's national flag.
Rakhi Sawant Stirs Controversy After Posing With Pakistani Flag for an Item Song
Moreover, Pakistanis even called out Chinese nationals for insulting the national flag after a video showing the Chinese standing on a car with the flag on the car's body went viral.
Angry and furious, social media called on the government to send these ungrateful CPEC engineers back to their country.
Do you think Rosie's explanation is justified? Could you share your thoughts with us?
Until then, stay tuned to Brandsynario for more news and the latest updates.