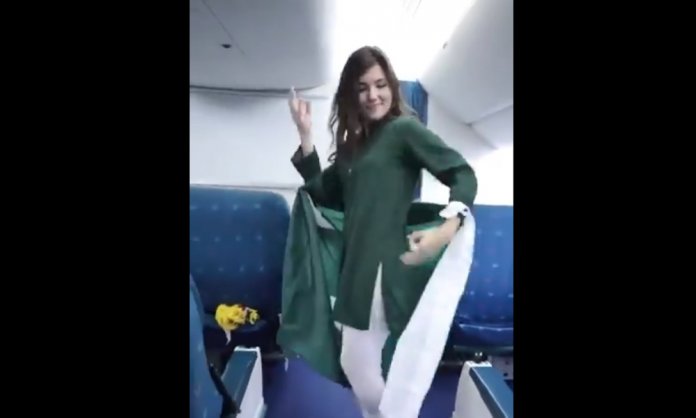 Kiki Challenge has taken over the social media by storm. People of all ages from all over the world have been posting their Kiki Challenge videos on the internet and most of them have gone viral.
Unfortunately, it is still hard for people at times to take something light-hearted and fun on a good note. Similar happened with Eva Zu Beck, a foreigner who was traveling to Karachi via Pakistan International Airlines while touring Pakistan.
Dressed in a green kurta shalwar, wearing Pakistan's national flag, the foreigner performed KiKi challenge inside and outside the plane, in an attempt to promote Pakistan's tourism.
She thought of doing the Kiki challenge because it is all that is trending on social media
A woman does kiki challenge stunt on the PIA aircraft and the tarmac. Wearing green and white dress and draping the Pakistan's national flag around her body, she is seen dancing on the aisles of the aircraft and then on the tarmac.@Official_PIA @pid_gov #PIA #KikiChallenge pic.twitter.com/kvlMbfolui

— Showbiz & News (@ShowbizAndNewz) August 13, 2018
While the video has received a lot of media attention in the past few hours,  there are people who are supporting Eva and there are others who are not considering that her dance is a disrespect to the Pakistani flag.
A day before Independence day, PIA announced that Eva from Poland will be celebrating Independence Day in style never before attempted in the world.
Eva zu Beck from Poland/England is a Global Citizen travelling around the world, but now her heart is set on Pakistan! She has been exploring Pakistan flying #PIA. She will be celebrating Independence Day in a style never before attempted in the world! Stay tuned for updates. pic.twitter.com/jrwezOJBzw

— PIA (@Official_PIA) August 12, 2018
Soon after the picture was published on PIA's official Twitter account, NAB took notice of the of the attempt.
According to reports, NAB has taken notice of the 'insult' of the national flag and has sent the notice to PIA's COO to explain his position.
There's been mixed reaction on social media:
Our flag is disgraced when a foreign woman innocently dances to promote Pak tourism but not when dictators go scot free, encounter specialists get bail, TTP spokesmen r protected, UN designated terrorists & sectarian killers r mainstreamed and people r routinely 'disappeared'

— Talat Aslam (@titojourno) August 13, 2018
I don't think it's any disgrace of the national flag in a video by blogger Eva zu Beck on a PIA plane. Please be positive! #KiKiChallenge
#IndependenceDay

— Ali Hussain (@aly_husein) August 13, 2018
PIA service wise is as third class as it could get with a wannabe Elvis Presley CEO jo bass cameray k agay phirta hay, don't have the resources to keep ear phones/head phones for long haul flights but yeah kiki wiki challenge k liye dimagh hay, immature idiots

— High (@talkingcurves) August 13, 2018
Following the backlash, the foreigner has posted her stance on the entire situation.
Eva was just expressing her love for Pakistan. We should appreciate that rather than criticise it! #KikiChallenge @geonews_urdu @Dawn_News @ARYNEWSOFFICIAL @ImranKhanPTI @PTIofficial @DunyaNews @SAMAATV @AajKamranKhan @GeoASKKS @Kashifabbasiary @MazharAbbasGEO @Nabehal @BBCUrdu pic.twitter.com/YA1NZcccDi

— Jamil Arif (@jamilarif) August 13, 2018
In times, where Pakistan is in dire need to promote its tourism, do you think this is something that should've happened to a foreigner who was only attempting to promote Pakistan's tourism and its culture?
The fact that this has happened during the Independence Day celebrations of Pakistan, doubles the irony of the situation.
This is a developing story, for more stay tuned to Brandsynario.