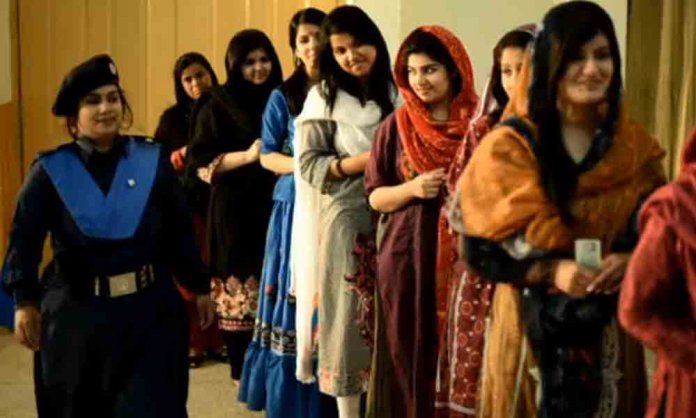 A video has caught social media's attention as women not covering their heads have been barred from entering the Minister's Block at the Punjab Civil Secretariat in Lahore.
This came to attention after Noor Imran tweeted about her experience as she and her colleagues were not allowed to enter the premises without a dupatta on their heads.
Rant alert: I was refused entry in a government building because I wasn't wearing a dupatta. 🙂 Refusing me entry was also a head scarf wearing woman (no issues, her choice) who called in a man when I asked why. He said these orders are from the minister I had a meeting with 1/2

— Noor Imran (@NoorImran_) October 17, 2018
Sindh Cabinet Declares Winking, Staring at Women as Criminal Offense
This came as a surprise for Noor as this was not her first visit and never faced an issue with her apparel before. However, this time around, she was stopped by the security and staff of the Minister's block in the security checking room.
When confronted, the police officer on duty named Raza stated that this rule was imposed on the women to prevent men from staring at them and were set by the Minister.
Noor further shared that she then took a dupatta from a friend. When she wore it on her shoulders, she was still not allowed to enter. The female staff members told her that it had to be on her head.
My colleague with me had a head scarf and a dupatta lent me hers to enter. I threw it on my shoulder and told her to let me go now. She then said, "Cover your head with it". I was like why? I have a dupatta now! And I walked off. Ily Pakistan, but you make it very hard 2/2

— Noor Imran (@NoorImran_) October 17, 2018
BOL News Headquarters Hit with Protesters as it Fires Over 250 Employees!
Noor's colleagues had faced the same problem the following two days as one of the girls did not have her head covered. When the officials were asked to present an official notice of this new rule, they responded by saying it is not on paper, but just verbal orders.
went to the Minister's Block, Civil Secretariat lhr today coz I heard of this issue that you can't enter without a dupatta. They refused me too. I asked for written orders and there were none. They used your name ma'am @Dr_YasminRashid . You can see. @PTIofficial #NayaPakistan pic.twitter.com/HvzLThV0Lh

— sidra butt (@ButtSidra) October 19, 2018
In the video, the guard takes the name of Dr. Yasmin Rashid, one of the Ministers who wanted this rule to be implemented. Twitter users have taken it to the social media platform to call out Dr. Rashid and have asked for an explanation.
@Dr_YasminRashid can you please explain why you have ordered that women should not be able to enter the Punjab Civil Secretariat without wearing a dupatta? I understand you wear a dupatta and I respect your choice. Shouldn't you be respectful of the choices of other women?

— Sehar Tariq (@sehartariq) October 19, 2018
So women can't enter the Punjab civil secretariat without wearing a dupatta, because the entire working of the secretariat will come to a halt? The secretariat functions as the epitome of moral values? What's next – the religious police?

— Hassan Niazi (@HNiaziii) October 19, 2018
I suggest we blind all the men. Problem solved. https://t.co/b7AihdHhyW

— Zarrar Khuhro (@ZarrarKhuhro) October 19, 2018
This incident even got noticed by Pakistan People's Party Parliamentarian and Senator Sherry Rehman.
What? Respect and responsibility MUST be in the eye of the beholder. Which minister is this ? https://t.co/8O85d3vke8

— SenatorSherryRehman (@sherryrehman) October 19, 2018
What are your thoughts about this new rule? Dupatta or no dupatta?
Stay tuned to Brandsynario for more news and updates.
Creative Chaos Apologizes for Alleged Discrimination Over Hijab