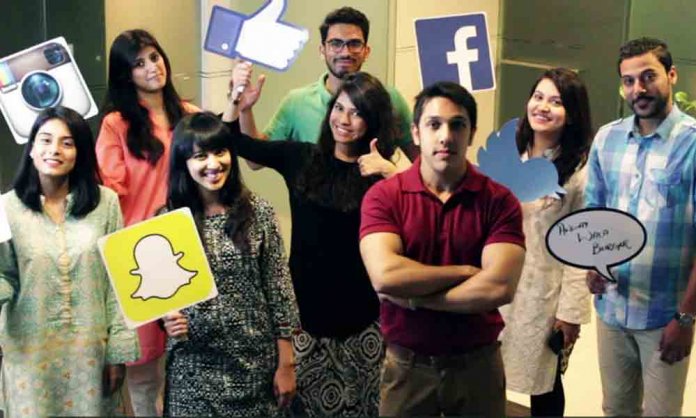 Update: Creative Chaos once again issued a statement, following the investigation by Board of Directors.
According to the statement, both the Hiring Manager and CEO were guilty of violating ethos of the company, and have accepted their mistake.
Both are no longer a part of Creative Chaos.
---
Creative Chaos, a technology, digital and outsourcing services company has given a statement on Khalid Alvi Marketing Next group claiming the agency has a zero-tolerance policy against any kind of discrimination.
This came after a post went viral on social media by a girl who's friend was hired as the Associate Talent Acquisition Officer at Creative Chaos. She was asked to resign from her job because of her hijab. She was told that the only way she could keep her position was to take it off. She refused to do so and sent in her resignation.
The company has very recently formally apologised and taken the following steps to express their regret over the matter:
1. Apologized to the associate in writing and have requested to meet her in person, to do the same.
2. Requested the associate to withdraw her resignation and continue working with them with confidence.
3. Suspended the hiring manager until a transparent inquiry is conducted for further concrete actions.
The representative further added that Creative Chaos' values and ethos are built around creating a high-performance culture based on meritocracy, growth, mutual respect and collective tolerance.
"We only appraise you on your skills, qualifications and the value you create for our customers." stated a representative from Creative Chaos.
On the other hand, the agency's senior representative also mentioned that as far as the CEO is concerned, the board is currently looking into the matter and it will be dealt with accordingly.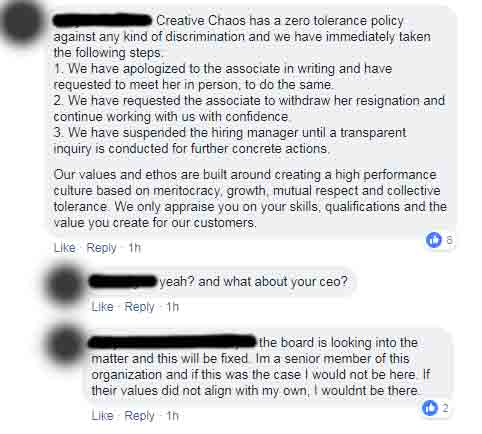 The post has been circulating around social media, and made it to Khalid Alvi Marketing Next, a Facebook group where marketing experts and critics have discussions.
The friend also claims that the CEO agreed saying that they usually do not hire people who wear hijab or "maulana type guys" and it was a mistake at their end. They do not want to give the wrong image by hiring 'such' people.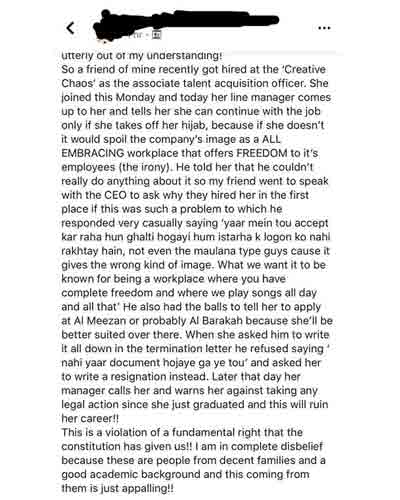 Illegal Billboards in Pakistan to be Removed Within 45 Days: Supreme Court
However, while some of the current employees and ex-coworkers are vouching for their workplace, others have come forth and shared a similar experience where they have been discriminated due to appearance.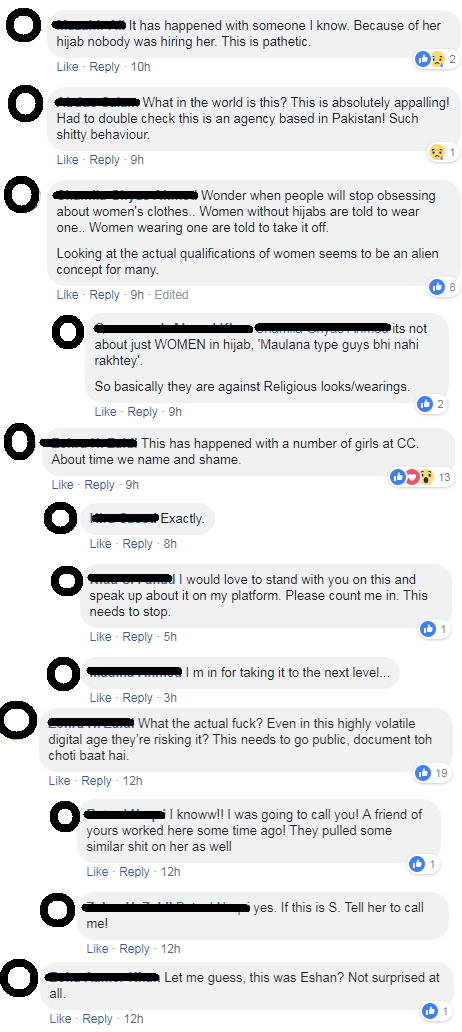 This incident in our corporate sector makes us wonder if we are living in France or in Pakistan
Stay tuned to Brandsynario for more news and updates.
Pakistani Brand's Inappropriate Take on #MeToo Faces Backlash!