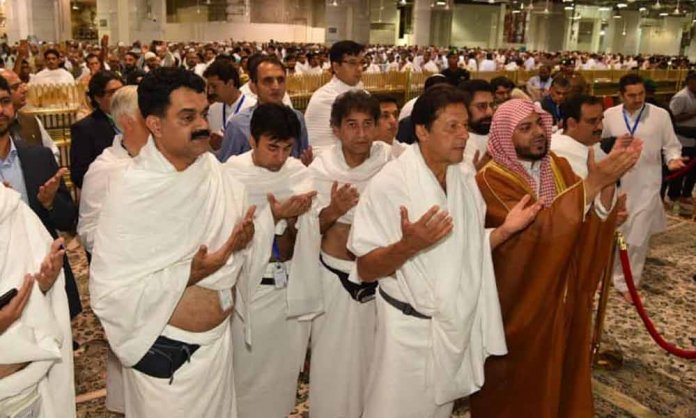 Pakistan's Prime Minister, Imran Khan performed Umrah with wife Bushra Maneka, on Friday and social media just cannot have enough of their videos and photos!
Netizens are all praises for the PM and the First Lady! They are sending him best wishes and praying that his Umrah is accepted.
Prime Minister Imran Khan performing Umrah with his QUEEN

Maa Shaa Allah❤❤😍@ImranKhanPTI pic.twitter.com/nyQ8P9wXM3

— FATIMA MUSHTAQ (@FATIMAM73301953) May 31, 2019
@ImranKhanPTI honorable Mr PM…. May Allah The Almighty bless you and accept your Umrah…. you are the only hope now to the Awaam (spc. Mdl class)… HOPE to take favorable steps towards us as far as mehngaayee (inflation) is concerned to cntrl in upcmng budgt pls… rgrds

— shehryar jilani (@shehryarjilani) May 30, 2019
A number of significant cabinet members accompanied Khan on the spiritual journey- CM Punjab Usman Buzdar, CM Khyber Pakhtunkhwa (KPK) Mehmood Khan, Minister for Tourism, Culture, and Youth Affairs in KPK Atif Khan, Special Assistant to PM Imran on Special Affairs Naeem-ul-Haque, Senator Faisal Javed Khan and other politicians.
وتُعِزُّ مَنْ تَشَاءُ وَتُذِلُّ مَنْ تَشَاءُ 😇
Imran Khan performed Umrah and the Kaaba was also opened to give him an opportunity to Salaah inside. ❤🌸
May ALLAH bless you Kaptaaan. Ameen ☺
In shaa ALLAH everything will be okay soon ✌ pic.twitter.com/Flxe4tyKsD

— Syed Shoaib Gillani (@ShoaibXhabi1) May 31, 2019
They will offer their Jumma prayers in Masjid-ul-Haram, and PM Imran will also attend the Organisation of Islamic Cooperation (OIC) Summit in Makkah today.
The OIC Summit is called "Makkah Summit: Together for the Future". It is hosted by Saudi King Salman bin Abdulaziz Al Saud, with the aim to unite Muslim leaders and enable them to tactfully address the rising tension in the Gulf.
The PM arrived in Medina a day earlier for a three-day visit to Saudi Arabia. He also had the privilege to pay his respects at Roza-e-Rasool (Peace Be Upon Him) while offering his Nawafil prayers in Medina.
Many are swooning over the opportunity Khan was lucky to be blessed with.
He landed first in Madinah then later left for Umrah to makkah. Fyi the respect can be seen by doors of khana kaaba opened to Imran Khan to perform nawafil.. what other sort of respect would anyone on this earth would ask for you dumb head ???

— Jz موجستي (@dirty_jz) May 30, 2019
Have something to add to the story?
Let us know in the comments below! And stay tuned to Brandsynario for more updates and news.
Aamir Liaquat Condemns Animal Abuse in His Ramadan Transmission