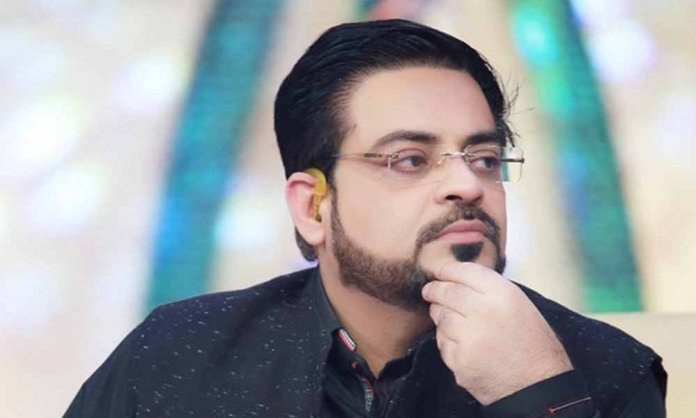 Aamir Liaquat Hussain strongly spoke against animal cruelty in response to a live phone call received on Hamara Ramazan on PTV. 
Referring to a recent dog poisoning in her vicinity, the caller asked the host what religion says about cruelty to animals.
Fahad Mustafa Talks About Jeeto Pakistan Initially Being a 'Copy' of Aamir Liaquat's Game Show
Watch the video below.
#HamaraRamazanPTV pic.twitter.com/UyI6m0u3Mp

— Aamir Liaquat Husain (@AamirLiaquat) May 27, 2019
Aamir Liaquat stated that it is strictly against religion to harm animals and he is personally against killing dogs by poison.
It personally pains me when stray dogs on the street are fed poison. Even their little puppies die a painful death because of it. They should come up with a better way.
He also mentioned that he has personally witnessed donkeys being beaten and injured in Jodia Bazaar, Karachi and he attempted to rescue the poor animals in that capacity.
When I was elected MNA, I started a dedicated movement against animal cruelty in that area.
A news report by Samaa TV stated that 20,000 cases of dogs attacking people were reported in 2018.
Such recurring incidents enrage residents, especially parents of young children who are often chased or attacked by dogs.
However, painfully killing dogs does not seem like a decent solution to the problem. Many animal lovers have spoken about the heinous act, starting online petitions and movements.
The video of shooting/killing astray dogs in Islamabad is so sad. Why can't Pakistan ever do anything about animal rights. Please don't kill the dogs, please.
Fear God in your treatment of animals. pic.twitter.com/ArYtEzlZ4c

— GodOfEmptiness (@donefromhell) December 22, 2018
Ahsan Khan All Praises for Bushra Aamir Liaquat in Ramadan Transmission
There are various organizations in Pakistan that are working to rescue injured animals and save stray animals from meeting the same fate.
Animal welfare organizations include:
ACF
ACF is the first ever shelter and rescue service for injured & abused street and working animals in Pakistan.
TWS
Todd's Welfare Society is an animal rescue NGO. They help rescue sick, injured and abused animals of Lahore.
SPAR
SPAR.pk is an animal rights organization whose mission is to connect government and private organizations on the same platform towards a single "co-healing" agenda by enforcing the animal rights law when all other supportive parameters have been neglected.
What do you think about Aamir Liaquat's stance on the issue?
Let us know what you think.
Stay tuned to Brandsynario for more news and updates.