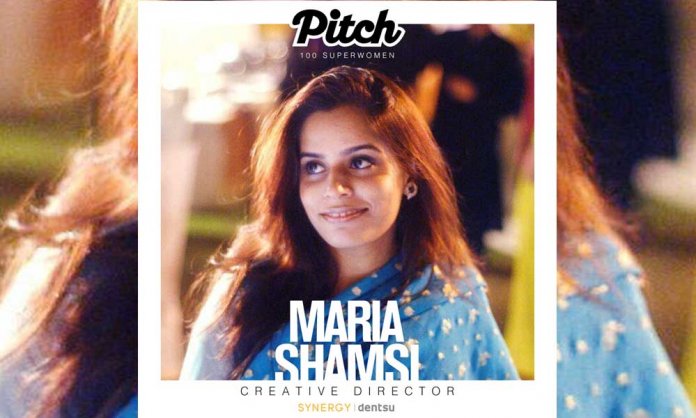 Pitch 100 Superwomen celebrates women who work behind the scenes in the creative industry. These talented ladies are capable of handling multiple tasks without breaking a sweat!
They take risks, are brave-hearted and are always up for a challenge to prove their skills – and above all know they how to get the job done!
Superwomen are nominated by their industry peers, and we are super thrilled that this year two Pakistanis became a part of this honor!
The Pitch 100 Superwomen initiative was first launched in 2017 by Sherry Collins, Founder of The Pitch Fanzine. It is a movement that had initiated back in 2015 to challenge inequality, discrimination and the lack of diversity in the creative industry while simultaneously showcasing outstanding contemporary talents such as animators, artists, brand founders, creative directors, illustrators, photographers, and producers via its publication Pitch.
Maria Shamsi – Creative Director, Synergy Advertising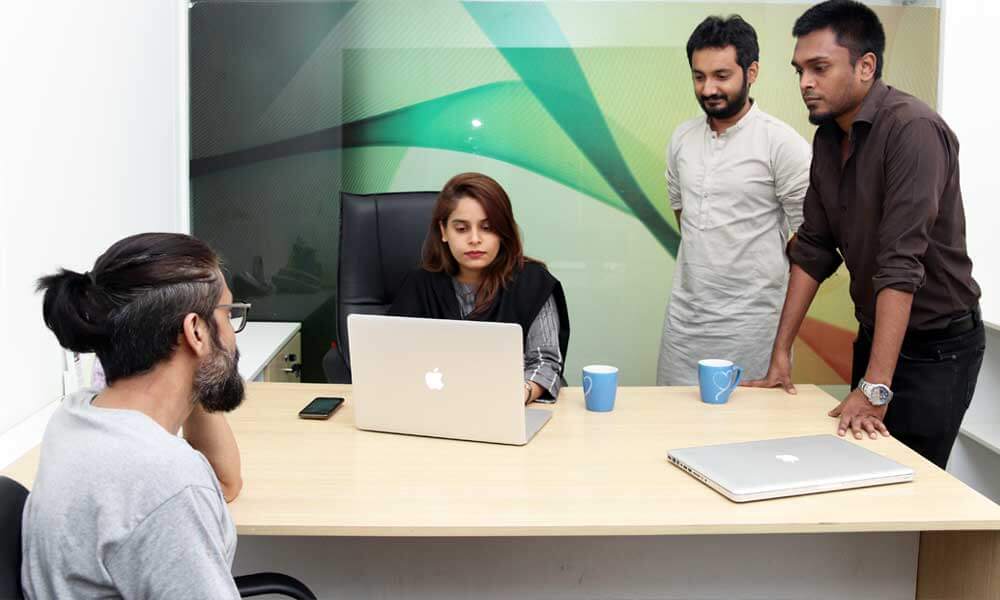 Social Media Lauds Bank Alfalah Employee's Termination Over Offensive Language
Maria Shamsi is one of the first two Pakistani women to be featured on Pitch 100 Superwomen and is also one of the youngest creative directors in Pakistan!
She has worked on a number of successful campaigns for brands including Suzuki, KFC, and edenrobe.
While talking to Maria, we learned that she wants to inspire and encourage other women to become prominent leaders in the advertising industry. She goes on to share that women are often restricted and challenged in achieving what they deserve.
Women manage not just their professional lives and careers, they also dedicate themselves to their households. They go home after work, cook and clean and also attend to their children and extended families.
Maria goes on to emphasize that men and women both need to encourage talented women.
She mentions how the environment at Synergy Group has been nurturing for women because its Managing Director Ahmed Kapadia has always encouraged and acknowledged its female talent.
Managing Director of Synergy Group @ahmedkapadia addressing the audience on the 1st Day of Cannes Lions' See It Be It program held in Karachi #SeeItBeIt #SynergyDentsu #Brandsynario pic.twitter.com/xYn64VF8vY

— Brandsynario (@brandsynario) March 19, 2018
Don't Give up, Continue to do the good work that you are doing, keep at it and believe in yourself.  -mARIA sHAMSI
https://www.youtube.com/watch?v=y1zSFyOz4vU&feature=youtu.be
Pitch 100 Superwomen 2019: Complete List
Other women honored this year are:
Aarti Mahtani, Sales Manager, Cinelab London
Abigail Stephenson, Creative, Droga5
Alice Morris, Producer, 2AM
Alicia Job, Creative, ENGINE
Allison Duval, Group Marketing Manager, Procam
Ally Owen, Founder, Brixton Finishing School
Amie Snow-Mayers, Creative, Ogilvy
Anjali Vasudevan, Client Director, Jones Knowles Ritchie Singapore
Anna Dalziel, Director of Brand, UK & Global, Momentum Worldwide
Anna Jobbins, Creative, Havas London
Annika Allen, Content Creator & Founder, Black Magic Network
Aoife McGuinness, Neuroscience Consultant, HeyHuman
Atiya Zaidi, Executive Creative Director, JWT/Grey
Audrey Solvar, Founder, Black Creators Matte
Bairbre McGlade, Senior Art Director, Boys + Girls
Becca Gribbin, Events & Marketing Manager, APA
Calli Louis, Client Services Director, Karmarama
Caroline Paris, Creative Director, Brave
Cat Shanu, Social Media Co-ordinator, BAD (British Arrows Doorway)
Cathy Green, Acting Head of Production, Biscuit Filmworks
Charlotte Hugh, Senior Creative, Dark Horses
Charlotte Khushi, Senior Art Director, Wunderman
Cheryl Payne, Senior Producer, Freefolk
Chloe Saunders, Head of Production, CHEAT
Claire Baker, Creative Director, Drum
Claire Cook, Executive Producer, Nexus Studios
Claire Cullen, Post Producer, Freelance
Claire Young, Head of Creative Services & Creative Production, VCCP
Clare McGrath, Executive Producer, Finger Music
Clare Timms, Managing Director, Darling Films
Cookie Tabinor, Event Co-ordinator & Creative, Mellor&Smith
Cressida Holmes-Smith, Client Partner, Lucky Generals
Diana Tickell, CEO, NABS
Dionne Archibald, Executive Producer, Coffee & TV
Emily Challenor, Senior Account Director, LIDA
Emily DeGroot, Project Director, Freelance, Founder, Dear Adland
Emily Newman, Producer, Speade Ltd
Emma Gardner, Managing Partner, ELVIS
Emma Saddleton, Client Account Director, Carat UK
Eva O'Reilly, PA, Jones Knowles Ritchie
Fran Plowright, Partnerships Manager, Create Jobs
Gaby Khalastchy, Account Director, Wildfire Social
Gemma Phillips, Creative Director, Saatchi & Saatchi
Georgina Kent, Senior Producer, BBH
Hanisha Kotecha, Managing Director, GOOD Agency
Hanna Davis, Producer, FCB Inferno
Hannah Barnes, PR & Marketing Manager, Smoke & Mirrors, Big Buoy
Hannah Bellil, Producer, Prettybird UK
Hannah Stein, Senior Account Manager, Content Strategist, Jones Knowles Ritchie
Heleana Blackwell, Strategist, Havas London / Co-founder, The New Work
Helen Hadfield, MD & Executive Producer, Snapper Films
Islay Leefe-Griffiths, Producer, Production Manager, Freelance
Jacqueline Dobrin, Head of Production, Grey London
Jade Trott, Art Director, Oliver
Jane Kinnaird, Creative Strategist, Creative Shop, Facebook & Instagram
Jasmine Portman, Account Director, Creature
Jess Journo, Head of Talent, Familia
Jess Watson, Creative, ENGINE
Jo Rudolphy, Head of Talent, SKUNK
Jody Nicholl, Creative Director, We Are Alexander
Joyce Kremer, Art Director, Freelance
Julia Cheetham, Production Director, Apple Inc
Julia Martens, Copywriter, Freelance
Karen Fraser, Director, Credos & Head of Strategy, Advertising Association
Kate Lloyd, Creative, Havas London
Kate Lynham, Creative Director, UNIT9 London
Katie Gander, PA to HTV, Leo Burnett
Kayleigh Didcott, Account Manager, Poke London
Keeva Bolger, Agency Producer, Boys + Girls
Kelly Church, Lead Planner, The Gate London
Kemi Anthony, Marketing Communications Manager, IKEA UK
Kerry Glazer, Chair, AAR, President NABS, Chair #timeto
Kerry Robinson, Creative Director & Content Strategy, AKQA
Kim Jarrett, Executive Producer, London Alley UK
Kristina Ryan, Senior Creative, Mr.h
Lauren Haberfield, Senior Art Director, BETC Paris
Lauren Portelli, Group Brand Director, 72andSunny Amsterdam
Leonie Moreton, Operations Director, Coffee & TV
Lesley Queen, Head of Production, Nice Biscuits
Libby Swan, Managing Partner, PRDXN
Lisa Joseph, Producer, RSA Films
Liz Browne, Head of Production Operations, The Mill
Lizi Hamer, Regional Creative Director, Octagon, Singapore
Lottie Cooper, Deputy Managing Director, Framestore
Louise Allen, Head of Production, Factory
Lucy Eldridge, Senior Creative Copywriter, Wunderman
Lucy Gossage, Producer, Freelance
Lucy Jameson, Co-Founder, Uncommon
Lydia Raghavan, Creative, Refinery29
Malin Persson, Product Marketing Manager, Enterprise Special Projects EMEA, Adobe
Maria Shamsi, Creative Director, Synergy Advertising, Karachi
Mel Lamont, Bookings Manager, Procam
Mercedes Benson, Brand Partnerships Manager, Complex Networks, SocialFixt
Meriel Bunney-Gillies, Head of Creative Development, LS Productions
Mikaela Rice, Conceptual Creative, Freelance / Social Creative, Shesays
Nana Bempah, Executive Producer / Producer / Co-founder of Pocc
Nancy Ryan, Producer, Black Dog Films, RSA Films
Natalie Graeme, Co-Founder, Uncommon
Natasher Beecher, Senior Copywriter, Ogilvy Health UKNimo Awil, Senior Creative, Poke London
Nisa Kurti, PA & Office Manager, 1stAveMachine
Noreen Connolly, Managing Director, Beam
Paulette Caletti, Producer, Prettybird
Pip Hulbert, CEO, Wunderman Thompson UK
Polly Barnes, Client Services Director, Creature
Portia Clarke, Music & Culture Manager, Freelance
Rachel Menzies, Music Supervisor, Native Music Supervision, Hookline
Rebecca Rowntree, Freelance Creative Director / Founder of This Way Up Podcast
Reshma Biring, Enablement Manager, Annalect EMEA
Roxi Jahanshahi, Programmes Manager, You Make It
Ruth Boulter, Creative Director, McCann London
Sabrina Lynch, Senior Vice President, Vision7
Samia Ahmed, Producer, Freelance
Sarah Gardner, Producer, Freelance
Sarah Watson, Senior Creative, McGarryBowen
Saskia Jensen, Producer, SALT.TV
Scarlett Montanaro, Creative Director, Revolt London
Sherina Florence, Creative Director, Ogilvy New York
Sonya Barlow, Founder, Like Minded Females
Sophie Kluman, Global Head of Operations, MD, STINK
Sophie Rivet, Account Director, POKE London
Suki Heather, Creative Director, AKQA London
Syl Saller, CMO, Diageo
Tash Tan, Executive Producer, Somesuch
Theadora Watts, Executive Assistant, Partizan
Tobi Oredein, Founder, Black Ballad
Victoria Brooks, Brand Sustainability Strategy Consultant, Freelance / VP, Bloom UK
Yelena Gaufman, Strategy Partner, Fold7
Yen Ho, Director of Operations, 72andSunny Los Angeles
Zara Montagu-Leon, Creative Services Director, Brave
A very hearty congratulations to all of these amazing women! May you continue to inspire the women in the industry.
Stay tuned to Brandsynario for more news and updates.