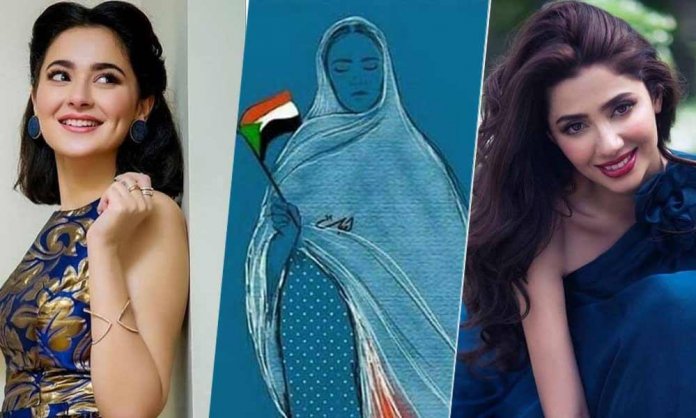 Sudan began celebrating the ousting of their President, Omar al-Bashir last year as the military council and opposition groups agreed on a three-year transition to democracy, aimed at handing power to the people.
However, talks of that broke down in May, and ever since the Sudanese are on the streets, demanding the authorities to keep their word.
Manchester United Midfielder Paul Pogba Shares Conversion Journey to Islam
Due to this, protesters are being subjected to extreme violence by the police authorities, and the situation is so terrifying that there is currently a blackout in Sudan with the following civilian calamities:
500 killed
723 injured
650 arrested
48 girls and women raped
6 boys and men raped
1000 missing
No western media is reporting on the massacre, so human rights activists have taken it upon themselves to talk about it, raise awareness, and stop it from being suppressed at such a large scale.
Pakistani celebrities have also joined the movement and are taking to their social media accounts to bring attention to the inhumane Sudan Massacre.
Mahira Khan expressed how heartbreaking she finds it.
Why is barely any international news channel giving this proper coverage? It's heartbreaking to read about what's happening in #Sudan and so is the indifference towards it. https://t.co/YxSRISaIIf

— Mahira Khan (@TheMahiraKhan) June 13, 2019
Hania Amir requested people to raise their voice.
Children women being raped!People beaten up!Thrown in the river! Internet & media coverage cut off! THIS IS NOT OKAY!A child was raped by 10 men in a mosque!Anybody who has even the slightest bit of following or a heart raise your voice fgs! #SudanMassacre https://t.co/I1ZPOGd4Cn

— Hania Aamir (@realhaniahehe) June 13, 2019
Armeena Khan posted a banner highlighting the issue.
— Armeena Khan (@ArmeenaRK) June 13, 2019
Mawra expressed her grief, calling it an inhumane and ugly display of power.
My heart is in pieces.
Humanity seems to be an emotion of ancient times.
What is this world we live in?
Inhumane & ugly display of power.
I stand in solidarity with #Sudan like we must for such massacres across the globe.
Unfortunately I don't have to go very far to begin with. pic.twitter.com/CLRZTl4GQ5

— MAWRA HOCANE (@MawraHocane) June 13, 2019
Mathira posted the stats of the damage caused to help people understand the gravity of the situation.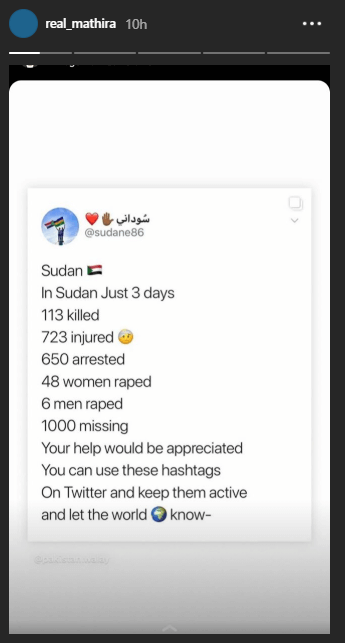 We feel proud that the Pakistani celebrities are doing whatever they can in their respective capacities to bring light to an important movement, and hope that their efforts will bear fruit.
Sania Mirza Calls For A Stop Over 'Cringe Worthy' Ads To Market Pak Vs India Match
Are you following the updates on the Sudan massacre? Let us know in the comments.
Stay tuned to Brandsynario for more news and updates.