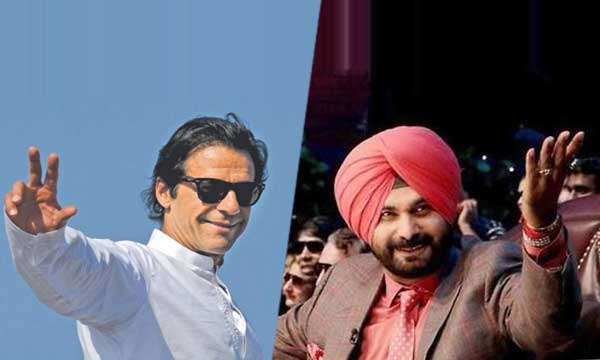 The opening of Kartarpura corridor has emerged out as a major progress in Indo-Pak relationship, leading to a really positive relationship on both sides of the border.
Kartarpura corridor aims to facilitate the Sikh pilgrims of both the countries to visit the holy shrine of Dera Baba Nanak Sahib in India and the shrine of Kartarpura Sahib in Pakistan.
Imran Khan Sends Oath Taking Ceremony Invite To Indian Celebrities
The Indian Government announced on Wednesday that it has decided to construct Kartarpura Corridor up to the International borders with Pakistan.
This decision was wholeheartedly welcomed by the government of Pakistan. The Foreign Minister, Shah Mahmood Qureshi, announced that Pakistan has decided to open Kartarpura Corridor on account of Baba Guru Nanak's 550th birth anniversary.
Pakistan has already conveyed to India it's decision to open Kartarpura Corridor for Baba Guru Nanak's 550th birth anniversary. PM Imran Khan will do break ground at Kartarpura facilities on 28th November. We welcome the Sikh community to Pakistan for this auspicious occasion.

— Shah Mahmood Qureshi (@SMQureshiPTI) November 22, 2018
Navjot Singh Sidhu Breaks Silence Over Embracing COAS Qamar Javed Bajwa
Navjot Singh Sidhu, who came all the way from India to attend Imran Khan's oath-taking ceremony as the Prime Minister of Pakistan, has yet again grabbed the spotlight with his response to the opening of the Kartarpura Corridor.
He took to Twitter to thank PM Imran Khan for this positive step towards unity between the two nations.
Thank you @ImranKhanPTI Bhai, we welcome the positive step, it means the world to us. You're a gem! This is a great service to mankind. Kudos to you!
ਨਾਨਕ ਨਾਮ ਚੜਦੀ ਕਲਾ ਤੇਰੇ ਭਾਣੇ ਸਰਬਤ ਦਾ ਭਲਾ| pic.twitter.com/xehaXTfzTm

— Navjot Singh Sidhu (@sherryontopp) November 22, 2018
It is to be noted that during the oath-taking ceremony of PM Imran Khan in August, Sidhu had a talk with Army Chief General Qamar Javed Bajwa about the opening of a route to Gurdwara Darbar Sahib at Kartarpur Guru Nanak's 550th birth anniversary.
I thank the Govt. of India from the core of my heart and take a bow! I request the Hon'ble PM of Pakistan @ImranKhanPTI Sahib to take reciprocal steps for opening the Kartarpur Sahib corridor and spread Baba Nanak's message of universal brotherhood and peace across the Globe.

— Navjot Singh Sidhu (@sherryontopp) November 22, 2018
Having played an essential role in conveying the message from both sides of the border, Navjot Singh Sidhu sounds overwhelmed by this recent development between India and Pakistan.
I humbly request the Government of India to dispense their duty towards 12 Crore 'Nanak Naam Laivas' world over, by writing to the Pakistan Government. I hope the draft for the letter is ready as promised by Hon'ble EAM Sushma Ji.

— Navjot Singh Sidhu (@sherryontopp) November 22, 2018
We hope to see more progress in the intense relationship between the two countries.
Stay tuned to Brandsynario for more updates and news!