Muneeb Butt is a talented actor but we love him most for his candid personality on TV shows. The actor was called on a show of Nida Yasir with his fellow actress, BadDua on which he shared something interested about Minal Khan's wedding. Keep reading, we all can relate!

Minal Khan's Mayun
Muneeb Butt was already on his sister-in-law's Mayun in a green raw silk outfit with a waistcoat. He shares that he was completely dressed, had the wallet and car keys in his hand when his mother saw him. Upon seeing him, she was totally surprised but not for the reasons you can guess. She was surprised because he looked like the dulha himself!
Muneeb Butt shares that his mother repeated to him that he was totally overdressed. He could have overpowered Ahsan Mohsin Ikram for all he knows! When Muneeb Butt realised this, he immediately went to change.
View this post on Instagram
The Changed Outfit
Muneeb Butt then changed into a plain black suit then. He looked dapper in a kameez and pyjama outfit that was all plain. On top of that, he wore his originally intended waistcoat which was green and gold. He has also tagged the designer from where the waistcoat is— Humayun Alamgir. Have a look at his changed outfit:
View this post on Instagram
Is There Something As Overdressing?
There definitely is and Muneeb Butt is one of those rare people who have the ethics to change their clothes when they do feel it. In our society, it has become a trend for women especially to wear the heaviest clothes they can find at big weddings. In doing so, often the bride herself is overpowered by simply guests!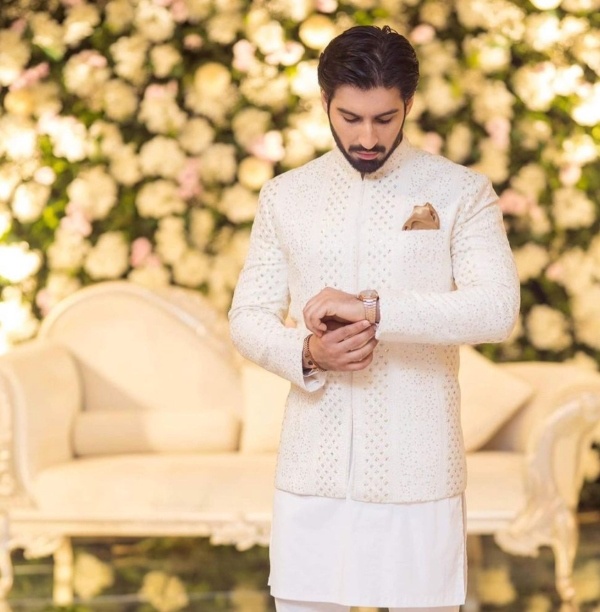 The bride and groom should be allowed to be the centre of the limelight at least on their wedding days. Kudos to Muneeb Butt for changing!
Read more: Amal Muneeb's Birthday: Social Media Users Notice Something Unusual
Muneeb Butt and Aiman Khan 
The brother-in-law and sister were smitten over the new couple at the wedding. After Minal and Aiman Khan's father passed away, it seems they give Muneeb Butt the status of the elder in the house. Muneeb Butt was also the one who was holding the Nikkahnama in his hands while the couple was signing it.
View this post on Instagram
Moreover, Muneeb and Aiman also added fun to all the festivities with their own dancing and sing-alongs. The couple is goals indeed and their little, adorable daughter also has her own long list of fans.
Read more: Muneeb Butt Shares His Thoughts On Dating & Relationships
View this post on Instagram
Stay tuned to Brandsynario for the latest news and updates.