Aiman Khan and Muneeb Butt's little munchkin, Amal Muneeb, has gathered her own fanbase as of late. The tiny celebrity is as adorable as kids come and netizens are always happy to see her content on her parents' profiles. Now, Amal Muneeb has turned two and the celebrations were nothing short of extravagant. However, netizens have noticed something a little unusual…
Amal Muneeb's Birthday
Amal Muneeb is a princess and then some! This baby celebrity has her own fans because of how adorable and playful she looks in all her videos. The diva turned two a day ago and her birthday bash pictures took over the internet. The cutest videos have to be of a surprise sing-along for her birthday at 12 at night and her reaction to it! How can we not be obsessed?
View this post on Instagram
The next day, Amal Muneeb had her very lavish birthday party surrounded by her family and other little friends. The guest list also included some other stars who came with their own little ones.
Read more: 8 Pakistani Celebrity Couples Trolled For Being Too Affectionate In Public
Have a look at the pictures here:
View this post on Instagram
View this post on Instagram
View this post on Instagram
Netizens Point Out Something
However, under the pictures celebrating Amal Muneeb, netizens are wondering something. They're all wondering why Muneeb Butt is rarely with his own family. At the time of the cake cutting, besides themselves, there is Aiman Khan's family!
View this post on Instagram
Netizens keep asking where the in-laws of Aiman Khan are. Since Amal Muneeb is rarely seen with her dada and dado, netizens were bound to ask these questions. Here are some of the comments that show netizens' curiosity regarding Muneeb Butt's family.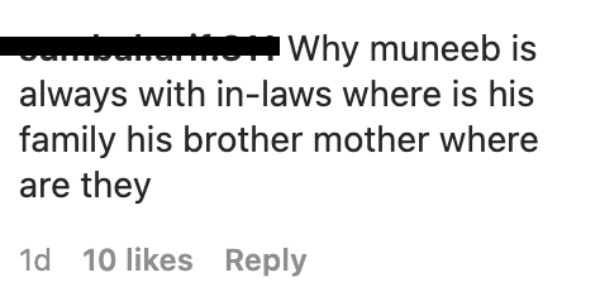 There's more!

Severed Family Ties?
Muneeb Butt has rarely ever mentioned a strained relationship with his family. The actor is not really an open-book and most of his interviews tend to go in the direction of his career, wife or child. People have seldom questioned him on this unusual thing before. Could it be that the actor has strained or possibly even severed ties with his own family?
View this post on Instagram
Not everyone has the luxury of a family who understands your motivations and aspirations and supports you with them. In many cases, many stars have had to go against their family's wishes when they chose their careers.
Our guesses are that Muneeb Butt's family was not all too agreeing with his choice of career. The reality may be different or it simply may be that his family doesn't want to be in the limelight. Regardless, we wish the coming year brings even more joy to Amal Muneeb.
Read more: Muneeb Butt Shares His Thoughts On Dating & Relationships
Stay tuned to Brandsynario for the latest news and updates.