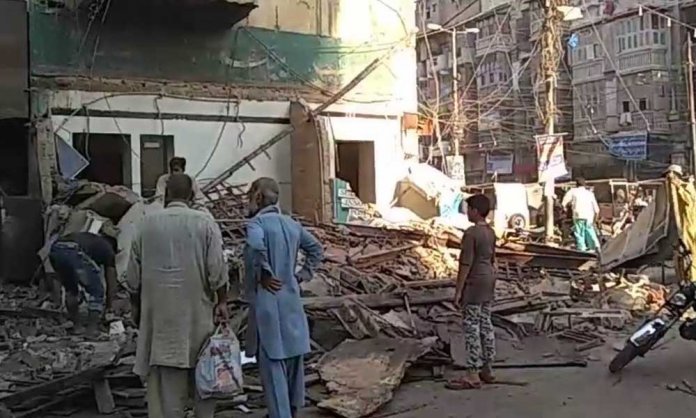 Karachi's anti-encroachment drive by the Karachi Metropolitan Corporation (KMC) along with Karachi Development Authority (KDA) has now targeted the illegally built properties on Burns Road.
The authorities have demolished around 70 eateries located on the busiest street of Karachi, including the most popular ones, Waheed Kabab House and Delhi Rabri.
On the other hand, it is reported that many of the encroachments were removed by people themselves.
More shops including Fish Stall, Agha Sajji and Dehli Dhaee Baray have also been demolished along with Waheed Kabab House and Delhi Rabri. This is because these commercial based eateries were operating at residential plots and area.
Watch the video below!
Once upon a time, these restaurants were considered as landmarks and were the pride of the famous food street of Burns Road, located in one of the most engaging areas of Karachi.
Having their favorite food places getting demolished every other day, Karachities have shown a mixed response over this step by SBCA. Some of them are demanding to allocate an alternate space to the targeted restaurants.
Famous human rights activist Jibran Nasir has also shown his response over this matter!

Burns Road served as Karachi food street for decades. Several famous eateries demolished there defined Karachi's food culture and identity. The Govt must ensure alternate locations. Cities are more than just concrete structures. No one seems to understand that in Govt & SC

— M. Jibran Nasir (@MJibranNasir) November 25, 2018
They are worried over where the SBCA will head next
#Karachi's popular Burns Road food street.
Where is this anti-encroachment drive heading ? pic.twitter.com/7a7NCG1lmc

— azhar khan (@azharkhn4) November 25, 2018
According to Metropolitan Commissioner Dr. Syed Saif-ur-Rehman, removal of all illegal constructions and structures made on footpaths, roads, streets, parks, and drains will continue.
He added that besides Burns Road, encroachments in Khori Garden, Lea Market, Joria Bazar, Kharadar, Mithadar, and Garden area will also be removed.
Stay tuned to Brandsynario for more updates and news!