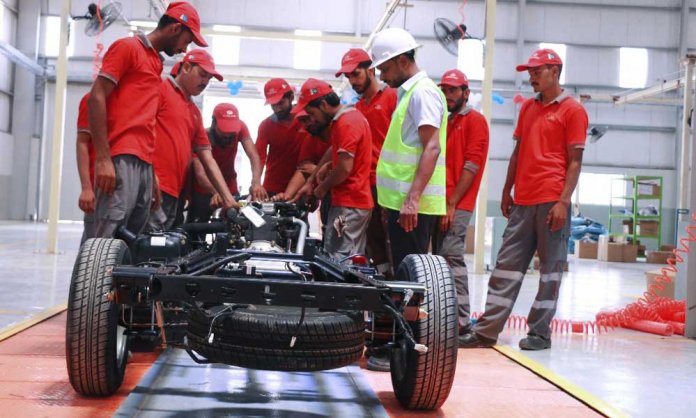 Foton JW Auto Park (Pvt) Ltd. is formally starting production from its automobile assembly plant on Friday, 30th November 2018 in Pakistan.
On Wednesday it was learned that PM Imran Khan is expected to attend the launch event and inaugurate the plant by cutting the ribbon at the event.
Official sources have stated that Foton JW Auto Park (Pvt) Ltd. is the first company which had a 50/50 joint venture with a Chinese company in the auto sector, and is officially launching production from its assembly plant on Friday.
Launch event of the 150 million $ jw forland auto project tomorrow. Auto sector getting significant new investment. Ultimate goal is to make Pakistan a regional hub for manufacturing auto parts and ultimately automobiles. We must reverse the deindustrialization of Pakistan…

— Asad Umar (@Asad_Umar) November 29, 2018
This will be a first for Pakistani auto sector, technology is being transferred from China for specialized parts like engine, transmissions, etc.
Changsha Foton Vehicle Technology Co., Ltd President Wang Tao, and JW SEZ Group President Shah Faisal Afridi on behalf of Foton JW Auto Park (Pvt.) Ltd, will also attend the event and have already requested the PM to also attend it.
The Prime Minister has accepted the invitation, said the official of the ministry. Sources also state that a Joint Venture was officially signed in December 2016 between Changsha Foton Vehicle Technology Co. Ltd and JW SEZ Group.
Initially, $150 million worth of investment has been made at a ratio of 50/50 by both partners. They also added that the plant is located in Lahore over a 50-acre with the current plant capacity at 30,000 units.
They also said that product range (Phase-I) includes light and medium commercial cargo and dump trucks, minivans, and SUVs. The new plant is also expected to provide direct employment for almost 500 individuals.
The future plans (Phase 2 and 3) of Foton JW Auto Park JV according to the sources, is an investment of $300 million through the Joint Venture within the auto sector.
The plant capacity is also expected to grow to almost 100-acres, enhance the capacity to 100,000 units annually and increase the range of products by producing heavy trucks, buses, and energy vehicles.
After completion of Phase 2 and 3, the direct employment figure is expected to increase to almost 3,500 hirings.
The Joint Venture was established as a result of regressive economic growth through the Pak-China Economic Corridor (CPEC). A dialogue was also held earlier between JW SEZ and Foton that resulted in a Joint Venture named Foton JW Auto Park.
Foton Envisions is expected to become the largest commercial vehicle within the next 5 years. It is already the largest commercial vehicle manufacturer, with the widest product range in China.
Stay tuned to Brandsynario for more news and updates.