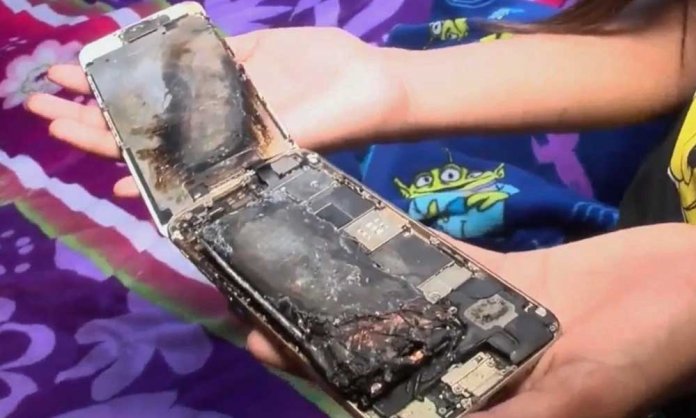 Apple is currently investigating a new report of an iPhone 6 exploding in the hands of an 11-year-old child.
Reportedly, the minor was using her phone on her bed when sparks started to shoot out of it. She threw it on her bed, and her blanket was left with burn marks.
The iPhone burnt through completely. Over the last few months, reports of cellphones exploding have become very common. There are a number of factors, however, that can lead to the explosion of a handset.
At times the battery becomes too old, the phone's temperature rises, it does not get proper ventilation when placed on surfaces that cause it to heat up and much more. Fortunately, the girl did not suffer from major injuries but did get a minor burn.
"I was sitting down, and I had my phone in my hand and then I saw sparks flying everywhere and I just threw it on a blanket I was right here on the bed and the phone managed to burn through the blanket and make these holes," Ramos told the local news channel.
https://youtu.be/DYak_2S8NNk
They have shipped the device back to Apple plus they have been assured of a replacement soon. Apple has to make an official statement in regards to the incident.
Previously, an iPhone had caught fire back in May while in a repair shop.
Stay safe and stay tuned to Brandsynario for more news and updates.
Popular Apps on iPhone are Leaking Personal Data to Tracking Companies!