[Update: December 3rd, 2021]: It has become a usual practice of people to et their important documents laminated. This usually happens in order to protect them from getting discolored or being destroyed thanks to water or anything wet. However, people end up getting their degrees laminated as well. The HEC, however, cannot put the attestation stamp on lamination and have to remove it from the document. That often leads to the embossed print getting separated from the paper as well.
This is why HEC has issued a warning against degree lamination. That said, if you still want it laminated, get it done from your educational institute. They do so in a way that they leave a small portion free of the plastic coating so they can attest it.
𝗜𝗻𝘀𝘁𝗿𝘂𝗰𝘁𝗶𝗼𝗻𝘀 𝗥𝗲𝗴𝗮𝗿𝗱𝗶𝗻𝗴 𝗔𝘁𝘁𝗲𝘀𝘁𝗮𝘁𝗶𝗼𝗻 𝗼𝗳 𝗟𝗮𝗺𝗶𝗻𝗮𝘁𝗲𝗱 𝗗𝗼𝗰𝘂𝗺𝗲𝗻𝘁𝘀 pic.twitter.com/NylitIj3ML

— HEC Pakistan (@hecpkofficial) December 2, 2021
---
---
[Update: December 2nd, 2021]: Once attaining the degree, Bachelors or Masters, it is not like your work is done. Regardless of however renowned your university you sought your education at was, you need to get your degrees attested. This is where HEC (Higher Education Commission) comes in. You get your degrees attested with them.
Read More: HEC & Coursera Partner Up, Launch Phase II Of The DLSEI Program
Online degree attestation & fraud agents
To accommodate Pakistanis, HEC continues to evolve its user experience. In such an attempt, first, they took the degree attestation process online, to their e-portal. Later on, they transferred the service to yet another portal. However, this may have led to people getting confused somewhat about how to get their degrees attested, which is why fraudulent people sprung into action. They cashed in on the confusion claiming that they could get the students' degrees attested without complications.
HEC, however, has issued the notice to beware people from falling into their trap. In the notification, they said that these fraudulent agents had even pasted faked HEC stamps on the degrees and transcripts in some cases. Should these documents reach HEC, they said, they would immediately be withheld. Hence, the matter should not be taken to such a position and Pakistanis should remain very careful of people who claim to be attestation agents.
𝘽𝙀𝙒𝘼𝙍𝙀 𝙊𝙁 𝘼𝙏𝙏𝙀𝙎𝙏𝘼𝙏𝙄𝙊𝙉 𝘼𝙂𝙀𝙉𝙏𝙎 pic.twitter.com/eQYKsuaEJ8

— HEC Pakistan (@hecpkofficial) December 1, 2021
---
---
[December 18th, 2020]: HEC Announces Degree Attestation Is No Longer Available At e-Portal
The Higher Education Commission of Pakistan provides many services to candidates seeking higher who have already sought higher education. From degree attestations to research grants, as well as scholarships for Masters and PhDs in Pakistan as well as abroad. It also provides services to international students applying to Pakistani universities on a self-finance basis.
Read More: HEC To Launch 50,000 Scholarships Under Ehsaas Program
Degree attestation process
Almost all HEC services have shifted online, including degree attestations. Degree attestation mostly happens in phases. The first and most critical phase happens online, where all documents and information has to be uploaded. Once the attestation gets a go-sign from the portal, the portal then asks the candidates to bring the actual document, which they attest by the end of the day.
However, the Commission has sent an essential announcement towards students' way!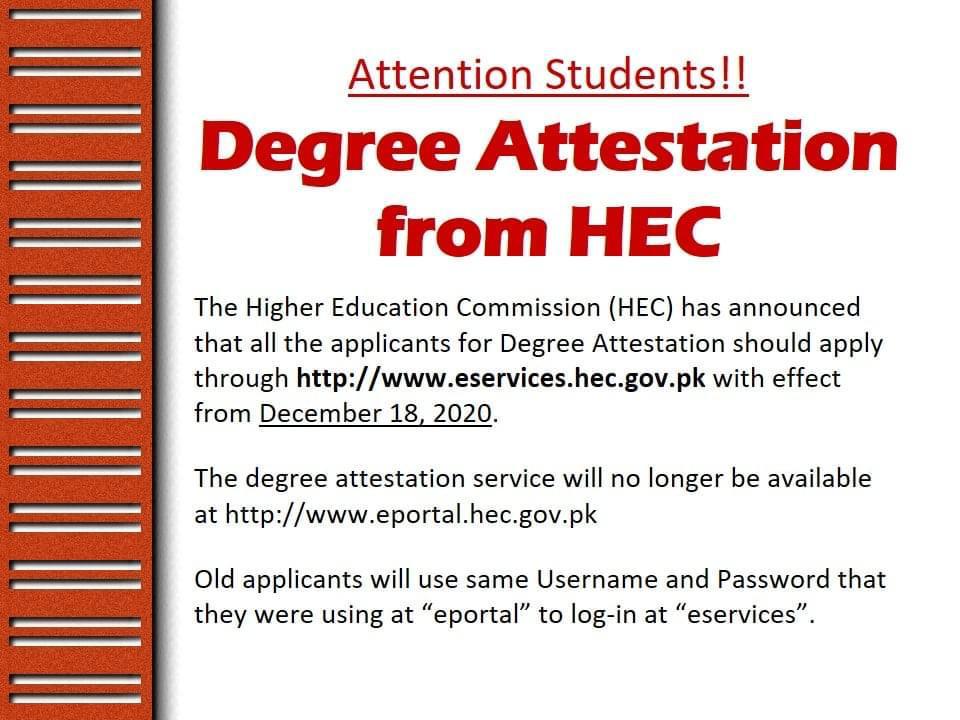 The announcement read:
"The Higher education Commission has announced that all the applicants for Degree Attestation should apply through http:/www.eservices.hec.gov.pk with effect from December 18, 2020."
Moreover, according to the notification, the service of Degree Attestation will, in fact, be wholly removed from http:/www.eportal.hec.gov.pk. So if you are going to get your degree attested, go to eservices.hec.gov.pk. Although, if you already have an account at e-portal, you can use the same login credentials to log in at eservices.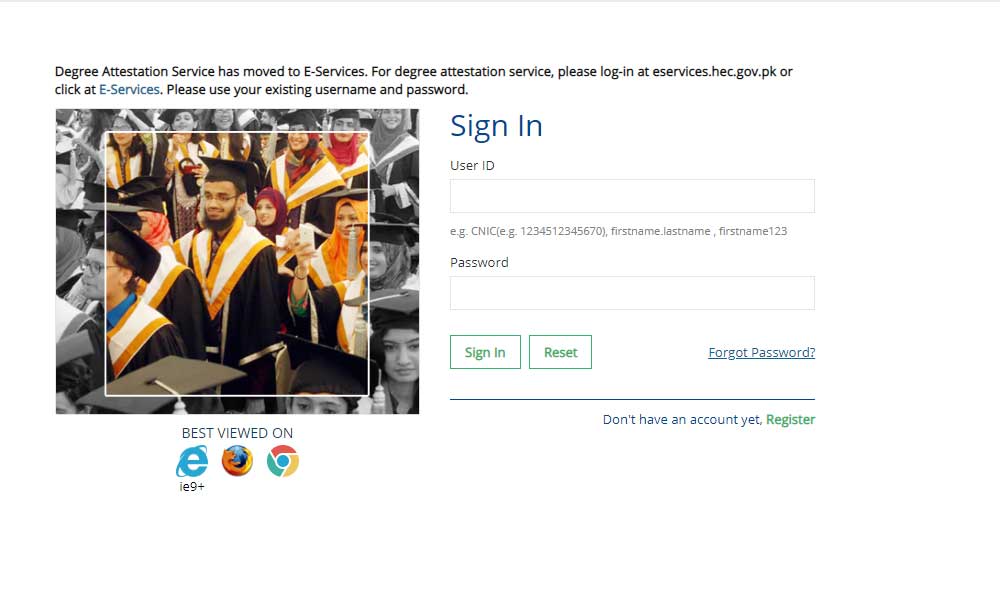 The rest of the services are still available at the HEC e-portal, so if it's anything other than degree attestation, you can still utilize your account there.
Stay tuned to Brandsynario for the latest news and updates!