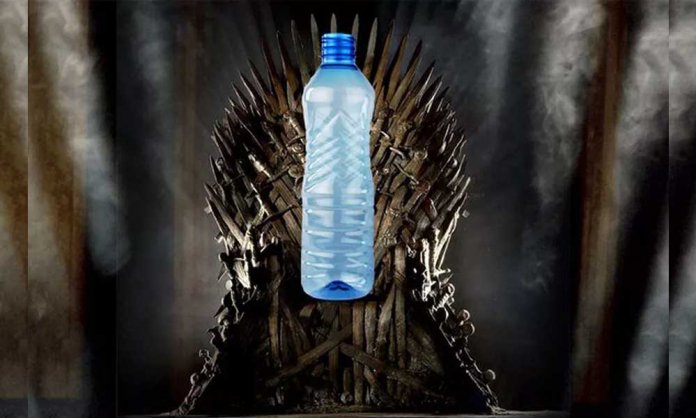 The last episode of Game of Thrones Season 8 Episode 8 or the series finale came to an end leaving behind a mix of emotions.
Fans were broken-hearted when Jon killed his Queen Daenerys, they cried when Drogon melted the Iron Throne because if it couldn't belong to mama, it couldn't belong to anyone.
So much happened in the last episode, however, the producers and directors never thought that once again GoT fans will catch a huge blunder, more or less equivalent to that of the Starbucks cup!
Game of Thrones Season 8 Remake Petition Has Taken Over the Internet!
During the last few scenes where the council assembles as Tyrion Lannister is ready to meet his fate, fans noticed a water bottle in King's Landing!
LMAOOO I CAN'T BREATHE THEY DID IT AGAIN 💀💀 First Starbucks now a water bottle this show is a joke #GameOfThrones #GameOfThronesFinale #TheFinalEpisode pic.twitter.com/9YaFF8Pnm6

— ℝίτα🐉||GoT Spoilers (@JonxDanyy) May 20, 2019
But wait! There were not one but two water bottles in that scene! One behind Samwell Tarly's foot and the second behind Ser Davos!
It's not just there, I actually found the second water bottle next to Ser Davos. #GameOfThrones pic.twitter.com/rZHqiWmDU4

— Bala Yogesh (@Yo_Bala) May 20, 2019
Social media took a field trip to talk about the blunder that has become the latest sensation.
THE WATER BOTTLE.

THIS IS NOT EVEN FUNNY ANYMORE.

We've had a coffe cup, a cameraman, sneakers, Jamie two handed, Drogon flying alone over KL and now a water bottle.

Writing 🤝 Editing
Being the worst GoT departments pic.twitter.com/d6dDpXYsPB

— C. | that is NOT my canon (@carohuntz) May 20, 2019
He brought plastic bottles AND tried to introduce democracy. Definitely from the future

— Isaiah Estrada (@NotoriousIME) May 20, 2019
Samwell invented Plastic #GameOfThrones pic.twitter.com/68xElQmdmD

— Jacob (@JacobLarche62) May 20, 2019
What other blunders were you able to come across during the last season and episode of Game of Throne?
Stay tuned to Brandsynario for more news and updates.
Game of Thrones Cast Salaries: Here's How Much They Are Earning Per Episode