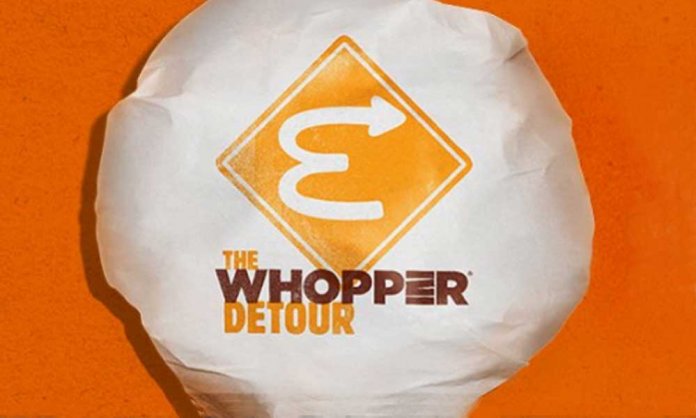 Burger King and McDonald's are known to be the biggest rivals in the history of fast-food! Both dominating brands have time and time again taken a dig at one another or have trolled their competitor.
This time around, Burger King was the one to make an entire campaign around a new marketing strategy called 'The Whopper Detour' and as suggested, yes, McDonald's plays a huge part in it.
It all started when the Whopper king tweeted on its official Twitter handle saying- 'brb going to McDonalds'
brb going to McDonald's

— Burger King (@BurgerKing) December 4, 2018
Lots of BK fans were a little confused about that in the world was happening. Some thought that the account was hacked by a McDonald's fan whereas others were curious to see where this was going.
Did you get hacked?

— Josh V (@Bruiser4Eq) December 4, 2018
Soon, the brand put everyone's confusion to rest after officially announcing their new campaign- the Whopper Detour!
The catch is, meat-lovers can get their favourite Whoppers at the cost of just one penny, from McDonald's!
That's right. The fast-food giant has rolled out a head-turning strategy to promote its new BK app.
All you have to do is follow these instructions and voila! The Whopper is yours for just a penny!
how do you order a Whopper sandwich for a penny "at" McDonald's? here's how. #WhopperDetour https://t.co/lAgbGO0bL0 pic.twitter.com/ANXIy6Yu9I

— Burger King (@BurgerKing) December 4, 2018
BK says FCB New York approached it with the premise about a year ago.
"We love ideas that when the idea gets to us we say 'how the heck are we going to pull this off?'" said Marcelo Pascoa, BK's global head of brand marketing.
Nearly 75% of all Americans live within a 3-mile radius of at least one McDonalds outlet. There were more than 14,000 McDonald's restaurants and roughly 7,200 Burger King restaurants in the U.S in 2017, according to data from Technomic.
To make things more interesting, Burking Kind also shared a print ad with the McDonalds' sign to read "Billions Swerved" instead of "Billions Served, showing the BK King making the snarky change.
much needed update pic.twitter.com/H5v092C9RE

— Burger King (@BurgerKing) December 6, 2018
The franchised worked with Waze to make an ad that appears when one's car stops near a McDonald's. And an online video promoting the limited-time deal shows actors trying to redeem the offer at the McDonald's drive-thru, where their orders are met with confusion from McDonald's staff.
Have you purchased your Whopper at McDonald's yet?
Stay tuned to Bradsynario for more news and updates.