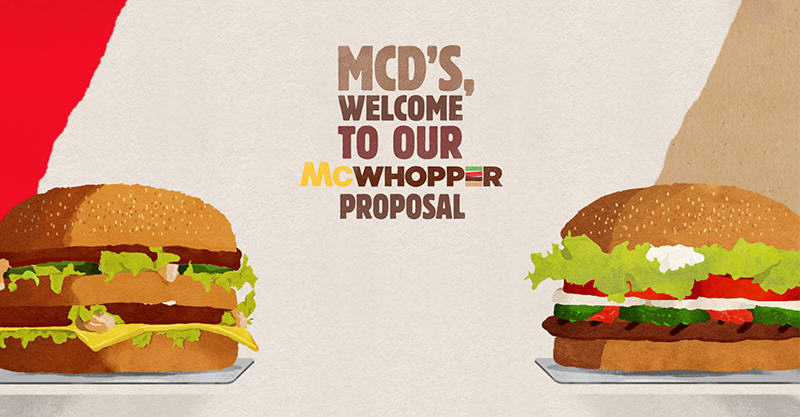 Burger King made an offer to McDonald's to join forces in the creation of a weapon of mass nutrition- a hybrid 'McWhopper'. Sadly McDonald's refused to accept the offer, spurring on "something bigger to make a difference".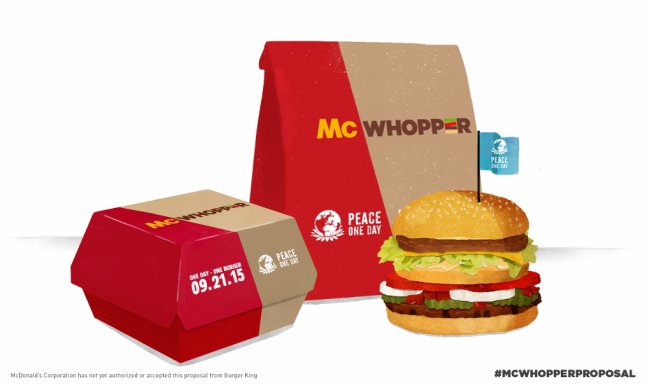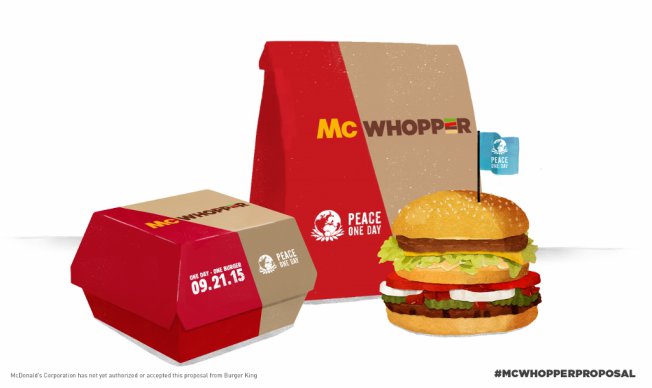 Burger King issued an open letter to McDonald's in a full-page adspublished in The New York Times and the Chicago Tribune earlier on Wednesday.  Burger King suggested a "ceasefire" on the ongoing "burger wars" in the honor of Peace One Day. Burger King also suggested the recipe for the crackerjack burger to be made by amalgamating McDonald's Big Mac and Burger King's Whopper. Burger King propounded to launch McWhopper on Peace Day falling on 21st September to be made available at one location and for one day only with its revenues going to Peace One Day.
Burger King was so excited with the idea that it launched a website dedicated to McWhopper, inviting McDonald's to cook peace-loving burger together. Burger King proposed this collaboration with a hope that it will make people talk about the Peace Day.
Contrarily, McDonald's CEO Steve Easterbrook did not find the idea meaningful and responded to Burger King's open letter on Facebook. He courteously rejected Burger King's request claiming that business rivalry between the two burger joints is "certainly not the unequaled circumstances of the real pain and suffering of war."
Read more: McDonald's Happy Meal – Happiness Starts Here
Steve published a post on McDonald's official page.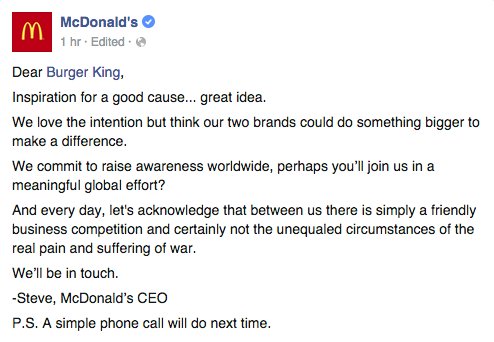 Perhaps the idea of "ending the beef, with beef" did not appeal him, or perhaps he does not want to end the beef at all. Whatever the case maybe, the refusal by Steve left burger fans furious.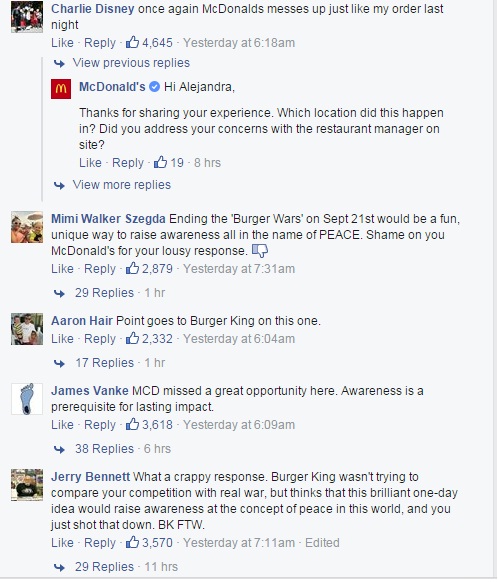 The fans passed strictures upon Steve's response on Twitter too.
McDonalds' response to Burger King was like your Grandpa not understanding your joke and then lecturing you about the depression.

— Joey Ellis (@joeyellis) August 27, 2015
How McDonald's turned the "McWhopper" stunt into some bad, uncomfortable PR @JustinJBariso http://t.co/nzMxVzFAJp

— Inc. (@Inc) August 27, 2015
Burger King Called for a Truce with McDonald's. And McDonald's Totally Blew It @JustinJBariso http://t.co/as9dAoTlmC

— Inc. (@Inc) August 27, 2015
Burger lovers certainly wanted to see McWhopper happening, be it for a day only.
C'mon, @McDonalds. Please listen to @BurgerKing. Make the McWhopper happen. http://t.co/V7eejzobRo

— Justin Amash (@justinamash) August 27, 2015