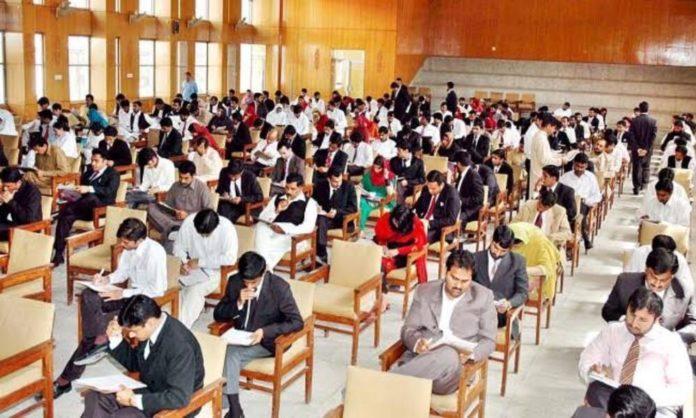 'Boys will be boys' is a tale as old as time. However, no matter how much we try to break this misogynistic notion down there is no running away from it especially now that the topic has sparked a debate on social media for being relevant enough to appear in a highly prestigious Central Superior Services (CSS) exam. Students appearing for the exams take months and even years to prepare for it. Those who are lucky enough to pass the exam get selected for the top beaurucratic posts in the country.
The nature of the extremely outstanding exam makes it one of the most credible ones in the country. However, the topic appeared in the paper on the very first day of the exam. People are shocked to see the extent to which our education system has taken a tumble.
A Twitter user shared his concern on the platform and wrote.
A meme material becomes a decisive topic in #CSS2023 essay.
Welcome to 2023 pic.twitter.com/rn3S2zrCtd

— Sarwar Zia (@Saarwarr) February 1, 2023
Read More: Saboor Aly & Ali Ansari Get Schooled Once Again For 'PDA'
The Internet Is Divided 
While the exam takers and aspirants were certainly preparing to write about national and international issues, 'Boys will be boys' has left the internet divided. While the majority thinks that this is a much-needed reform that can leave a positive impact others think that it was absolutely infantile.
Aspirants were preparing all the topics related to domestic and international issues.
Meanwhile FPSC examiner: Boys will be boys. 😂#css2023 #fpsc pic.twitter.com/nLbuh3tatW

— Jamshaid Munir Sandhu (@JamshaidMsandhu) February 1, 2023
That is so cringe, while you attend the class girls will be girls but when you attempt boys will be boys. boycott this anti feminism.🥴

— Summaiya Atteqe (@SAtteqe) February 1, 2023
Another user commented on the irrelevancy of the topics and how there was no effort done while trying to pick them out for the exams. Every title looks like a sentence picked from a random book or a piece of reading.
How odd are these essays, it seems like some one just picked up lines from random papers..

— Scorpio (@Scorpio43509525) February 1, 2023
Meanwhile, some users identified the topics as tough and noted that if we ponder on them deeply, these topics are on social issues and can be easily cracked with some common sense by students since they are all about social surroundings.
What are your views regarding the situation at hand? Share your thoughts in the comments below.
Read More: Maria B Calls Out Drama "Kuch Ankahi" For Promoting Movie "Joyland"
Stay tuned to Brandsynario for the latest news and updates.