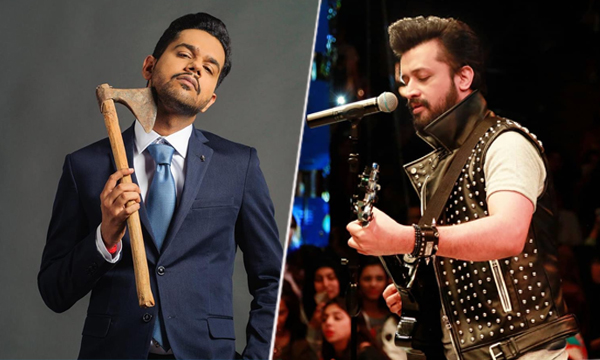 Atif Aslam is on a roll in Bollywood.
Just in the last two months, the singer has released as many as five tracks for Indian movies, all of them receiving rave reviews and becoming chartbusters in the neighboring country.
Hinal Altaf's Leaked Clip With Faisal Rehman Ignites Social Media Frenzy
His song 'Paniyon Sa' from the soundtrack of John Abraham starrer 'Satyameva Jayate' was an instant hit! The singer created magic with 'O Meri Laila' in the movie 'Laila Majnu'
Atif's melody 'Dekhte Dekhte' from Shahid Kapoor's upcoming movie 'Batti Gul Meter Chalu' is a mesmerizing tribute to Nusrat Fateh Ali Khan. The recent love anthem by the singer 'Tera Hua' is all that Indians are talking about.
The sensation also dared to croon Lata Mangeshkar's classic song 'Chalte Chalte' from the Bollywood movie Pakeezah and created a fresh rendition.
https://youtu.be/WOCCPqFeReE
However, Lata was pretty miffed with Atif Aslam singing her iconic tune.
 In an interview with IANS, the songstress slammed the remix and revealed that no consent was taking while tweaking the track.
"I don't want to hear it. This trend of remixing old songs saddens me. Where is the creativity in simply lifting acknowledged, beloved classics and shuffling the notes around? I've even heard that the lyrics are changed in the remixes. By whose consent?
 "The original poets and composers wrote what they had to. Nobody has the right to tamper with the creativity of these great composers and lyricists."
Meanwhile, B-town playback singer Babul Supriyo is known for his animosity with Pakistani artists working in India.
In a statement, the singer-turned-politician also blasted Atif for trying his tryst with the song.
"With due respect (and disrespect) to Atif Aslam, as a singer myself, I will observe a 2-minute silence to mourn rather than offering a comment."
And now, Pakistani singer and comedian, Ali Gul Pir too has slammed Atif Aslam for not producing Orignal music.
Make a remix of a hit song and try to get famous or sustain your career. Imagine if big wigs like Atif are doing this to stay relevant then what hope does an upcoming original act have.
In an angry Facebook post, the satirist schooled Atif Aslam that "covers can never encourage innovation".

These statements have come at a time when Bollywood itself is receiving severe backlash for ripping off iconic Pakistani tunes like Tajdar-e-Haram in the movies.
Miah Dhanani: Youngest Pakistani-American Model to Feature in 50+ Campaigns
However, it is to be noted that Atif's demand speaks volumes about his success in India, making him a singing sensation even bigger than Arijit Singh.
Stay tuned to Brandsynario for more updates.