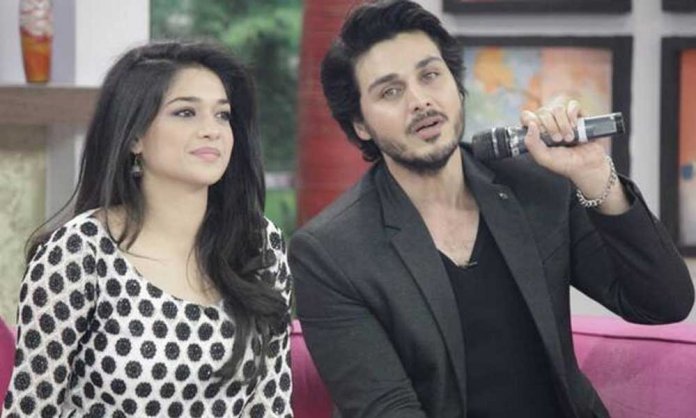 Over the weekend Waseem Badami invited Sanam Jung to his show, Har Lamha Purjosh, over which she mentioned that Ahsan Khan wasn't really the best person to co-host a show with.
It began with the Bouncer Round, as Badami chose to start the show with that round.
He asked Sanam several questions, which she responded to with a lot of honesty. Why her morning show was discontinued and why the morning show trend is slowly deteriorating.
Mahira Khan Surprised Her Biggest Fan & We Just Can't Have Enough of it!
If she misses doing her morning show, and if she is offered another morning show, would she do it?
How she felt when she was labeled a racist for a show in which she held a makeup competition which demanded makeup artists to darken the complexion of fair-skinned models.
How she reacted to and became severely depressed due to the public's body shaming after she had a child. He then asked her that she had hosted some morning shows with Ahsan Khan, would it be safe to say that he was not really the best co-host to work with?
She responded with a somewhat diplomatic answer which gave away just enough!
Ahsan and I share a good friendship. However, as a co-host, he is too competitive. You can call him a meethi chhuri, and he is aware of it and even laughs at it himself.
She added that he would always want to take the limelight and more screen time during our live shows and that she would let him because she didn't really care about screen time.
It was a fun experience in itself, though.
Watch the full interview here:
https://youtu.be/w_bdz-1P0TQ?t=528
Considering their past as co-hosts and friends, it does seem like they have been great friends. Ahsan even gave a shut up call to a fan who tried to pass poor remarks on her body after she became a mother.
Moreover, in Ramzan 2019 she was invited to one of his shows as a guest.
https://www.youtube.com/watch?v=3V28rynU6lY
What do you think about her comments on Ahsan Khan?
Let us know in the comments!
Stay tuned to Brandsynario for more updates.
Pardadari: Abida Parveen & Atif Aslam Reunite to Create Yet Another Masterpiece