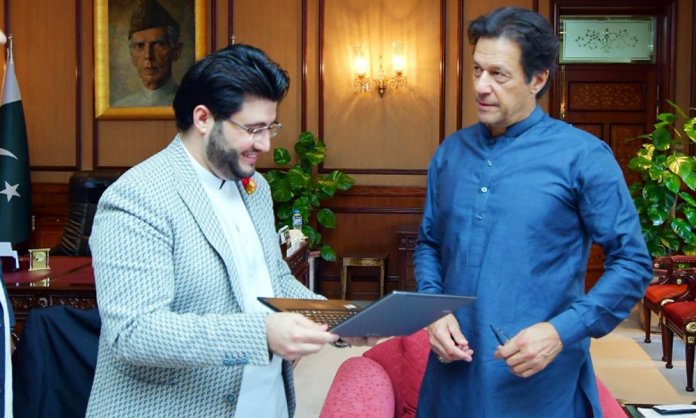 The Prime Minister's Laptops Scheme initiated by the Pakistan Muslim League (N) was a popular offer of its time.
As many as 300,000 laptops were distributed amongst youth all over Pakistan. The scheme was held every year for students enrolled in public and semi-public educational institutes of Pakistan.
The laptops were produced by Haier Ruba manufacturing facility in Lahore.
However, Imran Khan's government has put an end to the offer for once and for all. The move broke the hearts of many students who were hoping that PTI would continue the laptop scheme.
But seems like the Prime Minister has something even huge in store for the students of Pakistan.
Yesterday in a tweet, CEO of Haier Javed Afridi revealed that Prime Minister Imran Khan has lauded the company's venture to strengthen IT industry and manufacturing laptops made in Pakistan a reality.
He further added that something revolutionary is coming soon and students will be able to achieve these laptops at affordable prices.
Bringing you something revolutionary really soon. Prime Minister @ImranKhanPTI appreciated our next venture as it has paved a way for the furtherance of our IT industry and will make laptops accessible to every student at affordable prices since they will be #MadeInPak. 💻🇵🇰 pic.twitter.com/GAMPbX3Aia

— Javed Afridi 阿夫里迪 (@JAfridi10) October 25, 2018
His tweet has stirred speculation that a new laptop scheme is in store for students. However, no announcement has yet been made on the matter.
Twitterverse is already overjoyed by his surprise announcement
'PM Laptop Scheme' is back, sb graduates ko aik bar phr se laptop milne chaiye 😂#Demand https://t.co/nEHCMrdEpp

— محمدفخرحسین (@M_FakharHussain) October 25, 2018
it any new laptop scheme is gonna come out for the students? https://t.co/0dEU24dZnM

— abdul wahab rana (@abdulwahabrana) October 25, 2018
Beginning of a new Era, laptops made in Pakistan 🇵🇰 https://t.co/bXC2ButnF0

— Rizwan Khalil (@rizwankhalil) October 25, 2018
Almost the same introduction was given when this laptop scheme under #MianNawazSharif started 4 years ago. Ehats new now..

How much more TEESI ??????

— bushra taskeen (@taskeen_bushra) October 25, 2018
Haier is the first company in Pakistan to assemble laptops. The move reduced the cost of Haier's laptops as they were produced in their own manufacturing unit in Pakistan.
Haier First Ever Laptop Manufacturing unit in Pakistan, Haier role to contribute into society & welfare of the state pic.twitter.com/89CN3l3FoL

— Javed Afridi 阿夫里迪 (@JAfridi10) June 3, 2016
Consequently, the company was the only who won the Punjab Youth Laptops tender twice in a row.
Let's see what major announcement regarding affordable laptops is on its way.
Haier does it yet again with a 10-year Warranty on their Latest Model – Fully Automatic Washing Machines
Stay tuned to Brandsynario for more updates.