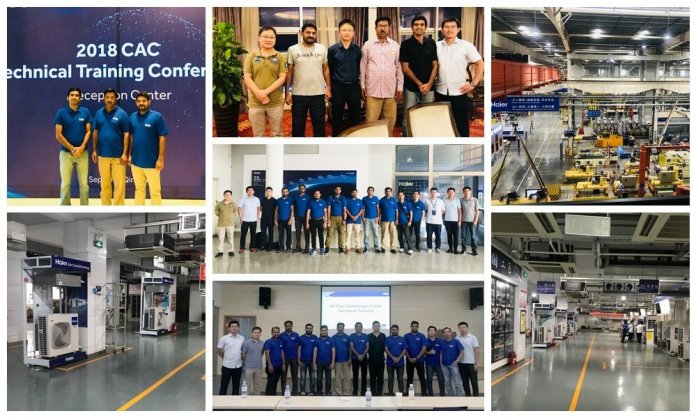 Haier Pakistan's Central Air Conditioning (CAC) Division, conducted a Technical Training Conference in 2018. For this training, highly skilled technicians/installers visited the Haier Factory in the Headquarters of Haier Qingdao in China. During their visit to Qingdao, the delegation visited Haier's MRV and Chiller factories. These include the Mitsubishi Heavy Industries-Haier Qingdao factory. This was a one-week detailed / comprehensive hands on experience training. More than 100 professional technicians from over 30 countries took part in this technical training, which mainly focused on the Designing, Installation and Commissioning till maintenance of MRV 5, chiller, control systems and so on.
The main agenda of this training Conference was for Haier Pakistan employees to learn specific knowledge or skills to improve performance in their current roles. The main purpose of this Training Program was for the employees to understand for themselves the various production facilities in China. The major focus of this conference pertained to troubleshooting and commissioning of the HVAC equipment. For a better learning experience, some units were installed during training so that the team could experience the whole process first-hand.
Haier's Central Air Conditioning (CAC) team are known to be complete solution providers. Their knowledge and understanding of the Designing, Installation, Supervision, and Commissioning of the Central Air Conditioning machines, enables seamless services from installation to maintenance. Moreover, Haier has the best team in the market for troubleshooting and solution providing for after-sales service matters.
During their visit to the chiller factory, the employees saw first-hand the production of Haier's latest invention i.e. the Magnetic Oil Free Centrifugal Chillers. Magnetic Oil-free Centrifugal Chiller is a major breakthrough on the Oil-Free application for Air Conditioning. The employees did get a better understanding of how the introduction of an oil-free bearing shaft in this Chiller can help in better Air-Conditioning. It has a magnetic bearing instead of the conventional oil cooled bearing. This allows the compressor motor to run more smoothly, without friction and without loss of energy. The employees showed a keen interest in the workings of the new Magnetic Oil-free Centrifugal Chiller.
The visitors were impressed by Haier's state-of-the-art human free (robotic) factories and production facilities. Haier believes in teamwork and inspired living and hence through this training, Haier was able to inspire its employees and encourage them to get a better understanding of Central Air Conditioning (HVAC) systems.