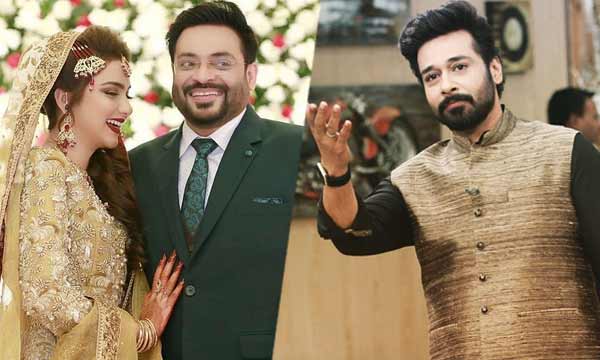 This month, Aamir Liaquat's second marriage with Syeda Tuba Anwar created quite an uproar on social media.
The PTI leader received severe backlash after a heart-wrenching tweet by his daughter from first marriage, Dua Aamir went viral on social media.
Dua's post made it clear that her family has been devastated after her father's second marriage.
Another day, another tragedy
Ever since you hurt your family
Sincerest prayers for you to recover
And that too goes for the homewrecker
Hoping Allah guides you to the right way
Whilst your children wipe their tears away.

Your devastated daughter in pain,
Duaa Aamir.

— Duaa (@Duaa_e_aamir) November 17, 2018
Her confession caused a huge backlash for the newly-weds. Aamir Liaquat was accused of cheating on his first wife and Syeda Tuba Anwar blamed for breaking a home.
Following the criticism, Aamir Liaquat responded to haters and claimed media is making a fuss without about his second marriage by interfering in his private life.
He also exposed that people are being paid to spread hatred against him on Twitter.
#AamirLiaquat #SecondMarriage pic.twitter.com/qeY2zXHneW

— Aamir Liaquat Husain (@AamirLiaquat) November 25, 2018
The anchor also cleared that he still supports his first wife and children.
#AamirLiaquat #SecondMarriage pic.twitter.com/6ZVceH2q5C

— Aamir Liaquat Husain (@AamirLiaquat) November 25, 2018
Amidst all the controversy, Aamir Liaquat's second wife also broke her silence on the matter and stated: 
Rumors & Gossip is Temporary,
Our Marriage is Permanent ❤️#Alhamdullilah

Full video on youtube:https://t.co/xsnYRTGjPS pic.twitter.com/x6TZH4I5w7

— SYEDA TUBA AAMIR (@TubaAtweets) November 22, 2018
Famous Pakistani actor and popular host, Faysal Quraishi also give his two cents on the matter in his morning show 'Salaam Zindagi'.
Defending Aamir Liaquat, Quraishi congratulated the PTI politician and slammed haters for mocking the institution of marriage.
Watch his complete message below.
https://youtu.be/w1MMERzerec
Appreciating the kind gesture, Aamir Liaquat sent his love to the star on Twitter.
Faysal Quraishi's special message for Amir Liaqat https://t.co/E9mhtxWBDx via @YouTube

Thanks 🙏 @faysalquraishi love You

— Aamir Liaquat Husain (@AamirLiaquat) November 24, 2018
Tuba also expressed her gratitude towards the actor.
Thanks a lot for your kind words @faysalquraishi Allah bless you 🙂 https://t.co/BMXZNu5cGk

— SYEDA TUBA AAMIR (@TubaAtweets) November 24, 2018
Famous Turkish Celebrity DJ Kantik Gets Engaged to a Pakistani Girl
Liaquat got married for the second time a few months back and recently had a delayed Valima. His second wife Tuba also works at Bol TV network and has also become the center of attention.
Their Nikkah was held last year and was performed by Mufti Abdul Qadir in presence of close friends Syed Ali Imam, Hamood Munawar and Abdul Wahab as witnesses.
It is reported that Tooba and Aamir developed a strong camaraderie while working together. Meanwhile, the scholar's first wife, Bushra remained unaware of the relationship.
Aamir Liaquat and Bushra have two kids, a son named Ahmed Aamir, and daughter Dua Aamir.
Stay tuned to Brandsynario for more updates.