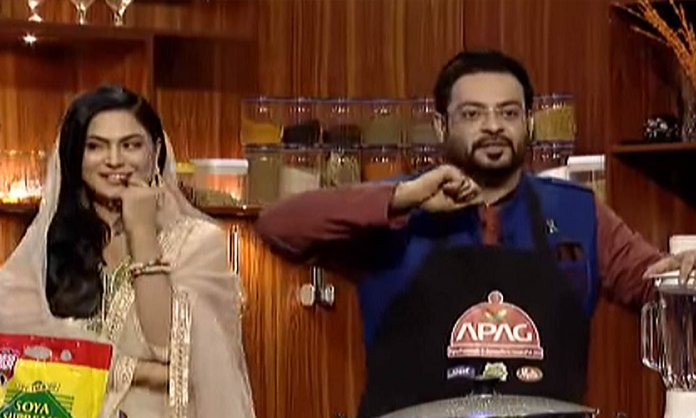 Politician, television host and a surprisingly good cook – Aamir Liaquat seems to adapt to all his roles as easily as one would expect from the renowned entertainer!
Returning this year on BOL TV with his Ramadan Transmission, the anchor's shenanigans are in full swing
Fahad Mustafa's Soulful Na'at is Winning Hearts [Watch Video]
In the hit-segment 'Bol Ka Bawarchy Khana',  Liaquat is seen mingling with Pakistani celebrities while "dishing out" some tasty treats and "juicy tidbits".
And guess who made an appearance on his show yesterday?
Why, none other than the very famous, Veena Malik!
Now you can just imagine what an entertaining episode it must have been when the two artists came together on national television.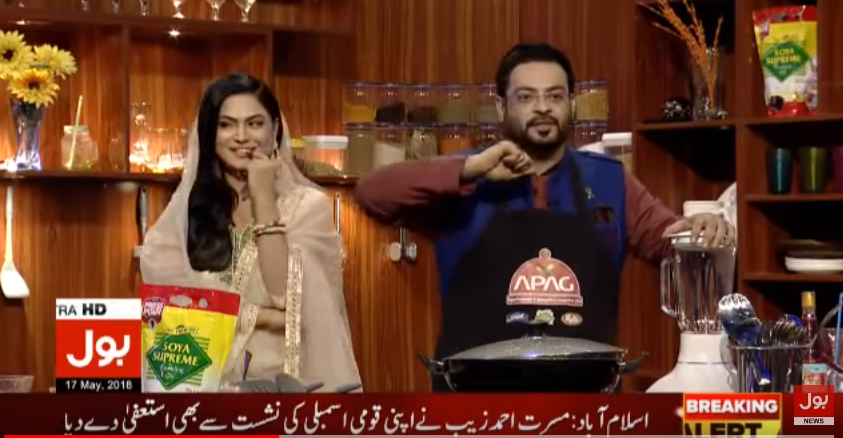 But what amused us the most in the episode was when Aamir Liaquat, revealed an interesting incident that happened with Meera when she appeared on her show last year
Sharing this amusing tidbit Veena (and the viewers), he revealed how Meera had come to attend his show last year and had been staying in a hotel nearby.
Minutes before the interview began @AamirLiaquat pic.twitter.com/DcBtawCfqE

— fanclub❤️peaceambassador (@TheMeeraJee) June 11, 2017
Apparently, the Pakistani beauty had felt the need to workout to keep herself "fit-n-fine" and so headed to a gym where she used a treadmill.
But wait… that's not the funny part!
While we tend to wear proper workout gear for our gym sessions, apparently our Meera Ji did not know that.
Instead chose to amp up her workout on the treadmill by wearing high heels!
https://www.youtube.com/watch?v=srp7hrpVB-c
While Veena Malik was in splits over this piece of news, Aamir Liaquat further revealed that the owner of the gym called him up, asking him to come down and get her.
So there went Aamir Bhai to save the poor treadmill and relieve the anxiety of the gym owner from Meera and her high heels.
Well! As we say, you can expect anything when Meera is around – and when Aamir Liaquat is there, then things are bound to get entertaining!
Last year, Aamir bhai's encounter with Meera became quite controversial.
People were obviously not happy with Aamir Bhai's impromptu conversation with the Lollywood lady. While the video went viral and many enjoyed it a lot, many spoke against the whole cringe-worthy incident!
Veena Malik's Hilarious Parody of 'Meera-Ji' Will Make Your Day! [Watch Video]
Stay tuned to Brandsynario for more news and updates.