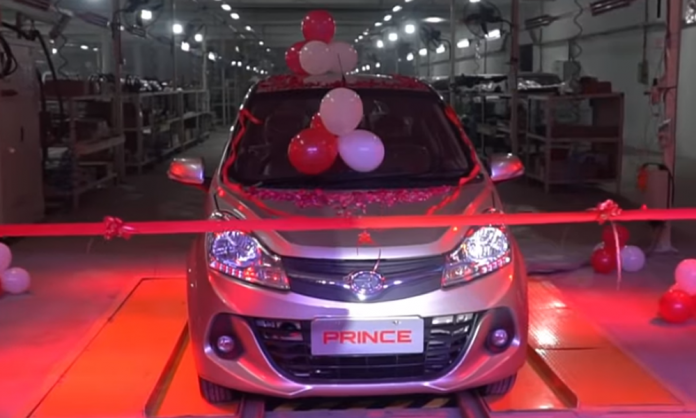 30th January 2020: Regal Automobiles is officially launching the Prince Pearl 800cc in Pakistan on 31st January 2020.
The event is reportedly being held at Faletti's Hotel, Lahore at 5pm.
Regal Automobiles rolled out the first 800cc Prince Pearl CKD unit in December during a ceremony at its manufacturing plant.
The expected price for this new ride is somewhere between PKR 10-12 lakhs and will become a direct competition to United Auto Bravo and Suzuki Cultus.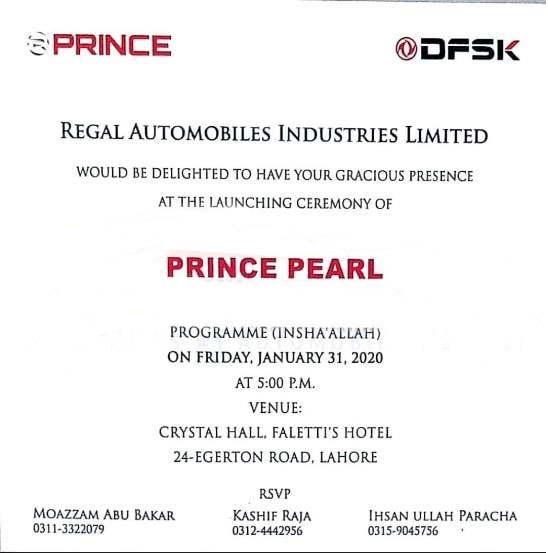 ---
---
23rd January 2020: Pakistanis have been eagerly awaiting the official launch of Prince Pearl. The first 800cc hatchback Prince Pearl was rolled out of the factory in mid-December 2019.
It is now expected it will officially launch on 31st January.
Prince Pearl comes equipped with a naturally aspirated 800 cc engine mated to a 4-speed manual transmission. As per the company's claim, it's a fuel-efficient hatchback that will offer up to 18 km per liter.
The 800cc Prince Pearl comes with a number of features, including:
Prince Pearl Features and Specifications
Power windows
Power steering
Digital instrument cluster
Premium wooden/silver trim interior
A 5.8-inch touchscreen infotainment system
Bluetooth and SD card connectivity
Screen mirroring feature
Air conditioning system
Centre armrest
Storage compartments and cup holders
Fabric seats
Driver and passenger airbags (optional)
Chrome inner door handles
Dual rear-seat headrests
Seat belts (front + rear)
Spare tire
Daytime running lights (DRL's)
13-inch alloy rims
Body-colored side mirrors with integrated turn signals
Rear bumper reflectors
Body-colored outside door handles
---
---
Update 12th November 2019: The launch of the highly awaited Regal Automobiles' 800cc Prince Pearl REX7 hatchback has now been delayed until 2020.
According to sources, Prince Pearl will initially make its market appearance in January 2020 and will be available in manual as well as automatic transmission options.
The Price Pearl will be almost similar to the Yika E7, the original make, but one of the most prominent changes will be its interior which will be replaced from grey with fake-wood to a fuse of dual-toned grey.
There is still no official word on the reason behind the delay of the launch, however, one of the most common explanations can be the market slowdown which has also caused trouble for a lot of other automotive brands.
We have now to see whether it launces in the upcoming months or will face yet another round of delays, only time will tell.
Everything You Need to Know about Donald Trump's Car Collection [View Images]
---
---
Update 21st August 2019: Regal Automobiles' 800cc Prince Pearl REX7 hatchback is ready to be launched in Pakistan this year in the month of September.
The hatchback will be a direct rival to Untied Auto Bravo another 800cc drive which was launched last year.
Reports have claimed that Prince Pearl will initially be available in manual transmission and an automatic variant will be out later this year.
Pictures hint that the vehicle will have a digital instrument cluster, power windows, power mirrors, touch screen infotainment system and an AMT gear lever.
Furthermore, the 800cc Prince Pearl has a  two-spoke flat-bottomed steering wheel with Regal's emblem and Price at the bottom of the steering wheel.
---
---
Update: Regal Automobiles's Prince Pearl REX7 800cc hatchback has now been spotted on the roads in Pakistan!
The vehicle was spotted while on a test-run on Ferozepur Road, Lahore. Take a look at the vehicle in action: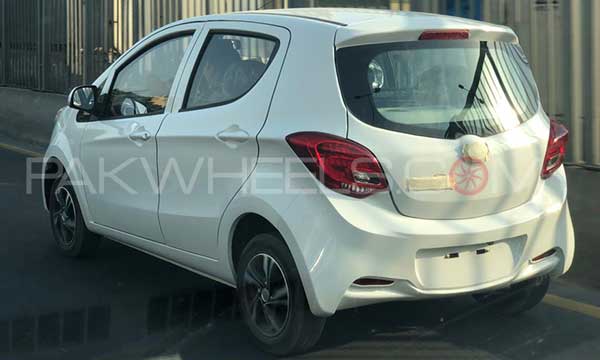 ---
---
Update: Previously, we talked about that Regal Automobiles Industries Ltd. was gearing up to launch the highly-awaited Prince Pearl REX7 800cc hatchback.
Previously, we shared some specifications and a first look at what the Price Pearl looks like. PakWheels has shared images of the interior and exterior of the car which confirms some more of the specifications which we had earlier speculated.
As per the images, the following specifications have now been confirmed:
Digital Speedometer
Touchscreen LCD
Power Windows
Spare Tyre
It is also expected to officially be rolled out on to the streets of Pakistan mid-year with a price-tag of PKR 800,000 to compete with Suzuki's WagonR and United Auto Bravo Hatchback.
---
---
Regal Automobiles Industries Ltd., the manufacturers behind Prince DFSK are gearing up to introduce the all-new Prince Pearl REX7 800cc hatchback in Pakistan.
The Pearl REX7 will be a direct competitor to the United Auto Bravo Hatchback and Suzuki Mehran.
Prince Pearl REX7 Specifications
As of now, sources have revealed that Prince Pearl is equipped with a 796cc water-cooler EFI engine giving 40hp @ 60 Nm torque. Sources have shared that it will be offered in 2 different variants, automatic and manual and will offer a top speed of 120-130km/h.
Furthermore, it is expected to offer the same features more or less which the Auto Bravo is currently offering.
Expected Features include:
LCD infotainment system
Central locks
Power steering
Power windows
Aluminum Rims
Air conditioner & Heater
First Look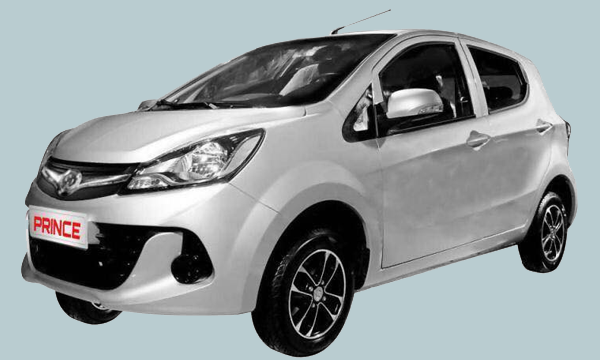 Prince Pearl REX7 Price in Pakistan
It is also expected to officially be rolled out on to the streets of Pakistan mid-year with a price-tag of PKR 800,000 to compete with Mehran and Auto Bravo.
Regal Automobile Industries and DFSK Group of China entered an agreement for assembling vehicles under the name 'Prince'. Regal is Pakistan's third largest motorbike manufacturer and is now also manufacturing light commercial vehicles and vans as well.
Have something to add to the story? Share your thoughts with us in the comments below.
Stay tuned to Brandsynario for more news and updates.
Prince DFSK 800CC Hatchback a Direct Rival to United Auto Bravo Hatchback?