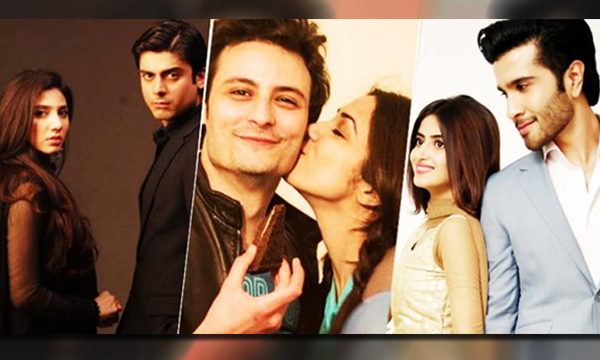 Have you ever wondered why has an on-screen couple melted your heart or sizzled the screen? If not, here are the two top most reasons we could come up with.
Firstly, it is the chemistry between the couple that makes you wonder what would it be like to have a similar person in your life. Secondly, it is the story which is the brain child of some great writers that makes you feel like you are, indeed a part of it.
These iconic couples not only look good together, but the idea and the way they are portrayed in the drama has a huge impact on our lives; this is why they are remembered for a long time to come.
With an intense competition in this field, we have tried to compile a list of our all-time favorite on-screen couples for you. Let's have a look;
1. Fawad Khan & Mahira Khan – Humsafar
We all know Khirad and Asher and their amazing chemistry on-screen. It is not surprising for a couple this good looking to win hearts. However, apart from their good looks, the director 'Sarmad Khoosat' also played a major role in the success of the drama.
Humsafar's Last Episode Left Indians Crying: Twitter Reviews
2. Osman Khalid Butt & Maya Ali – Diyar e Dil/ Aun Zara
The amazing sync between Wali and Farah is something to rave about. It made the girls go crazy and indulge in weekly debates on how good looking Wali was or how they despised some characters.
The serial had drastic ups and downs in its course and it made the viewers feel like they were a major part of it; making them laugh in the happy moments and cry when life got hard. I think that is what a good drama is all about.
3. Feroze Khan & Sajal Aly- Gul-e-Rana/ZKHH/Chup Raho
The steaming chemistry between Feroze Khan and Sajal Aly has remained quite the talk of the town! The two sizzled on screen together in popular dramas like Gul-e-Rana and Chup Raho, paving their way towards the silver screen in the upcoming romantic flick, Zindagi Kitni Haseen Hai.
The much-hyped directorial venture of Anjum Shehzad, Zindagi Kitni Haseen Hai has created quite the buzz in media with fans anxiously awaiting the movie release. Their on-screen chemistry often made the fans wonder if the two are indeed dating in real life.
4. Farhan Saeed & Urwa Hocane-Udaari/Mere Ajnabi
Fans really can't seem to get enough of the good-looking duo, Farhan and Urwa. The lovebirds are smitten with each other and their off and on-screen chemistry give us some serious relationship goals! The star couple is currently working their magic in HUM Tv's popular drama serial, Udaari also starring Bushra Ansari and Ahsan Khan.
The two were recently traveling Europe, shooting their latest song 'Saathiya' in Berlin, flooding our Instagram feed with pictures and giving us serious travel goals.
Apart from working together in Udaari, Farhan and Urwah have also starred in ARY Digital's drama serial 'Mere Ajnabi' and have done sizzling photoshoots for Hello Magazine. 
5. Maya Ali & Hamza Ali Abbasi- Mann Mayal
The tragically romantic HUM TV drama serial, Mann Mayal has reaped in quite the ratings, owed to its stellar cast, emotional script and the scintillating on-screen chemistry of the never-seen-together-before couple, Maya Ali and Hamza Ali Abbasi.
Sallu and Mannu, sure have become the fan favourite!
6. Fawad Khan & Sanam Baloch – Dastaan
Even though Bano and Hassan never got their happy ending but 'Dastaan' was never about their love story. Dastaan was a story about passion and struggle for freedom, pure love, and true sacrifice.
It wasn't our everyday love story but a tale about sacrifices that the Muslims gave in order to acquire a land they could call theirs.
Bano and Hassan resonated with everybody who has once loved and then lost it. The ending was heartbreaking and disappointing for many, but it was true to its plot.
7. Faysal Quraishi & Savera Nadeem – Mera Yaqeen
Directed by Sarmad Khoosat and aired on ARY Digital, Mera Yaqeen revolves around the complexities of a family. It is about a true love which is put to a test. The on-screen chemistry and amazing storyline of the drama set it apart.
8. Hamza Ali Abbasi & Ayeza Khan – Pyare Afzal
The romantic drama serial, Pyare Afzal, is known for its script, dialogue delivery, background script and overall finesse along with the fact that Afzal and Farah became the very favorite of every Pakistani. Their on-screen enticement kept the viewer glued to the screen.
9. Meekal Zulfiqar & Mahira Khan – Shehr e Zaat
Salman and Falak were seen together in Shehr-e-Zaat, a Pakistani spiritual romantic drama serial based on a novel written by Umera Ahmed. Even though the couple goes through a number of hardships but it is a great exhibition which makes us realize what life is really about.
Falak, through the course of time, has transformed so much that you can not help but fall in love with her. Salman and Falak give hope and is an inspiration for everybody out there.
10. Fawad Khan & Sanam Saeed – Zindagi Gulzar Hai
Zindagi Gulzar Hai is what someone would call a conventional story. With the main leads being poles apart, however, falling in love, their almost divorce and the happily ever after. However, Zaroon and Kashaf did make a pretty good couple. They made the serial worth watching!
11. Rahat Kazmi & Marina Khan – Dhoop Kinarey
Dhoop Kinarey revolved around two doctors, Ahmer, and Zoya, who fell in love with each other despite the huge age gap and were later subjected to atrocities by the society. Nevertheless, the couple came out stronger than ever.
The inclination of Ahmer towards Zoya is what makes them the old-school equivalent of Fawad and Mahira. It was later adopted in a Hindi drama serial 'Kuch Tou Log Kahenge' as well.
12. Asif Raza Mir & Shahnaz Shaikh – Tanhaiyaan
Tanhaiyaan, a cult classic, was directed by the legendary Shahzad Khalil. The drama is about Zara, who is too lost in earning money to get back her old house that she neglects true love and her family.
The name of the drama depicts the loneliness Zara feels when she has achieved everything she thought she ever wanted and in the process, lost everything she ever had.
It is also about the enticement between Zara and Zain and how Zain helps her to find her true self. A beautifully written and executed drama with a strong connection between the actors.
13. Omar & Elif – Kaala Paisa Pyaar
Elif and Omar make one of the most iconic on-screen couples! The lives of Elif and Omer are explored with the ultimate test of how two strangers get forced to share the same fate by losing their loved ones! The distressed fate of the two brings them closer than ever, making fans root for them and their fiery chemistry.
There you go. We have listed the all-time favorite couples.
Do you feel like we have missed some? Let us know in the comments!
Stay tuned to Brandsynario for more updates!