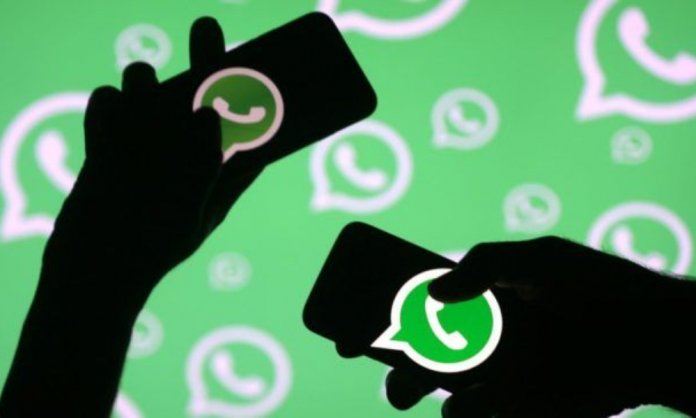 36 views
[Update July 29th, 2021]: WABetaInfo revealed that WhatsApp is in the midst of developing a feature that will be useful for people shifting to Android.
The reason most people find it hard to alternate between Android and iOS phones is because of their data saved in the related apps for the specific software. For instance, an Android user's photos get saved in Google Photos, Meanwhile, iOS users' photos get uploaded on iCloud. It is not easy to access your iCloud photos from Android phones. Of course, Google is now working to counter that.
Migrating chat history from iOS to Android
Let's stick to WhatsApp for this article; most people find it hard to let go of their chat history. If you are an iOS user who relates to this and wants to shift to Android, worry not because you will soon be able to. The app is developing a feature that allows you to migrate your chat history from iPhones to Android.
The process entails the user scanning the QR code with their iPhone and tapping, 'Start'. If you encounter trouble, in that case, go to Settings. Under 'Chats' you will find the option 'Move Chats to Android. Click on it and you are good to go.
Thank you @xdadevelopers for your recent discovery about the "Switch to Android" app, to migrate WhatsApp chat history from iOS to Android. 🤩
These screenshots show how the process works. This feature is under development and it will be available in a future update. https://t.co/FmZbXi33L2 pic.twitter.com/w7GiCUHSuS

— WABetaInfo (@WABetaInfo) July 28, 2021
---
---
[Update July 27th, 2021]: Due to the difference in software, social media platforms have to roll out features for android and iOS separately. Most of the time, the update is introduced quicker on android but iOS is never far behind. Last week, WhatsApp launched an update for its Android beta users which has now been made available for its iOS beta users as well.
HD Photos on WhatsApp Beta
In the update, the application will allow the user to choose the picture quality they want to send the media in. The user will also be able to send the picture in high definition (HD). Long gone are the days when you would be worried about not being able to use WhatsApp images on photo editing software because of their quality. If you are a beta user and haven't received it as of yet, then sit tight because you will get it in a few days.
WhatsApp is rolling out HD Photos for iOS beta users!

The feature allows you to send photos choosing the quality between 3 different options and it's available for specific beta testers today.https://t.co/XFVCCPOl5v

— WABetaInfo (@WABetaInfo) July 24, 2021
---
---
[July 16th, 2021]: Every time you want to use WhatsApp on the web, you have to struggle with the internet connection on your phone. If your phone is not continuously connected, then your desktop or laptop would also struggle. But this new update is expected to make your life easier.
According to the update, you can now use the app on the web version even if your phone is struggling with a connection. Now, the connection could be hindered because of a lack of signals or because the phone's battery died. Regardless, now you can continue sending and receiving messages without running off to charge your phone.
This will roll out in the beta version first for a small group of users. Hopefully, the tech developers will put it out for everyone.
---
---
[July 14th, 2021]: Whatsapp has introduced a feature inspired by another social media app. This one is from Messenger. According to the update, if you were made part of a group call and either you missed, dropped, or left the call, you will be able to rejoin. Doesn't it sound like Messenger calls?
📝 WhatsApp beta for Android 2.21.15.2: what's new?

WhatsApp is rolling out joinable calls and a new UI when you make calls today!https://t.co/SIxrxuBP1V

— WABetaInfo (@WABetaInfo) July 13, 2021
You will also see a new user interface when you make calls. But this update is for beta users only. So, if you are a part of the beta community, let us know how easy life is after these cool updates.
---
---
[July 6th, 2021]: Yesterday, WhatsApp was under quite some fire after multiple users reported technical difficulties with the app. Could it be because of that that the app launched various updates the following day?
Recent updates
WABetaInfo took to Twitter announcing these updates. One such update was related to the 'view once' feature. Alongside having the option to allow the receiver to view the media only once, now there is a deadline to the message as well. If the recipient does not view the media at the specified time, the message will expire.
WhatsApp is working on a second version of view once for a future update: photos and videos, sent using this mode, expire if the recipient doesn't open them within a certain amount of time! pic.twitter.com/8XmsjFuqhw

— WABetaInfo (@WABetaInfo) July 5, 2021
Moreover, they are also testing another feature. It is similar to a large media preview feature. According to this update, the app is testing the possibility of a large link preview.
WhatsApp is testing a large link preview for a future update. pic.twitter.com/398d8VRpTZ

— WABetaInfo (@WABetaInfo) July 6, 2021
It is also suggested that WhatsApp will seek help from users to test the first version of the multi-device beta program. In this update, users will be able to operate WhatsApp Web on the phone even without an internet connection.
WhatsApp will ask for your help to test the first version of multi-device beta program 🔥

You need to use the most updated beta version of WhatsApp for Android and iOS.

Follow @WABetaInfo to be sure to know when the early access to multi-device beta is available! #soon 💚 pic.twitter.com/2rOTeuEm0V

— WABetaInfo (@WABetaInfo) July 6, 2021
Could this be how they are trying to divert the attention from the malfunctions on android? We can't say.
---
---
[July 5, 2021]:
WhatsApp Users Are Reportedly Experiencing Multiple Issues
With Telegram giving quite some competition to WhatsApp, the latter has to always be on its toes when it comes to introducing the latest updates for users. But it seems they are adopting a lax attitude as of recent news. WABetaInfo, a WhatsApp-focused publication, took to Twitter this piece of news.
Apparently, users were not able to use the camera properly. The publication reported that it was the Android users of WhatsApp who were facing this difficulty.
I confirm: WhatsApp beta for Android has this issue since several versions. https://t.co/MVvMiHoiPb

— WABetaInfo (@WABetaInfo) July 4, 2021
Additionally, the android users were also not able to download and upload media on WhatsApp easily either.
Some users are experiencing issues when downloading and uploading media on WhatsApp for Android. https://t.co/7kyGe4PhIm

— WABetaInfo (@WABetaInfo) July 4, 2021
Do let us know in the comments if you were one of the unfortunate Whatsapp users on android.
---
---
[June 23, 2021]: WhatsApp keeps updating its app to keep the users entertained and hooked. As part of the new update, users can only view the media file only once. Just imagine, no more worrying about what if someone forwards the video or takes a screenshot. Moreover, you will also know if the message has been opened or not. Does it not sound like what you see on Instagram every day?
WhatsApp will release a feature that allows you to send photos and videos that can only be viewed once. You can also verify if the recipient has opened the media.
This feature will be available in a future update on #WhatsApp for Android, iOS and Web/Desktop.@WABetaInfo 💚 pic.twitter.com/y1dIBGcDiq

— WABetaInfo (@WABetaInfo) June 22, 2021
---
---
[June 21st, 2021]: WhatsApp has added yet another cool new update to its portfolio. For someone who uses WhatsApp for the purpose of transferring data from phone to PC, this is one interesting feature. According to it, now your linked WhatsApp devices do not need an active internet connection to be synced. For instance, if you send a message, a photo, or a video through your primary WhatsApp device, even without an internet connection, it will be visible on your WhatsApp web.
Cool, right?
Will Cathcart and Mark Zuckerberg confirm to WABetaInfo 3 features to come on @WhatsApp! 😱@wcathcart https://t.co/sDm41MpQiG

This is an amazing story. Disappearing mode, view once and multi device features are coming soon for beta users!

— WABetaInfo (@WABetaInfo) June 3, 2021
You can also link up to four devices at one time.
---
---
[May 26th, 2021]: We waited for quite some time for WhatsApp to update its voice note feature. After announcing it for the Beta version in the mid of March there was no further news about it. Now, almost 2 and a half months later, the social media platform released the update for all avenues.
We noticed the feature yesterday on our phones.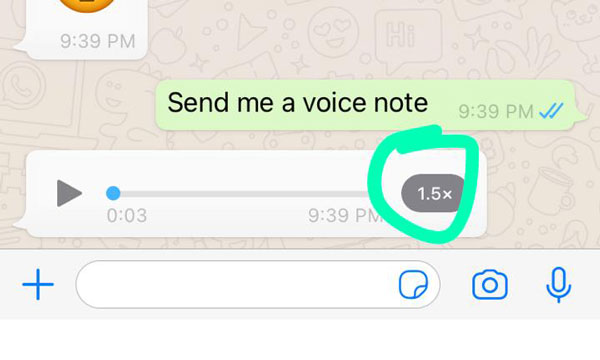 Following that, we decided to see the status of the feature on other platforms too. It turns out that Whatsapp has launched it on their web and desktop versions as well.
▶️ WhatsApp is rolling out playback speeds for WhatsApp Web!

The possibility to listen to voice messages using a different playback speed is available for everyone on WhatsApp Web and Desktop.https://t.co/jX17PxzAfJ

— WABetaInfo (@WABetaInfo) May 25, 2021
---
---
[May 19th, 2021]:
WhatsApp To Introduce An Interesting Update For Archive Chats
Archive chats are a feature that allows you to remove a chat thread from the main list on WhatsApp without you losing the data. However, the chat would pop right back up every time a new message is sent or received in the conversation. But through this update, it might not be the case anymore. Now, the chat would stay in the archive list regardless of new messages.
The update was only seen on a beta version so it will take some time until everyone can use this update.
📝 WhatsApp beta for Android 2.21.11.1: what's new?

WhatsApp is slowly rolling out the new archive for beta testers! Finally it's here!
All archived chats stay in your archive when new messages arrive!https://t.co/Ybz093U2pJ

— WABetaInfo (@WABetaInfo) May 17, 2021
---
---
[April 22, 2021]:
WhatsApp To Introduce Update For Self-Destructing Photos
WhatsApp has interesting news for its users (Android and iPhone both). Taking a leaf out of Snapchat's book, WhatsApp has announced a disappearing photo/video feature.
As part of this feature, after the recipient views the media, it will disappear. Of course, if the recipient has taken a screenshot of it, they will be able to keep that record but the original will disappear. Moreover, the sender won't get notified either if the recipient has taken a screenshot.
This update is in making and has not been released yet but it will, and soon.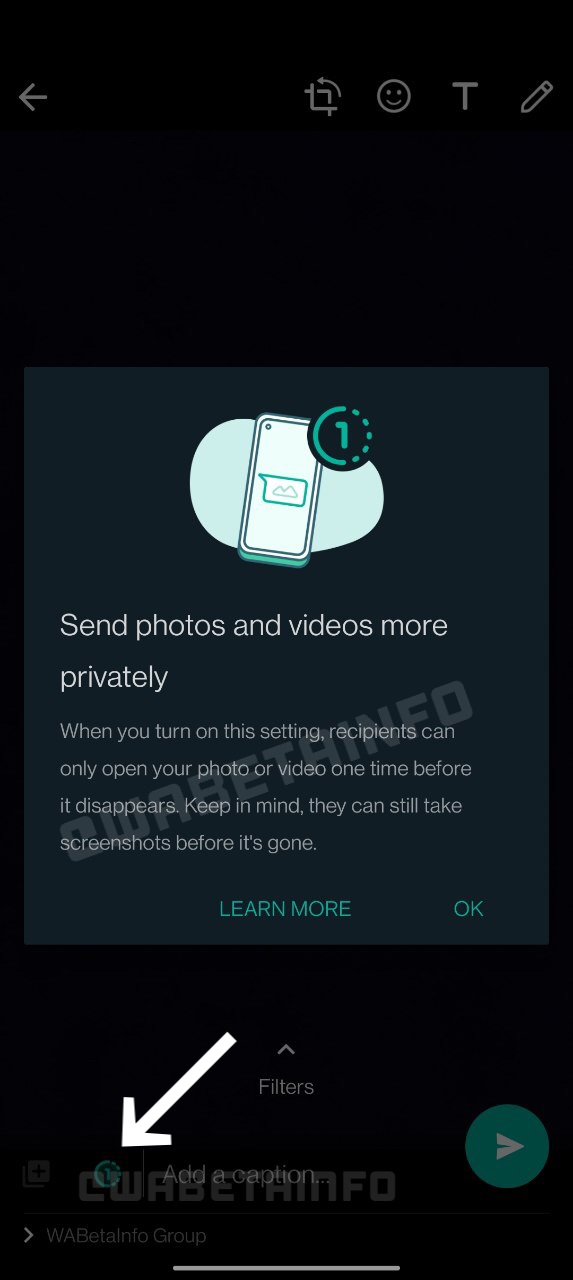 ---
---
[April 16th, 2021]:
WhatsApp Introduces Updates For iPhone Users
WhatsApp has introduced a new update for iPhone users and that includes better media viewing as well as changes in disappearing messages.
According to this update, when someone sends you a media file (photo or a video) on WhatsApp, they will see a larger preview. So now, iPhone users do not have to specially open the media file to see what is in it, they will get better visibility of the media. For video as well, they will get to see a larger dimension of the video preview.
As for the disappearing messages update, admins can switch on the feature for WhatsApp groups. This makes messages disappear after 7 days. But if any message is forwarded on another chat or group, that message will stay on that particular thread.
---
---
[April 5th, 2021]:
Beware: WhatsApp Fake Links Circulate The Internet
Oftentimes website links surface on the internet saying that they offer some sort of free reward. And almost always, it's a fraudulent website. But when it comes to tech-related updates, especially WhatsApp, you are more likely to believe such forwarded links, aren't you? Well, here is a cautionary message, then.
According to WABetaInfo, there has been a link circulating on the internet claiming that they will give you access to WhatsApp beta access in exchange for money. The WhatsApp-centric publication announced that it is all a lie. So, don't fall for it!
I've received some reports today. People reported that a person is asking for money to give @WhatsApp beta access using a new secret TestFlight invite link.
It's fake. Do not trust! The beta program is closed and @WABetaInfo will announce FOR FREE when it's available again.

— WABetaInfo (@WABetaInfo) April 4, 2021
---
---
[March 16th, 2021]: If you are an iPhone user, well, there is trouble in paradise. WhatsApp-centric publication, WABetaInfo has announced that the app has a new update; Version 2.21.50 is available on App Store.
The problem, however, is that those with iOS 9 will not be able to access WhatsApp anymore. iOS 9 means iPhone 4s or older versions. But hey, that means it is time to upgrade the iPhone. Meanwhile, iPhone 5 and models will still be able to use it.
WhatsApp Messenger for iOS 2.21.50 is available now on the App Store.
• It drops the iOS 9 support.
• The new archive is not available yet. https://t.co/cFKMpctZRH

— WABetaInfo (@WABetaInfo) March 15, 2021
---
---
[March 12th, 2021]: Voice notes are a blessing. You use them when you don't want to invest your energy into typing, you just say your thought out loud. But it comes without the baggage of being on call with somebody. However, when people start sending too long voice notes on Whatsapp, they are just awful. You don't even want to view them.
But WABetaInfo, a WhatsApp-centric publication has announced that WhatsApp is trying a new feature. The feature would enable modifying the playback speed of the audio notes. This option will be available on iOS and Android.
WhatsApp is finally testing an option to change the playback speed for voice messages. 🔥
This feature is under development and it will be available in a future update for iOS and Android.

Screenshots will be published here on @WABetaInfo when available in a future beta build.

— WABetaInfo (@WABetaInfo) March 11, 2021
---
---
[March 9th, 2021]: WhatsApp has been trying to work on the privacy angle a lot more ever since consumers started leaving after its new privacy policy was released. In their recent update, hence, they have announced they will be making their cloud backup encryption stronger.
So now, to access the chat database and media, you will have to enter a password. The password is not sent to Whatsapp. Moreover, if you were to forget the password you will not be able to recover it.
As previously announced, @WhatsApp is working on cloud backups encryption.

The chat database and media will be safe from unauthorized access when using a password. The password is private and it's not sent to WhatsApp.
It will be available in a future build for iOS and Android. pic.twitter.com/Lp06PaECBX

— WABetaInfo (@WABetaInfo) March 8, 2021
---
---
[March 2nd, 2021]: WhatsApp users operating their phones on Apple devices have raised the issue that they are unable to play voice notes. The concerned party, Whatsapp has acknowledged the issue on Twitter. They have asked the users experiencing problems to share the iOS version to see if it is being experienced on iOS 14 beta.
I confirm that some users having WhatsApp for iOS are experiencing issues playing voice messages.
Have you the same problem? Please share your WhatsApp and iOS version: I'd like to understand if you're on the latest iOS 14 beta. https://t.co/J4I1upeoGC

— WABetaInfo (@WABetaInfo) February 28, 2021
---
---
[Feb 19th, 2021]: Whatsapp has introduced a new feature and it is one that we might have never imagined would happen. It has introduced a logout feature on mobile apps!
The fact that only one WhatsApp account could be run on a phone had become normal. Unlike other apps, we had become used to the idea and didn't venture into the unknown. But now, the beta version of the application has a logout feature in place of the 'delete account' option. Now you will be easily able to log out from one account and sign in from another.
Since by now they are just throwing out updates, would it be too much to ask that the Whatsapp web should not be dependant on the internet connection of the phone app?
---
---
[Feb 8, 2021]: With more and more Whatsapp users switching to Telegram and Signal at an alarming speed, the app has been trying to introduce new features to retain its consumers.
The new feature entails that you will be able to send videos to your contacts and be able to mute them right and there, according to WABetainfo (a Whatsapp-focused information portal). Although, this feature is just for beta testers. So when you choose a video to send, in the edit section you will find the option to mute it.
While people can get this feature on the version they are currently using, the update is specifically assigned to the 2.21.3.13 beta update. So it is better to update the app to access it.
---
---
[Update]: The ongoing drama of WhatsApp, Signal, and Telegram has attracted lots of eyeballs. With the security on the line, many Whatsapp users have refused to update their app and shifted to alternate resources.
Now, realizing that privacy policies are very important, they must have decided to restore their customers' faith in them. Hence, on Thursday, they rolled out another feature for security for their desktop and web version of the app.
"Today we're starting to roll out a new security feature for WhatsApp Web and Desktop: face and fingerprint unlock when linking devices," it tweeted.
They did add that Whatsapp won't see this data.
---
---
As a direct response to WhatsApp changing its privacy policy, there was a major Twitter storm against the app. A considerable population claimed that they did not feel safe on WhatsApp anymore and would rather migrate to alternative apps such as Signal or Telegram than stay on WhatsApp. With the ultimatum by WhatsApp that should the users fail to accept its terms, the application would stop functioning as early as February; people have already shifted to the new apps.
WhatsApp Vs. Signal
Now, as any technology goes, there is a limit to servers that keep any app functioning. And with the success of WhatsApp over the years and alternative apps not quite as popular, it is quite likely that they were hooked to less strong servers compared to WhatsApp. So with the sudden surge of users on the app, Signal and Telegram were both to face issues. But the issues faced came sooner than expected, and whether they are linked to servers or not, it was quite ironic. Ironic because these users shifted to feel more secure, and it looks like their chats are not as safe as they were led to believe.
We are making progress towards getting the service back online. Privacy is our top priority, but adding capacity is a close second right now.

— Signal (@signalapp) January 15, 2021
So let's explore what really happened
Two days ago, Signal faced quite an outage. What happened made tons of new users skeptical about their choice. Were they still not safely conversing even after changing applications? But Signal couldn't lose this chance, a huge amount of new consumers now, could they? They immediately tried salvaging their reputation by claiming the data of new consumers was completely safe. They had nothing to worry about.
Signal has clarified that even though the users saw errors in chats, their chat is still secure. That said, it's possible that the user who got the glitch notification in a particular thread missed a message from that contact.
The app developers have ensured that "The next Signal app updates will fix this automatically."
Furthermore, all the users need to do is, when they see the 'bad encrypted message' sign, they need to take some measures. If they are an android user, they need to go into the menu on the top right. From there, they need to tap on 'reset secure session'. iPhone users would have gotten the notification 'received message was out of sync.' They will need to 'reset session'.
@signalapp are you ever planning to make your pc app better and more optimized? As of now it has huge ram consumption and many features are lacking . #SignalApp #Signal #signal

— fullmetal126 (@AyushmaanDas6) January 18, 2021
Technical difficulties
But as it turns out, these were not the only difficulties. Used to WhatsApp's efficiency, the new users are struggling with the alternative. The app in itself has high ram consumption, but the web counterpart of Signal is not optimized either.  Signal acknowledged these issues on January 15th and said they are working towards restoring the problems.
And the worst part is there are picture glitches as well. What will we do who survive on the screenshotting and sharing of conversations?
I can't seem to receive pictures people send me to my #SignalApp 🤬

— 🇺🇲 Gabe Avalos (@KASHCoach) January 18, 2021
Let's just be very sure when the rest of us make the change to Signal due to the new Whatsapp Privacy Policy!
Stay tuned to Brandsynario for the latest news and updates!